AIT says it will not take sides in elections
The American Institute in Taiwan (AIT) yesterday said that the US would not take sides in Taiwan's elections in January after Taiwan People's Party (TPP) Chairman and presidential candidate Ko Wen-je (柯文哲) claimed to have received a call from the AIT asking whether the party had noticed any Chinese interference.
At an event on Wednesday, Ko said that he had received a telephone call from the AIT inquiring whether there was "Chinese influence" in the political alliance between the TPP and the Chinese Nationalist Party (KMT).
As a small nation, Taiwan has "too many outside influencers," Ko said, adding that the US, China, Japan and other countries "all want to dip their fingers in the pie."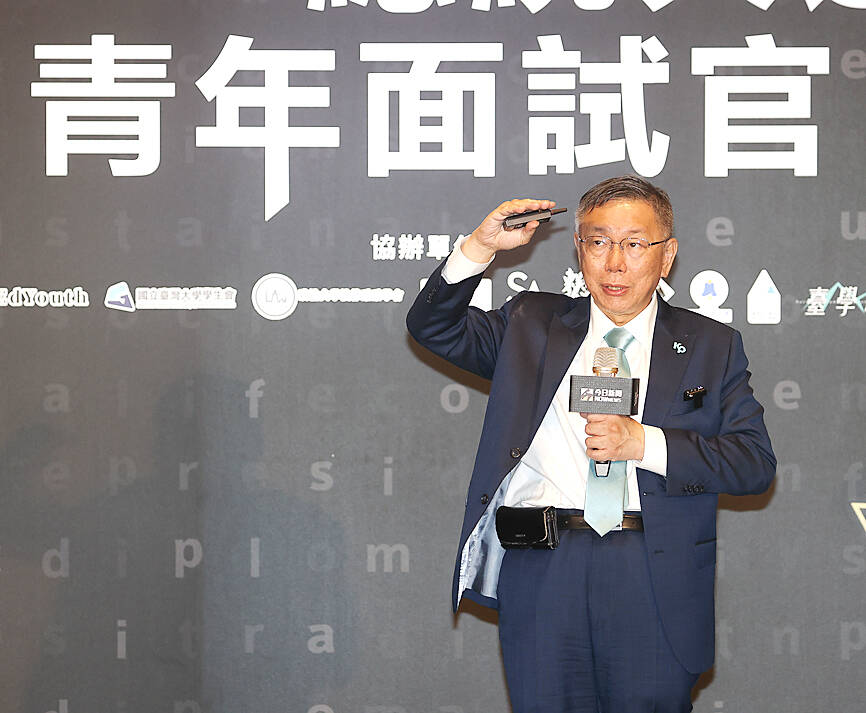 Taiwan People's Party Chairman Ko Wen-je speaks at an event in Taipei on Wednesday.
Photo: CNA
Ko also said that Taiwan is an autonomous country and should consider how to react to the situation.
The AIT said in a statement that the US has complete confidence in Taiwan's democracy and believes that Taiwanese should decide who would be their next head of state.
Foreign factors should not influence this process, it said, adding that the US is dedicated to treating all presidential candidates fairly.
US policy toward Taiwan would remain the same, regardless of which political party wins the election, it said.
Ko yesterday said that it was "normal" for the AIT to be concerned about talk over a TPP-KMT alliance.
The US is an important ally and endeavors should be taken to maintain good communication to prevent misunderstandings, he said.
The TPP has kept in contact with the AIT at all levels since February, Ko said, adding that he had also promised AIT Director Sandra Oudkirk that there would be "no surprise" regarding Taiwan-US ties.
Ko said he had made the same pledge when meeting with officials in the US last month.
Comments will be moderated. Keep comments relevant to the article. Remarks containing abusive and obscene language, personal attacks of any kind or promotion will be removed and the user banned. Final decision will be at the discretion of the Taipei Times.