Coldplay concerts draw more than 170,000 people
Concerts by British band Coldplay at the Kaohsiung National Stadium attracted more than 170,000 fans over the weekend and generated about NT$550 million (US$17.18 million) in revenue, the city government said on Monday.
On Sunday, the number of people in and around the stadium peaked at 86,505, a record for the venue, it said in a statement.
The stadium and areas around it were visited by more than 170,000 people over the two days, boosting sales at night markets by at least 30 percent and lifting occupancy rates at downtown hotels to 90 percent, it said.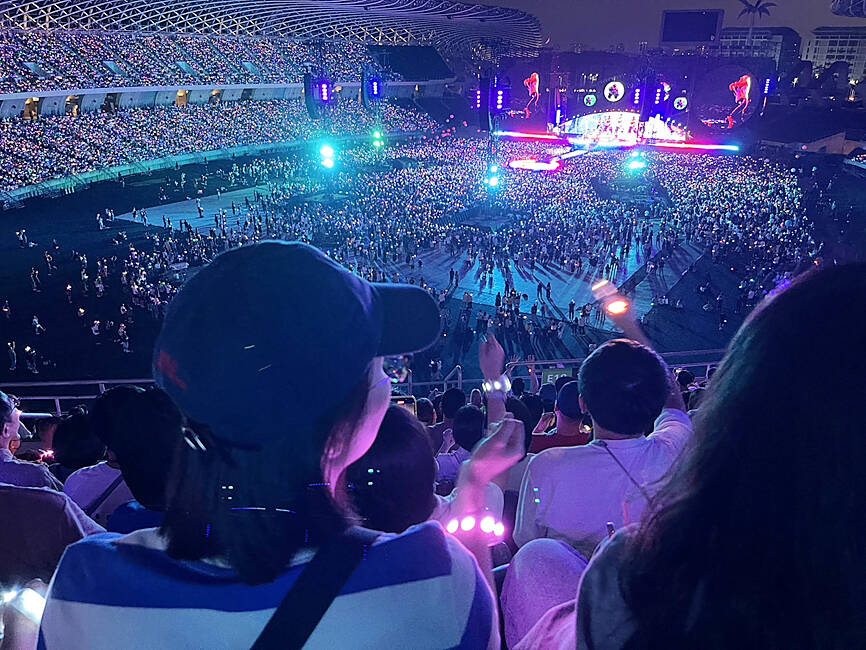 People attend a Coldplay concert at the Kaohsiung National Stadium at the weekend.
Photo: CNA
To facilitate transportation of fans, the city coordinated with the Kaohsiung MRT to increase rail services and arranged shuttle buses, it said.
It took 82 and 88 minutes to disperse the crowds on Saturday and Sunday respectively, the city said.
Of the 170,000 people who attended, 70 percent were from outside Kaohsiung, including overseas visitors from Hong Kong, Macau, Europe, North America and Southeast Asia, Kaohsiung Tourism Bureau data showed.
Separately, the Kaohsiung City Government on Wednesday said that the stadium, which has a capacity of 55,000, is the only stadium in Taiwan that can hold more than 45,000 people.
The stadium has received a "gold" rating from the central government for its environmental design, which is in line with Coldplay's advocacy for environmental sustainability, the city government said.
Designed by Japanese architect Toyo Ito, the dragon-shaped stadium's main structure has 8,844 solar panels that can generate 1.1 million kilowatts of electricity annually, reducing carbon dioxide emissions by 660 tonnes per year, it said.
Coldplay aims to make its Music of the Spheres world tour "as sustainable and low-carbon as possible," mainly by cutting carbon emissions by 50 percent compared with their previous tours in 2016 and 2017, and supporting new green technologies, the band said on its Web site.
To encourage recycling, Coldplay asked concert-goers to return their LED wristbands after the shows, the city government said.
At the band's first Kaohsiung concert on Saturday, the recycling rate for LED wristbands was 93 percent, the city government said.
Comments will be moderated. Keep comments relevant to the article. Remarks containing abusive and obscene language, personal attacks of any kind or promotion will be removed and the user banned. Final decision will be at the discretion of the Taipei Times.