Violinist ends tour with salute from orchestra members
It was an unusual sight at a classical music concert finale, when Taiwanese-American violinist Richard Lin (林品任) stood on stage with his right hand raised in a military salute at the end of a performance with the state-run Taiwan National Symphony Orchestra (NSO) in Taipei.
Most audience members at the National Concert Hall were not expecting what followed, when Lin turned around to pay his respects to his fellow NSO members, as nearly every one of them stood up to give a military salute in return to express their congratulations and well-wishes for Lin.
Photographs of the incident received prominent attention in the media and in Taiwan's classical music community.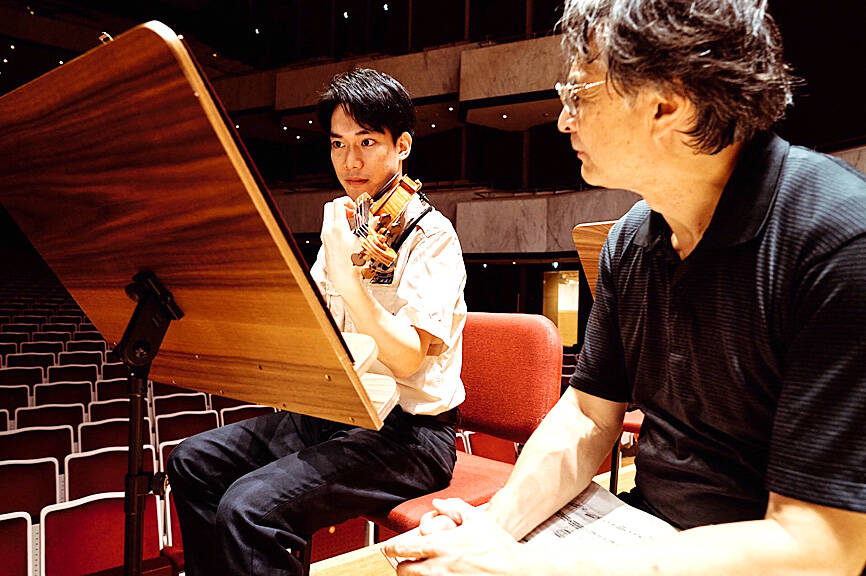 Violinist Richard Lin, left, rehearses with Taiwan National Symphony Orchestra music director Jun Markl in an undated photograph.
Photo: Ling Mei-hsueh, Taipei Times
Lin was completing Taiwan's compulsory conscription for male citizens, and was officially finishing his one-year service yesterday, an atypical action for a US citizen.
Already a rising star, having won top prizes at prestigious international music competitions, Lin fulfilled his national duty for Taiwan by entering the alternative military service starting in November last year, upon which he was inducted to work at the NSO, known internationally as the Taiwan Philharmonic.
Lin was born in the US to Taiwanese parents, and had lived and received education in both countries. Lin told reporters he had a choice in deciding to serve Taiwan's one-year military service, which requires all qualified men aged 18 to 36 to serve.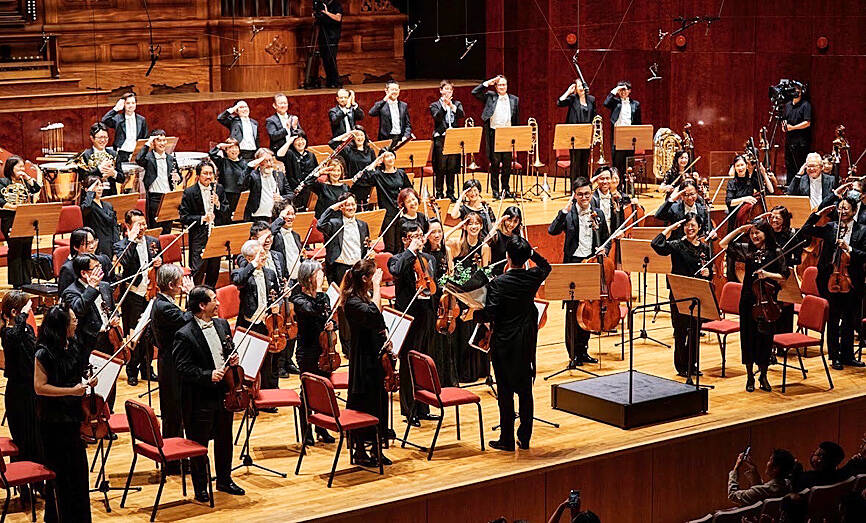 Members of the Taiwan National Symphony Orchestra salute violinist Richard Lin, front center, at the National Concert Hall in Taipei on Sunday.
Photo courtesy of the Taiwan National Symphony Orchestra
"Taiwan is my home. I grew up here and have a deep attachment to Taiwan. People in my family could not just board a flight to visit me any time, so I decided to return and fulfill the military service," he said.
Because Lin is over 30, "if I did not perform military service, then I could not enter Taiwan for six more years, which also impacted my decision to do compulsory military service," he said.
"My family roots are in Taiwan, and I have many family members here," he added.
Born in Phoenix, Arizona, Lin later in childhood returned with his parents to Taiwan and studied through high-school in Taichung, then headed back to the US for higher education and music training at the Curtis Institute of Music in Philadelphia and then at the Juilliard School in New York City, all while gaining international prominence for strong performances at top competitions, including the Gold Medal prize at the 2018 International Violin Competition in Indianapolis and First Prize at the Sendai International Violin Competition in Japan.
"Many people told me it is a waste of an entire year, undertaking Taiwan's compulsory military service. But at the NSO, I am a violin soloist, and we go on tour to many places for performances. Throughout this past year, it was a different form of music education for me, and I feel it has been a great experience," he said.
In his own message after the finale on Sunday, Lin said he had performed 40 concerts with the NSO in Taiwan, Japan and the US over 11 months.
"Doing alternative military service with the Taiwan Philharmonic has been one of my most cherished memories. Working alongside the best musicians in Taiwan and playing for world-class soloists has been truly inspiring," he said. "Last night was my last performance as a soldier with the orchestra. I was extremely touched when they surprised me with an honoring ceremony. I really look forward to future collaborations."
German conductor and NSO music director Jun Markl said that Lin had been outstanding in his time with the orchestra.
"We would like for him to stay with us, but he has the worldwide stage to showcase his musical talent, and we wish him the best while looking forward to future collaboration with him," he said.
Lin is on the bill with the Curtis Institute of Music for its tour of Asia for this year's autumn season, which has begun with concert events and music education programs in Taiwan's major cities with Curtis on Tour, performing as a quartet of the Institute's artistic director Roberto Diaz, cellist Camden Shaw, Lin and Taiwanese pianist Steven Lin (林易).
Taiwan has instituted an alternative military service since 2000, for conscription-age men to serve in government agencies, although it requires meeting physical exam qualifications, other exemptions due to religious beliefs, selective occupational expertise, as well as special programs for "research and development substitute services" for draftees to serve in select companies or semi-government organizations related to the high-tech sector.
Comments will be moderated. Keep comments relevant to the article. Remarks containing abusive and obscene language, personal attacks of any kind or promotion will be removed and the user banned. Final decision will be at the discretion of the Taipei Times.