Twenty Chinese warplanes cross the median line
The military scrambled aircraft from Thursday to yesterday after spotting 20 Chinese warplanes crossing the median line of the Taiwan Strait, the Ministry of National Defense said.
The ministry in a statement said that 39 Chinese People's Liberation Army (PLA) aircraft and eight PLA Navy vessels were detected in the waters around Taiwan in the 24 hours ending at 6am yesterday.
Twenty of the aircraft crossed the median line of the Taiwan Strait or entered the nation's southwest or southeast air defense identification zones (ADIZ), it said.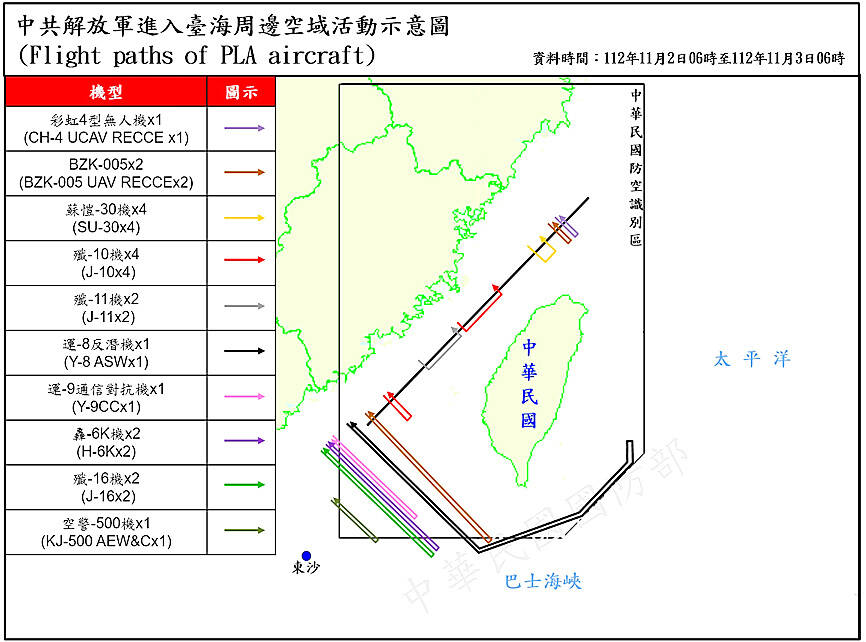 Chinese People's Liberation Army activity near Taiwan from 6am on Thursday to 6am yesterday is pictured on a map by the Ministry of National Defense.
Photo courtesy of the Ministry of National Defense
The aircraft include one CH-4 reconnaissance drone, two Harbin BZK-005 high-altitude long-range drones, four Sukhoi Su-30 fighter jets, four Chengdu J-10 fighters, two Shenyang J-11 fighters, one Shaanxi Y-8 transport aircraft, one Shaanxi Y-9 transport aircraft, two Xian H-6 bombers, two Shenyang J-16 fighters and one Shaanxi KJ-500 airborne early warning and control aircraft, it said.
The military sent aircraft to warn away the planes, while missile systems monitored them, the ministry said, using standard wording for its response.
The government believes the frequent Chinese military activities near Taiwan this week, including reporting 37 Chinese aircraft in the ADIZ from Wednesday to Thursday, are meant to exert pressure on the US amid a series of high-level talks between Beijing and Washington, a senior security official said.
"China is used to maximizing its military pressure amid negotiations," said the official, who declined to be named due to the sensitivity of the matter. "They want to increase their bargaining chips."
Earlier this week, the US destroyer USS Rafael Peralta and a Royal Canadian Navy frigate HMCS Ottawa transited the Taiwan Strait, a maneuver that was followed and monitored by the Chinese military.
Comments will be moderated. Keep comments relevant to the article. Remarks containing abusive and obscene language, personal attacks of any kind or promotion will be removed and the user banned. Final decision will be at the discretion of the Taipei Times.