Taiwan a force for good, VP Lai says
COOPERATION: No country can handle new challenges alone, Vice President William Lai said, as he called on countries in the region to work together to forge a new Asia
Taiwan is to continue being a force for good and deepen ties with Indo-Pacific countries to contribute to building a new Asia that is inclusive and resilient, Vice President William Lai (賴清德), the Democratic Progressive Party (DPP) presidential candidate, said at the Yushan Forum in Taipei yesterday.
Lai was invited to give opening remarks for a roundtable discussion titled "Start a New Blueprint for Asian Development," calling on participants to "imagine a more advanced and more prosperous Asia."
The Indo-Pacific "is one of the most important geopolitical areas in the 21st century," contributing almost 65 percent of the world's GDP, Lai said.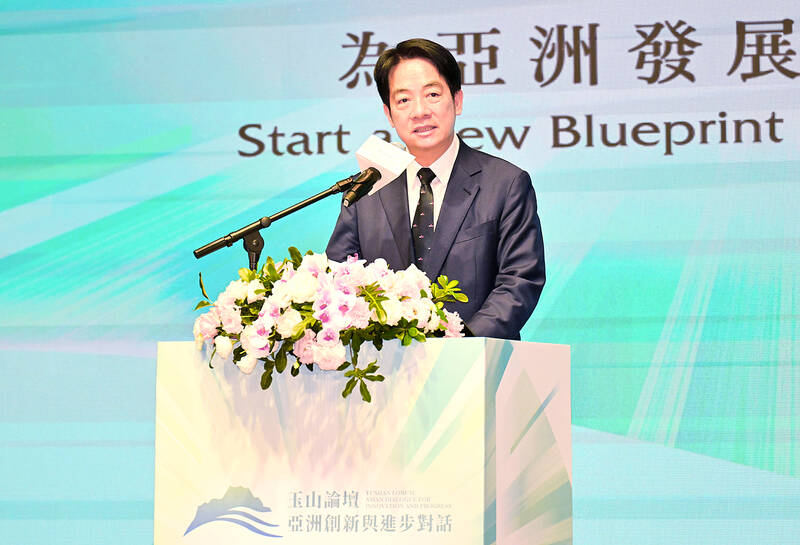 Vice President William Lai speaks at the Yushan Forum in Taipei yesterday.
Photo: Tien Yu-hua, Taipei Times
"As long as the Indo-Pacific region is stable and prosperous, the world will be stable and prosperous as well," he said.
Taiwan is willing to collaborate with like-minded partners to promote democracy, peace, security and prosperity in the region through "dialogue, consensus building and advancing mutually beneficial cooperation," Lai said.
As a force for good, the nation always upholds the spirit of "Taiwan helps Asia, Asia helps Taiwan," with the New Southbound Policy being a good example, he said.
Under the policy, Taiwan has trained more than 1,300 local medical personnel in Southeast Asia and India, Lai said, adding that bilateral trade between Taiwan and the New Southbound Policy countries increased by 88 percent, while total investment increased by 121 percent over the past seven years.
Lai also said that talents are at the core of any policy and added: "When individuals have hope, the nation has hope."
Regarding challenges such as rising authoritarianism, net zero transition and digitalization in the post-COVID-19 pandemic era, Lai said that no country can handle them alone.
"Alone, we may go fast, but together, we can go far," he said, calling on countries in the region to unite in the effort to achieve inclusiveness in the new Asia.
"When the world needs Taiwan, we will always be there," he added.
In the roundtable discussion that followed, Ivan Kanapathy, who served on the White House's National Security Council as director for China, Taiwan and Mongolia, said that Taiwan plays a "crucial and irreplaceable role" in the Indo-Pacific strategies of the US.
The US seeking economic cooperation with Taiwan, such as wooing investment from Taiwan Semiconductor Manufacturing Co (TSMC, 台積電), is also an effort to enhance deterrence, Kanapathy said.
The US is "moving in the right direction" in its policies related to the region.
Indian lawmaker Sujeet Kumar thanked Taiwan for being a force for good and extending a helping hand to countries in need, adding that the New Southbound Policy has significantly strengthened Taiwan's position globally, especially in Southeast Asia.
Comments will be moderated. Keep comments relevant to the article. Remarks containing abusive and obscene language, personal attacks of any kind or promotion will be removed and the user banned. Final decision will be at the discretion of the Taipei Times.