KMT employee detained over fake threats
The Taoyuan District Court yesterday ordered the pretrial detention of Chinese Nationalist Party (KMT) employee Hsu Che-pin (許哲賓) in connection with allegedly helping online commentator Lin Yu-hong (林裕紘) perpetuate a hoax.
Evidence including witness statements, telephone conversations, laptop data and surveillance video are enough to suspect Hsu of forgery and threatening harm, the court said as it granted prosecutors' request to detain Hsu, citing the risk of collusion with other potentially unidentified co-conspirators.
Lin, who runs the Facebook page Lin Bay Hao You (Lin Bay 好油), said during a livestream hosted by former New Power Party (NPP) legislator Huang Kuo-chang (黃國昌) late last month that he has received death threats due to his criticism of the government's egg import scheme, an accusation that sparked a furor among the nation's main opposition parties.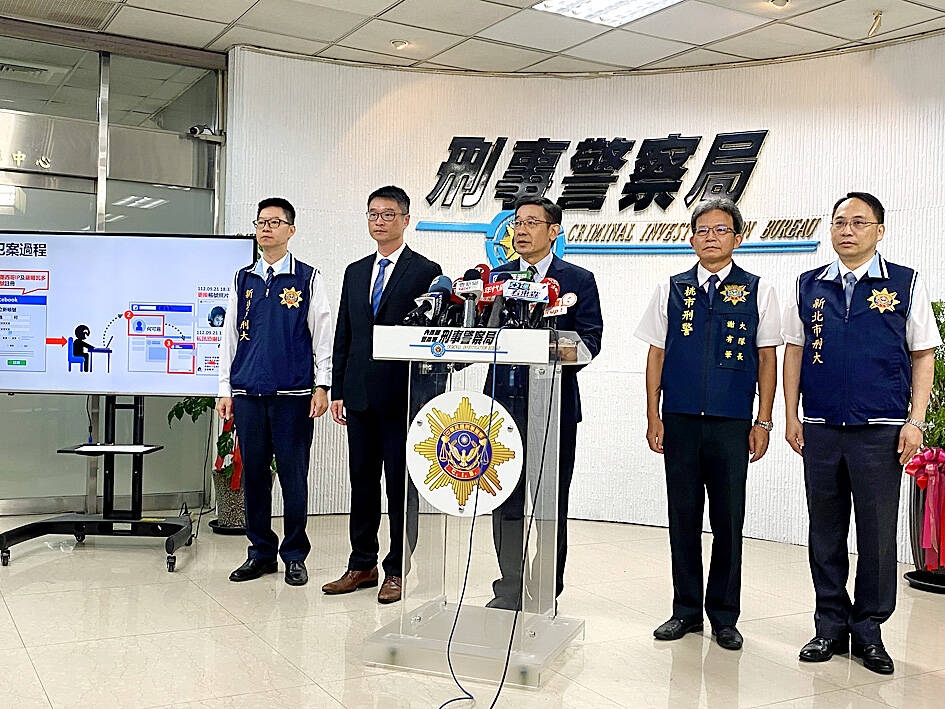 Criminal Investigation Bureau deputy head Chiu Shao-chou, center, speaks at a news conference in Taipei yesterday.
Photo: CNA
He yesterday in a Facebook post admitted to fabricating the threats and said that Hsu was an accomplice hours after police summoned the latter for questioning and searched his apartment.
An image attached to Lin's apology showed a purported Democratic Progressive Party (DPP) membership card belonging to Lin.
Hsu was quoted by police as saying during questioning that Lin is a friend and that Lin had asked him to help put fake death threats on social media, a source familiar with the matter said on condition of anonymity.
Hsu has the telephone call in which Lin made the request saved on his cellphone, which convinced investigators that the death threat was fabricated, they said.
Hsu was quoted as saying that he made the death threats by posting on Lin's page under a fake account using a virtual private network (VPN) at a cafe in New Taipei City's Yonghe District (永和).
Hsu is employed by the KMT as a social media community manager and had previously worked on the election campaign of Yunlin County Commissioner Chang Li-shan (張麗善).
Lin, who is overseas, would be questioned when he returns to Taiwan, prosecutors said.
Democratic Progressive Party caucus secretary-general Chuang Jui-hsiung (莊瑞雄) said the caucus believes public comments should be based on evidence and it has confidence that the law would deal with those who disseminate rumors behind the shield of a VPN.
"This incident shows that there was an attempt to manipulate public opinion," DPP caucus deputy secretary-general Hung Sun-han (洪申翰) said.
The KMT and Taiwan People's Party (TPP) should examine their roles in creating or amplifying fake news in public discourse, he said, adding that a simple apology would not suffice.
Separately, DPP spokesman Chang Chih-hao (張志豪) said that Lin joined the party via an Internet application in March 2020, and kept up his membership dues until last year.
The DPP has strong suspicions that Lin had an ulterior motive in becoming a party member and that his membership would be revoked if he is found to have breached the party's bylaws, he said.
KMT Culture and Communications Committee head Lin Kuan-yu (林寬裕) said Hsu's employment at the party had been terminated effective yesterday morning.
In a statement, the KMT said it condemns all acts of fraud and supports the judicial process in holding proven wrongdoers accountable.
The TPP, which last month voiced support for Lin and said that no one should be threatened for exposing a government scandal, yesterday said that it condemns any form of falsehood and hopes law enforcement would be able to speedily discover the truth.
Integrity and honesty are the TPP's core values, it added.
NPP Chairwoman Claire Wang (王婉諭) said Lin's hoax had harmed the credibility of real victims and urged Taiwanese to not allow their trust in those who genuinely need help to be destroyed by this incident.
Huang on Monday evening deleted the livestream in which Lin made the claim and wrote an apology on Facebook saying that he takes full responsibility for his content.
Additional reporting by Lin Hsin-han, Chen Cheng-yu and Chen Yun
Comments will be moderated. Keep comments relevant to the article. Remarks containing abusive and obscene language, personal attacks of any kind or promotion will be removed and the user banned. Final decision will be at the discretion of the Taipei Times.