Defense plan to boost economy
COMBAT POWER IMPROVEMENT PLAN: Missile acquisition and production comprise the majority of the budget set aside to purchase domestic supplies at NT$88.82 billion
The Ministry of National Defense's Special Budget for Acquisitions under the Sea-Air Combat Power Improvement Plan is expected to significantly stimulate the domestic economy, with the ministry having allotted NT$176.27 billion (US$5.45 billion) to purchase various items from domestic suppliers, the ministry's latest report to the Legislative Yuan showed.
The report said that missile acquisition and production comprise the majority of the budget set aside to purchase domestic supplies at NT$88.82 billion, while purchases of a variety of platforms stand at NT$31.8 billion, construction efforts are estimated at NT$38.09 billion and logistics-related acquisitions at NT$17.5 billion.
The improvement plan intends to establish coastal anti-surface batteries, which call for increased production of Hsiung Feng II (Brave Wind, 雄風) and III missiles, as well as Hsiung Sheng Missile Systems which use the Hsiung Feng IIE and extended-range Hsiung Feng IIE cruise missiles.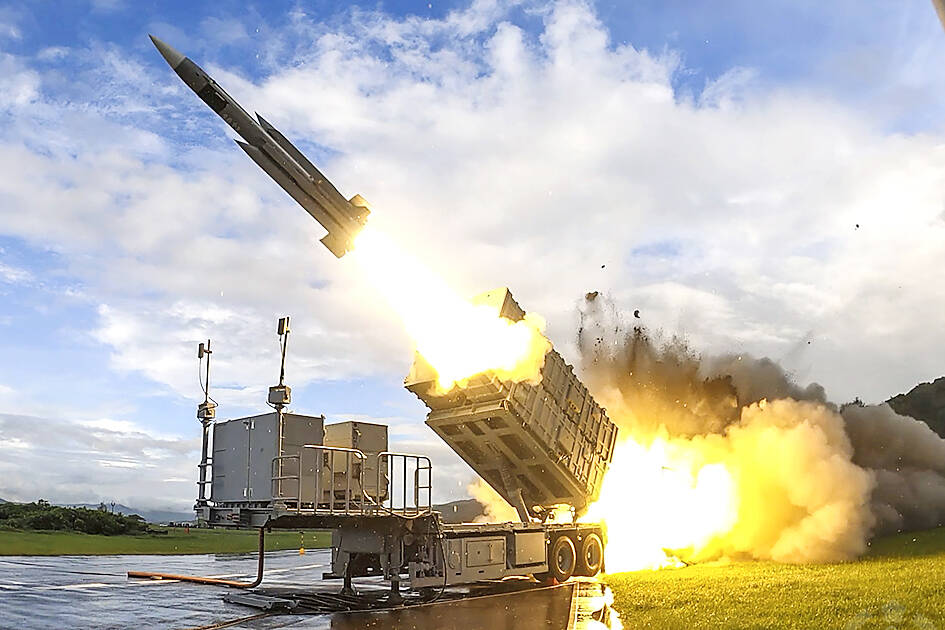 A Hsiung Feng III missile is launched from a platform near Pingtung County in May last year.
Photo: Ministry of National Defense via AP
The improvement plan also calls for the acquisition of highly efficient ships, the acquisition of Wan Chien (Thousand Sword, 萬劍) cluster-munition missiles, Chien Hsiang (劍翔) uncrewed aerial vehicles developed by the Chungshan Institute of Science and Technology, as well as ground-based surface-to-air missile (SAM) bases featuring Tien Kung III missiles (Sky Bow, 天弓) and their extended range variant, the report said.
It added that the project also aims to acquire more field-based SAMs and is looking into the possibility of arming the Coast Guard Administration during times of war.
Citing a previous report, the ministry said annual production rates for land-based and ship-based Tien Chien (Sky Sword, 天劍) missiles have risen from 40 to 150; the rate for Sky Bow missiles has doubled from 48 to 96. The rate for Hsiung Feng II and Hsiung Sheng missiles, which share a production line, has risen from 81 to 131, while the rate for Hsiung Feng III supersonic anti-ship missiles has risen from 20 to 70.
In terms of counteroffensive weapons, Wan Chien missiles are expected to see an annual production rate of 50, up from 18 currently, while the rate of production of the Jian Hsiang drone, which does not yet have an annual production rate, is expected to reach 48 per year, the report said.
Comments will be moderated. Keep comments relevant to the article. Remarks containing abusive and obscene language, personal attacks of any kind or promotion will be removed and the user banned. Final decision will be at the discretion of the Taipei Times.