New India envoy seeks to bolster ties with Taiwan
India's new representative to Taiwan said he hopes the two sides' complementary strengths, and shared values and interests would provide a solid foundation for deepening ties and cooperation for years to come.
"The place [Taiwan] is extremely open. It's free, pluralistic and it has great respect for other cultures," India Taipei Association (ITA) Director-General Manharsinh Laxmanbhai Yadav, who took office in August, said in an interview late last month.
Taiwan and India have both prioritized smart solutions and manufacturing, digital and green transformation, as well as the cultivation of a talented workforce, Yadav said, adding that the nations share "a similar vision for the future."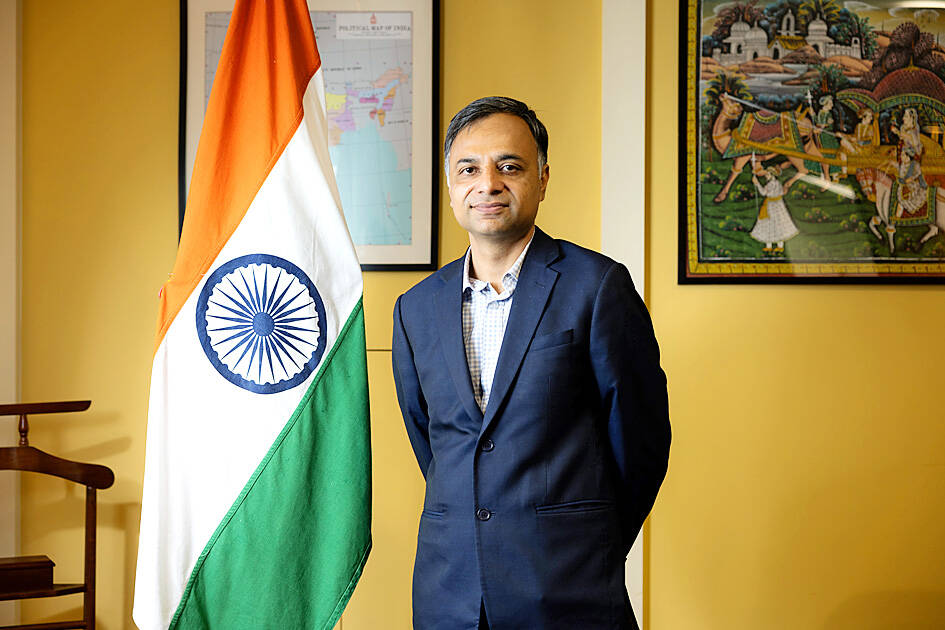 India Taipei Association (ITA) Director-General Manharsinh Laxmanbhai Yadav poses for a photograph in Taipei on Monday last week.
Photo: CNA
The two sides also have complementary strengths, he said, pointing to Taiwan's leading role in hardware manufacturing, especially semiconductors, and India's robust software sector, which provides high-quality information technology services worldwide.
Taiwan has a need for skilled workers, and India has a young and talented workforce, and is an international hub for engineers, he said.
These factors make India and Taiwan "natural partners," he said, adding that Taiwan's high-tech companies, including chipmakers, should invest in India, which produces more than 1 million engineers a year.
It is also the right time for the semiconductor industry to consider expanding to India because as the world's fifth-largest economy, it offers an ample market for semiconductor goods, he said.
Another area for closer cooperation is space, particularly after India became only the fourth country to complete an intact landing on the moon last month, after the US, the Soviet Union and China, he said.
India has a "market-friendly" space program that has already helped several countries successfully launch satellites, Yadav said.
"I see a good area for cooperation between the Indian private sector and Taiwanese private sector in building satellites," he said.
Regarding Taiwan's new office planned for Mumbai, the representative called the decision a "very good move."
He said that putting a Taipei office in the financial capital of India would help the countries boost bilateral economic, people-to-people and cultural exchanges.
The Ministry of Foreign Affairs has said that it hopes to open the office, its third in India after those in New Delhi and Chennai, later this year.
Comments will be moderated. Keep comments relevant to the article. Remarks containing abusive and obscene language, personal attacks of any kind or promotion will be removed and the user banned. Final decision will be at the discretion of the Taipei Times.