Illegal structures widespread: report
CRACKDOWN WANTED: More needs to be done to ensure people's safety as illegal additions pose not just a structural risk, but also a fire hazard, a Budget Center report said
Local governments need to step up enforcement of building codes to address the pervasive spread of illegally constructed additions, a legislative report released this week said.
The report from the Legislative Yuan's Budget Center said the latest available data indicate that local governments in the past few years have been lagging in their efforts to crack down on and remove illegal structures.
The number of cases involving illegal structures nationwide has increased by 52,084 from 664,288 at the end of 2017 to 716,372 at the end of July, the report said, citing Ministry of the Interior data.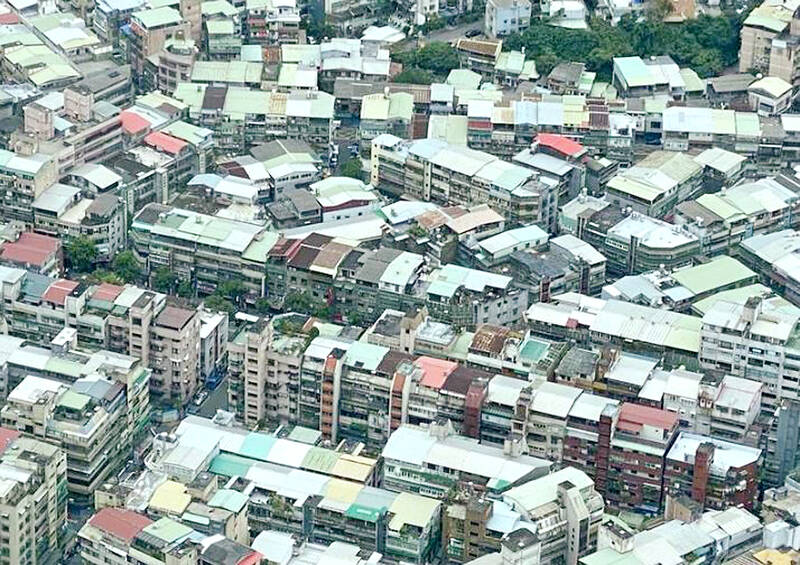 Penthouses are pictured in Taichung in an undated photograph.
Photo: Taipei Times
New Taipei City has the most listed cases at 186,073, making up 25.97 percent of the total, followed by Kaohsiung with 119,200, Taichung with 102,917 and Taipei with 82,525, the data showed.
Illegal buildings and structures have been a blight on urban centers for decades, endangering public safety and tainting city skylines with their unsightly, dilapidated appearance, ministry officials have said.
From 2019 to July this year, only New Taipei City, Tainan and Kaohsiung had reported a decline in cases of illegal buildings and structures, while in other areas reports have increased, the data showed.
Taichung has the most new cases, 13,445 more than in 2019, followed by Taoyuan with 5,959 new cases, Pingtung County with 4,136 and Hsinchu City with 2,270, records show.
Kaohsiung has reported the highest decline in listed illegal cases at 2,533, followed by a 1,181 decrease in cases by New Taipei City.
Strong enforcement is needed to ensure people's safety, and to protect against fires and other disasters due to illegal structures, the report said, adding that the closure rate of illegal structure cases has been low in the past few years.
From 2017 to last year, about 30,303 to 43,743 cases were resolved each year, or about 4.44 percent to 6.58 percent of all cases, interior ministry data showed.
As of July, about 20,227 cases have been resolved, while last year 5.38 percent were resolved, much less than 2017's 6.58 percent, the report said.
Local governments need to improve their efficiency in addressing cases of illegal structures, with improved enforcement and the demolition of structures when necessary, it said.
The authorities that oversee the agencies responsible for building code enforcement should incorporate the resolution rate of cases into annual performance reviews of civil servants and officials, it added.
Under the Regulations for the Handling of Illegal Structures (違章建築處理辦法) and the Building Act (建築法), building owners and developers must apply for approval from local authorities and receive a building permit before construction. Any construction or addition to a building made without a permit is considered illegal, including shelters on roofs, balcony or patio extensions, or the addition of a mezzanine.
Comments will be moderated. Keep comments relevant to the article. Remarks containing abusive and obscene language, personal attacks of any kind or promotion will be removed and the user banned. Final decision will be at the discretion of the Taipei Times.