NPP proposes euthanasia bill to 'initiate dialogue'
PLANNING CRUCIAL: Strict reviews would be key, as one issue under dispute is that poorer patients might have to consider euthanasia if it becomes legal, a physician said
The New Power Party (NPP) on Monday announced that it is proposing legislation to legalize euthanasia, saying it is time that Taiwanese society had genuine discussions on the issue.
A survey conducted in 2014 by Chinese-language weekly magazine Business Today found that 77 percent of respondents supported euthanasia.
An Internet poll by the Taiwan Tongzhi (LGBTQ+) Hotline Association in 2017 found that 92 percent of respondents supported legislation to legalize euthanasia.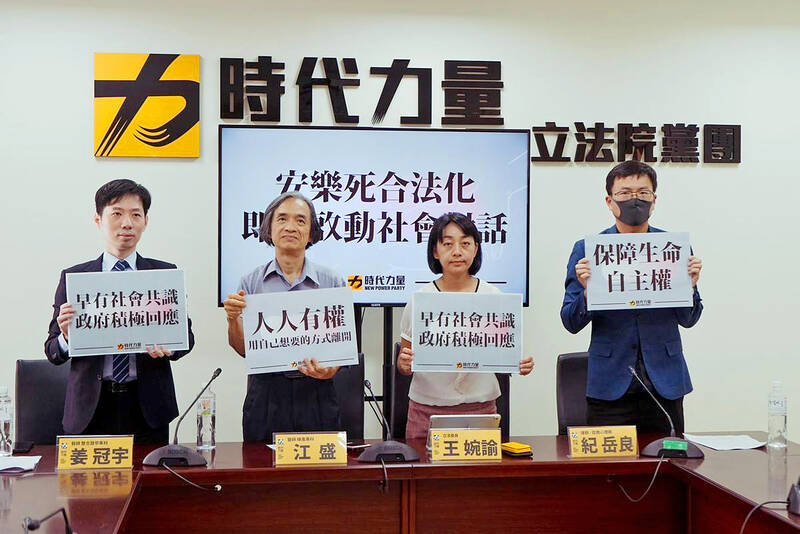 New Power Party (NPP) on Monday announces in a news conference that it is proposing legislation to legalize euthanasia.
Photo courtesy of NPP
"Facing all the controversies, our responsibility as legislators is to initiate genuine dialogue on the issue in society, which should seek to break past taboos and reach a consensus. Legislation should be stipulated to guarantee everyone's autonomy over their own lives," NPP Chairwoman Claire Wang (王婉諭) told a news conference in Taipei.
The euthanasia bill proposed by the NPP states that people should have the right to have their lives ended if they have a terminal illness and are experiencing unbearable pain, even after being given proper care and treatment, Wang said.
"Considering ethical issues that healthcare professionals might face in ending the lives of critically ill patients, the bill would give doctors the right to turn down a request for euthanasia at any time. The government should also have a mechanism in place to let other doctors carry out the procedure instead," she said.
"Medical professionals who are willing to carry out euthanasia should be exempt from being responsible for medical liability issues," Wang added.
She said that the government should ensure that organizations that offer physician-assisted suicide are staffed with licensed and certified professionals.
"The government should carefully examine each request for physician-assisted suicide and ascertain the legality of each case," Wang said.
Obstetrician and gynecologist Chiang Sheng (江盛) said that a mature society needs legal euthanasia.
"Euthanasia is an individual's right to freedom and autonomy, and falls within the scope of legal human rights. Empirical evidence has shown that while a majority of critically ill patients who remain conscious do not need euthanasia, about 4.6 percent of such patients would choose to end their lives with euthanasia and physician-assisted death," Wu said.
Physician Chiang Kuan-yu (姜冠宇), who specializes in integrated medicine and hospice care, said that the medical community in Taiwan has reached some consensus on the issue.
"First, doctors have a responsibility to reduce patients' pain, but they must also respect patients' choice for dignity in life. Second, any decision to terminate a person's life must be subject to strict medical and ethical review," he said.
"One of the main disputes over euthanasia is whether it can be allowed as an option if there are limited medical resources to relieve the social and economic pressure that a country must bear," Chiang said.
Another issue under dispute is that economically disadvantaged patients would be forced to consider the option of euthanasia if it is legalized, he said, adding that a comprehensive and well-rounded system is necessary.
Attorney Chi Yuan-liang (紀岳良) said that his experience of caring for his father, who had terminal cancer, made him realize that only a minority of patients can access hospice care due to limited capacity.
"Taiwan is proud of itself as a democratic and free nation. Modern medical technology could make people live in a state of 'half-life.' The government should be responsible for offering euthanasia as an option for patients with terminal illnesses," he said. "There is no excuse to delay such legislation anymore."
Comments will be moderated. Keep comments relevant to the article. Remarks containing abusive and obscene language, personal attacks of any kind or promotion will be removed and the user banned. Final decision will be at the discretion of the Taipei Times.