Taiwan News Quick Take
SOCIETY
Man dies during race
A 25-year-old man participating in the Sun Moon Lake International Swimming Carnival yesterday fell ill soon after entering the water and was later pronounced dead, local authorities said. The man, surnamed Yuan (袁), removed his swim cap, signaling distress, about 100m into the annual 3,000m swimming competition across Taiwan's largest lake, the Nantou County Government said. Emergency personnel quickly pulled Yuan onto a raft and transferred him into an ambulance, by which time he was already suffering out-of-hospital cardiac arrest, it said, adding that he was later pronounced dead at Puli Christian Hospital. Yuan had not drowned and his cause of death was still being investigated, it added. The swimmer's death cast a shadow over the popular event, which this year attracted more than 24,000 competitors from 33 countries.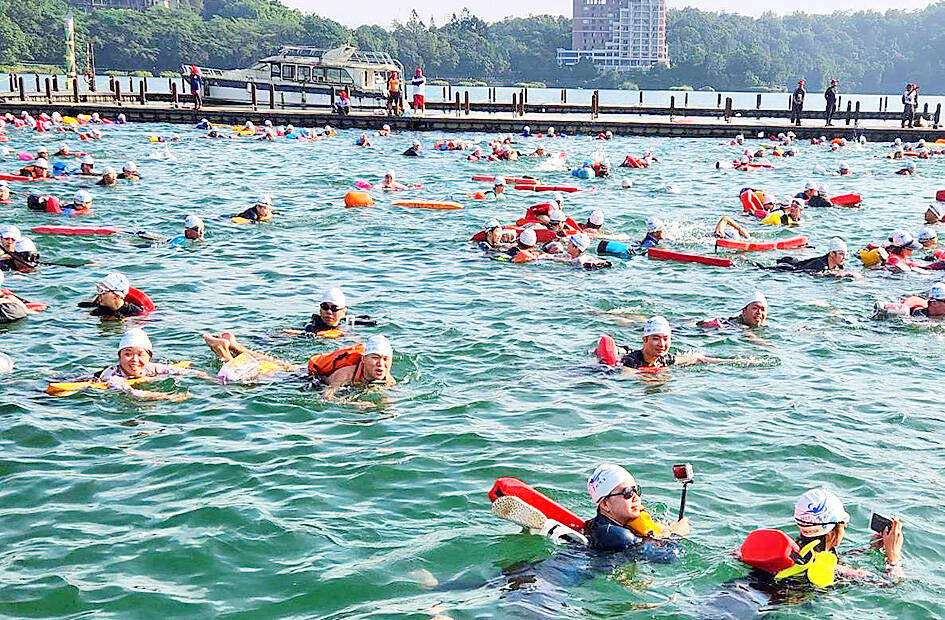 Photo: Hsieh Chieh-yu, Taipei Times
POLITICS
Hou You-yi takes leave
New Taipei City Mayor Hou You-yi (侯友宜), the Chinese Nationalist Party's (KMT) presidential candidate, went on leave starting from Saturday and would be absent from his mayoral post until the end of the year to focus on his campaign, the New Taipei City Government said. A KMT legislative candidate, who asked not to be identified, welcomed the move, adding that Hou had been much less active on the campaign trail compared with his rivals. Democratic Progressive Party New Taipei City councilors criticized Hou for taking 113 days off, longer than mayor-candidates in previous elections. Lin Cheng-yi (林正壹), head of the New Taipei City Personnel Department, said that mayors can roll their unused annual leave days over to the next year until the end of their term in office, and they have seven days of paid leave each year. As Hou has unused leave days dating back to 2021, he can take 77 days off in the remainder of this year, Lin said.
POLITICS
Chiang leaves for Seoul
Taipei Mayor Chiang Wan-an (蔣萬安) yesterday morning left Taiwan to attend the World Cities Summit Mayors Forum in Seoul, where he would give a speech on creativity and innovation. "I have two missions for my visit — one being urban diplomacy and the other youth development," Chiang said before departing for the three-day forum from Taipei International Airport (Songshan airport). Chiang said he would meet with Seoul Mayor Oh Se-hoon at the forum that started yesterday and ends tomorrow, to celebrate 55 years of sisterhood between the two capitals and to sign a memorandum of understanding on youth affairs cooperation. The forum, which highlights inclusivity and sustainability in urban development this year, brings together about 200 participants, including about 50 mayors.
TRAFFIC
Nantou cycling route opens
A new 600m cycle route that crosses part of Sun Moon Lake (日月潭) in Nantou County was opened on Saturday, with the aim of making biking around the lake safer and more enjoyable for visitors. The route connects Ita Thao Pier (伊達邵) with the cable car station on the east side of the Sun Moon Lake cycling network, which has been chosen as one of the world's top 10 cycling paths by CNNGo, the Sun Moon Lake National Scenic Area Headquarters said. The route, which cost NT$80 million (US$2.49 million), was built to make biking safer and give cyclists the option to ride closer to the water, officials said.
Comments will be moderated. Keep comments relevant to the article. Remarks containing abusive and obscene language, personal attacks of any kind or promotion will be removed and the user banned. Final decision will be at the discretion of the Taipei Times.