Hou outlines 3Ds strategy to promote cross-strait peace
AVERTING WAR: The KMT candidate said that 'deterrence, dialogue and de-escalation' would decrease hostilities and risks of conflict with China
New Taipei City Mayor Hou You-yi (侯友宜), the Chinese Nationalist Party's (KMT) presidential candidate, on Monday outlined his so-called "3Ds strategy" to promote peace and stability across the Taiwan Strait during a meeting with US academics at the Brookings Institution in Washington.
The 3Ds refer to "deterrence, dialogue and de-escalation.
The hour-long closed-door meeting was not open to the press, but Hou published an English-language article titled "Taiwan's Path Between Extremes: the Kuomintang Presidential Candidate Lays Out a Plan to Avert War With China," the same day in the Foreign Affairs magazine.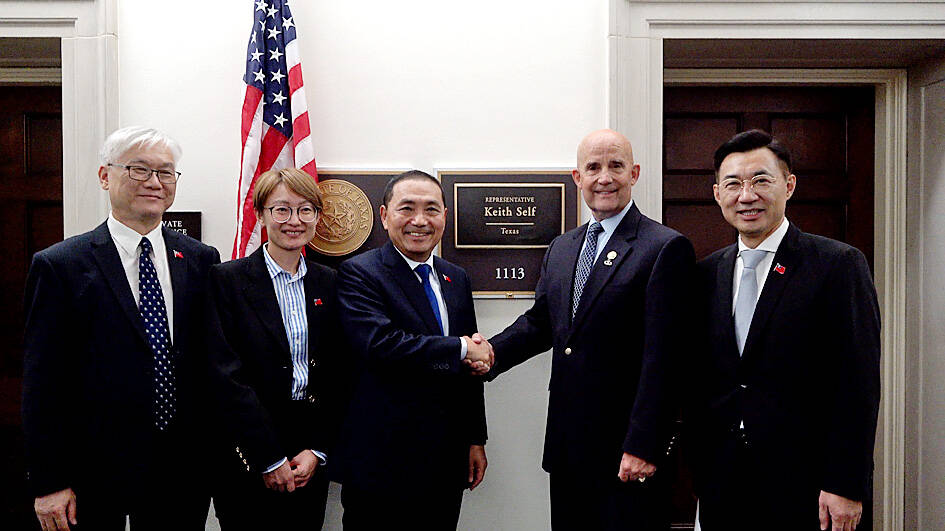 New Taipei City Mayor Hou You-yi, center, the Chinese Nationalist Party's (KMT) presidential candidate, shakes hands with US Representative Keith Self during a visit in Washington on Monday.
Photo: CNA
Taiwan has to be prepared for war, but use its strength to safeguard peace and stability across the Strait, Hou said in the article.
However, at the same time, he advocates the re-establishment of dialogue with China per the Constitution of the Republic of China, as well as the Act Governing Relations Between the People of the Taiwan Area and the Mainland Area (臺灣地區與大陸地區人民關係條例), which provides a legal framework for cross-strait relations.
"Drawing from successful experiences with such dialogue during past KMT governments, such as the collaborative efforts to combat crime since the 1990s that culminated in a comprehensive agreement on judicial mutual assistance signed in 2009, I will continue cross-strait communication while avoiding military miscalculations," he wrote.
Hou said that such cross-strait dialogue must be based on the principles of equality, goodwill and dignity.
"Through mid and long-term interactions between both sides, I believe it is possible to gradually decrease hostility and reduce the risk of conflict across the Taiwan Strait and avoid the threat of war," he wrote.
After the closed-door meeting, Richard Bush, non-resident senior fellow in the Center for East Asia Policy Studies at Brookings and a former American Institute in Taiwan (AIT) director, said that both sides had a "very detailed and substantive discussion."
"My cohosts and I believe that people on the American side got a very good understanding of Mayor Hou's views on cross-strait relations and US-Taiwan relations, and we're grateful for that," he said.
"I think that Mayor Hou heard very clearly what the interests and concerns of people on the American side were," Bush said, without elaborating.
Following the think tank speech, Hou visited the AIT Washington headquarters and was greeted by AIT Chairwoman Laura Rosenberger. The closed-door meeting lasted an hour and Hou did not make a public statement afterward.
Sources said that Hou also met with several Republican lawmakers, including Mike Garcia, Pete Sessions and Keith Self.
Hou is on an eight-day visit to the US that began in New York.
Yesterday was Hou's last day in Washington before he heads to San Francisco and returns to Taipei.
It has been a longstanding practice for Taiwanese presidential candidates to visit the US before elections.
Taiwan People's Party Chairman and presidential candidate Ko Wen-je (柯文哲) and Vice President William Lai (賴清德), the Democratic Progressive Party's presidential nominee, also visited the US earlier this year.
Comments will be moderated. Keep comments relevant to the article. Remarks containing abusive and obscene language, personal attacks of any kind or promotion will be removed and the user banned. Final decision will be at the discretion of the Taipei Times.