Sriracha imports sent back over sulfur dioxide
Thousands of bottles of Sriracha have been returned or destroyed after the discovery of excessive sulfur dioxide, a bleaching agent, the Food and Drug Administration (FDA) announced on Tuesday.
About 12,600 bottles totaling 9,991.8kg of the hot sauce imported from the US by Emporium Corp (河洛企業) were flagged at the border for containing illegal levels of sulfur dioxide, the FDA said in its regular border inspection announcement.
Inspectors discovered 0.5g per kilogram of the common bleaching agent and preservative, higher than the 0.03g permitted, it said.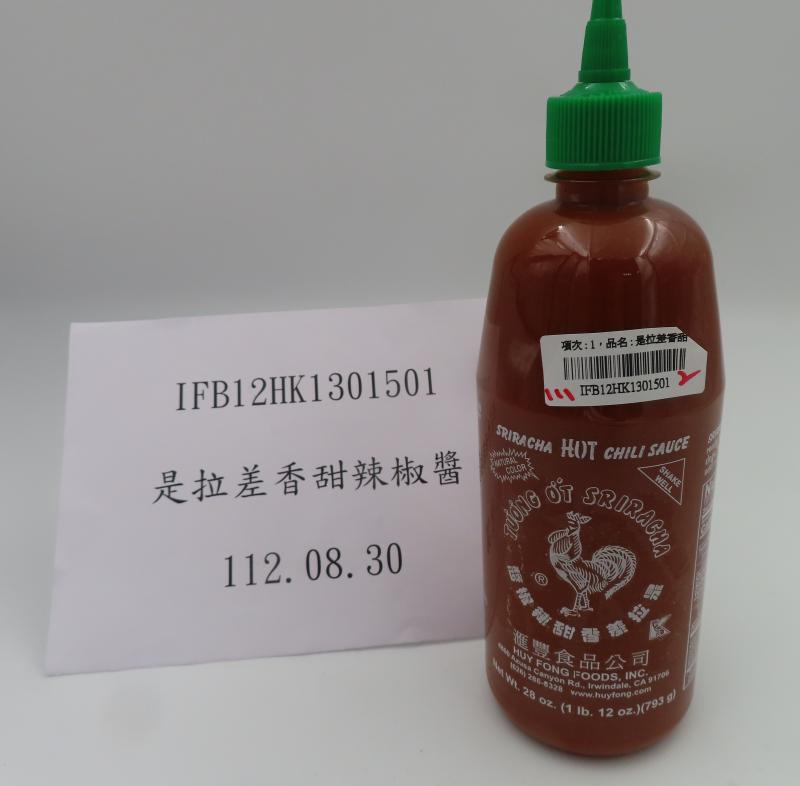 A bottle of Sriracha with excessive sulfur dioxide levels is pictured on Aug. 30.
Photo courtesy of the Food and Drug Administration
As it is the first time within six months the product has been flagged, Sriracha products from the importer are to be inspected more often, but not banned, the agency said.
Sulfur dioxide is considered safe in small quantities, but may cause allergic reactions including nausea, chest tightness or difficulty breathing in hypersensitive individuals or in large quantities.
Also found with excessive sulfur dioxide in this week's FDA announcement were sweet coconut gel from Vietnam and coptis extract from China.
Comments will be moderated. Keep comments relevant to the article. Remarks containing abusive and obscene language, personal attacks of any kind or promotion will be removed and the user banned. Final decision will be at the discretion of the Taipei Times.