Taipei receives report on Tammy Lai counseling furor
The Taipei Department of Health yesterday confirmed that it had received a report that actress Tammy Lai (賴佩霞), the running mate of independent presidential candidate Terry Gou (郭台銘), had allegedly been charging for one-on-one counseling sessions without a license.
Since Hon Hai Precision Industry Co founder Gou announced Lai as his running mate on Thursday, the authenticity of Lai's education and expertise has sparked speculation among political pundits and online.
One political pundit said Lai's official Web site, titled "Dr Lai Pei-hsia," lists "mental consultant" under her experience and says she offers paid counseling sessions and spiritual lessons, although she has only received a certificate in hypnosis for a 12-day course from the National Guild of Hypnotists.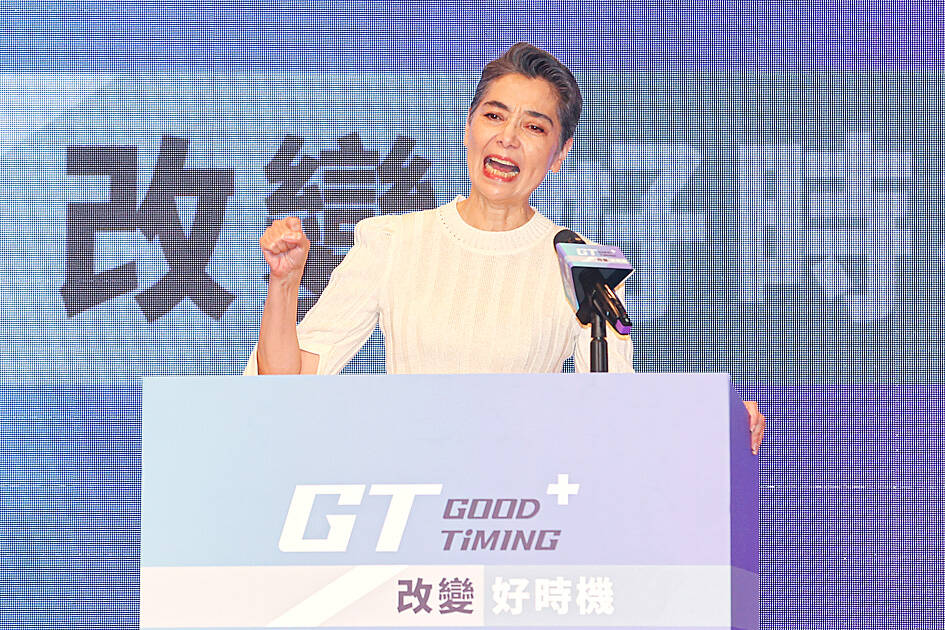 Actress Tammy Lai, the running mate of independent presidential candidate Terry Gou, speaks at a news conference in Taipei on Sept. 14.
Photo: CNA
A licensed psychologist asked whether Lai had been providing psychotherapy or counseling without a license, as she offered 80-minute one-on-one sessions for NT$23,000 and other workshops relating to mental health, also at relatively high prices, and used psychotherapy terms to describe the services.
The Taiwan Counseling Psychologist Union on Sunday issued a statement giving pointers to people who are in need of counseling.
People who need counseling are advised to search the Ministry of Health and Welfare's medical affairs personnel inquiry system (ma.mohw.gov.tw/masearch/SearchDOC-101-1.aspx) to ensure the service provider is a licensed psychologist, it said.
However, only a nurse could be found when searching for "Lai Pei-hsia" in the inquiry system.
The union also said that people who want to become psychologist must follow the Psychologists Act (心理師法), completed the relevant master's program and internship and pass the Ministry of Examination's national exam to receive a certificate, then join a local psychologist association and register with a facility approved by the health ministry.
Psychologists are governed by the act and ethical guidelines, as well as the local associations, it said, adding that people who do not have the qualifications but offer psychologist services can be penalized or sent to prison.
Author Hedy Lee (李文) yesterday shared on Facebook screenshots of Lai's official Web site, and wrote that she has reported Lai to the Taipei Department of Health on suspicion of contravening the Psychologists Act and Physicians' Act (醫師法).
Lee said she had noticed that the wording on Lai's Web site had been changed over the past few days.
Lai in a video on Facebook yesterday said that she received qualifications as psychological counselor and corporate trainer in China in 2011, but she had never practiced in Taiwan, so she is a coach for top executives.
The Taipei Department of Health yesterday confirmed that it received a report, saying its initial assessment found that there was no direct evidence that Lai had contravened the Psychologists Act, although it would look into the case to determine whether Lai's Web site had been misleading.
Comments will be moderated. Keep comments relevant to the article. Remarks containing abusive and obscene language, personal attacks of any kind or promotion will be removed and the user banned. Final decision will be at the discretion of the Taipei Times.