Chinese drills showcased for the US, not Taiwan
PACIFIC OCEAN: Defense experts have warned that the 'Shandong,' China's second largest aircraft carrier, poses a serious threat to eastern Taiwan's defenses
The drills conducted by the Chinese aircraft carrier Shandong in the Western Pacific last week were more aimed at showcasing China's military capabilities to the US rather than toward Taiwan, a Taiwanese defense expert said yesterday.
Lin Yin-yu (林穎佑), an assistant professor at Tamkang University's Graduate Institute of International Affairs and Strategic Studies, said the drills which involved dozens of warplanes sought to test China's anti-access and area denial capabilities should the US and its allies attempt to interfere in a cross-strait conflict.
Lin said that the latest Chinese drills coincided with a joint maritime exercise conducted by the US, South Korea and Canada that happened on the Yellow Sea on Thursday.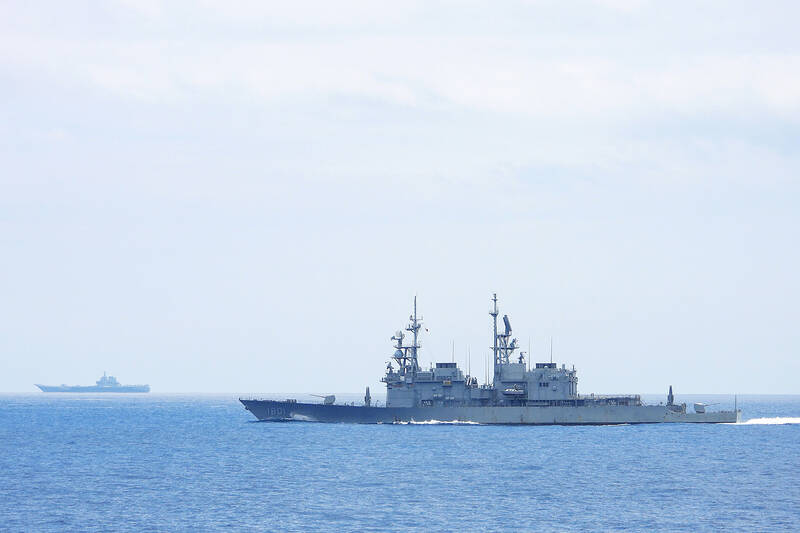 This undated handout photo released by the Taiwan Defense Ministry on September 13, 2023 shows Chinese aircraft carrier Shandong, left, while being monitored by a Taiwanese Keelung class warship at sea.
Photo: Taiwan Defense Ministry / AFP
The People's Liberation Army (PLA) did not make more details of the Shandong drill public.
Taiwan's Ministry of National Defense said that the Chinese-built aircraft carrier passed through the Bashi Channel at 60 nautical miles southeast of Oluanpi (鵝鑾鼻), and then headed east into the West Pacific for a long-range training session on Monday last week.
Meanwhile, Japan's Minister of Defense said several rounds of drills involving warplanes and helicopters landing and taking off were held on the Shandong on Wednesday and Thursday last week, before the aircraft carrier concluded its drills on Thursday and Friday and headed to the South China Sea.
Lin said he does not believe that the two-day exercises in the West Pacific were cut short by the reported disappearance of Chinese Defense Minister Li Shangfu (李尚福).
Although Li is a general, he is not responsible for combat missions, as the position of defense minister mainly involves defense diplomacy, Lin said.
Li's disappearance would not impact the PLA's long-term combat preparedness or strategy, but it could mean the PLA is undergoing a high-level official reshuffle that could demoralize the Chinese military, Lin added.
Li, who was appointed defense minister in March, has been absent from public view for more than two weeks, fueling rumors about his fate after a series of unexplained personnel shakeups roiled the upper ranks of the Chinese Communist Party this summer.
US media reports have quoted unnamed government sources as saying Li is under investigation for corruption, and would likely be removed as general.
The Shandong is China's second aircraft carrier, and the first to be entirely built by its domestic shipbuilding industry. It was commissioned into the PLA Navy on Dec. 17, 2019 in Sanya, Hainan Province.
The Liaoning, China's first aircraft carrier, was launched in 2012. The vessel was a refurbished Soviet Kuznetsov-class cruiser carrier purchased in an incomplete state.
Meanwhile, China's third and most advanced aircraft carrier, the Fujian, is expected to enter service after completing sea trials sometime next year.
Beijing launched the Fujian, on June 17, 2022. It is built to launch fighter jets with an electromagnetic catapult, a system on a par with the USS Gerald R. Ford, the US Navy's most advanced carrier in service.
Taiwan's defense experts have previously warned that the Shandong's ability to conduct take-off and landing drills in the Pacific Ocean indicates it is a serious threat to eastern Taiwan.
The region, protected by the central mountain range on the west, has traditionally been used to preserve and maintain Taiwan's combat readiness in the event of an invasion by the PLA.
It is essential for Taiwan to enhance its air defense capabilities and introduce additional runways in the eastern counties of Hualien and Taitung, given that the PLA is now capable of launching attacks from waters east of Taiwan, said retired Air Force Lieutenant General Chang Yen-ting (張延廷).
Comments will be moderated. Keep comments relevant to the article. Remarks containing abusive and obscene language, personal attacks of any kind or promotion will be removed and the user banned. Final decision will be at the discretion of the Taipei Times.