Group calls for Taiwan constitution
INDEPENDENT: The Republic of China Constitution cannot be revised to meet Taiwanese people's needs and a new constitution is needed, a civil society group said
Two civil society groups in favor of Taiwanese independence on Wednesday called on the government to abandon the Republic of China (ROC) Constitution and draft a new one with "Taiwan" designated as the country's official name.
"The current and future governments should not be intimidated" on the issue of the Taiwan independence, said Richard Chen (陳南天), head of the World United Formosans for Independence (WUFI), in Taipei.
The government should "use Taiwan as its country name" and "formulate a Taiwanese Constitution" based on the premise that "Taiwan and China are not subordinate to one another," he added.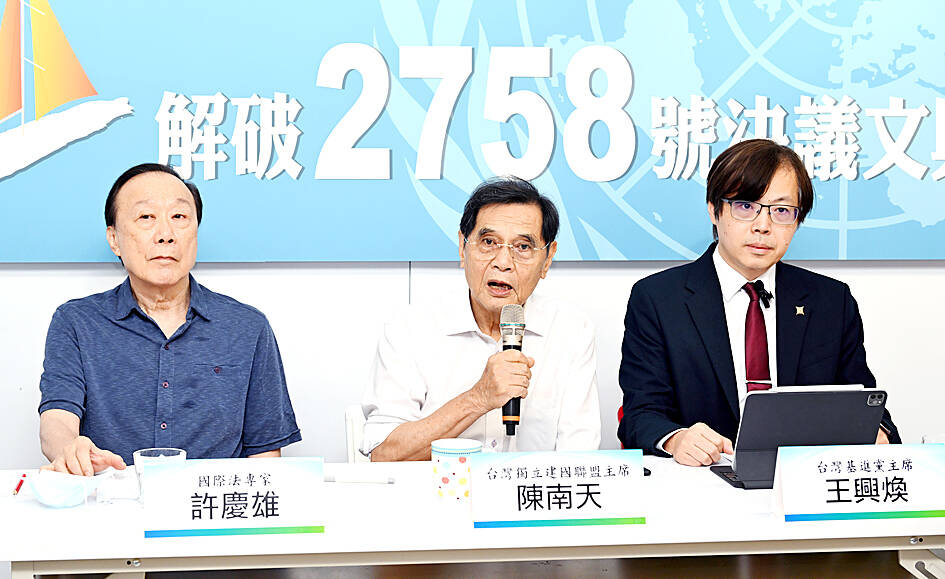 World United Formosans for Independence chairman Richard Chen, center, speaks at a press conference in Taipei on Wednesday.
Photo: Liao Chen-huei, Taipei Times
"[We] must confidently and actively move toward a more independent Taiwan," Chen said, adding that the promulgation of a new constitution would help "deepen" a collective Taiwanese identity.
WUFI was formed in 1970 by Taiwanese pro-independence groups based in Taiwan, the US, Japan, Europe and other countries.
Headquartered in Taiwan, the organization said it questions the legitimacy and relevance of the ROC Constitution to modern-day Taiwan, and rejects it.
WUFI has ruled out revising the existing ROC Constitution, and instead called for the establishment of a new constitution through a mechanism mandated by the people.
The ROC Constitution cannot be revised to cater to the needs of Taiwanese society, it said, citing the high bar for any constitutional amendments.
RECOGNITION
The call by WUFI and the Taiwan National Security Institute came months after the US House of Representatives in late July passed a bill aimed at countering efforts by China to exclude Taiwan from participating in international organizations.
Titled the Taiwan International Solidarity Act, the bill says that UN Resolution 2758, which recognized the People's Republic of China (PRC) as the only legitimate government of China in 1971, does not apply to Taiwan.
According to the resolution, the UN recognizes the representatives of the PRC as "the only legitimate representatives of China to the United Nations" and it expelled "the representatives of Chiang Kai-shek [ROC] from the place."
Law expert Hsu Ching-hsiung (許慶雄), who teaches at Tamkang University in Taipei, said at the WUFI event that the recent passage of the bill by the US House reflected efforts by the international community to reject China's claims over Taiwan.
Therefore, it is problematic for Taiwan to continue to "wave the flag of the ROC" and maintain its system in Taiwan, Hsu said.
Comments will be moderated. Keep comments relevant to the article. Remarks containing abusive and obscene language, personal attacks of any kind or promotion will be removed and the user banned. Final decision will be at the discretion of the Taipei Times.