Group seeks to end 'hostage diplomacy'
POLITICAL ARRESTS: Morrison Lee, who served a 22-month prison sentence in China, said that he hoped presidential candidates would call China out on its 'illicit' actions
Noted authors and Morrison Lee (李孟居), who served a 22-month prison sentence in China on espionage charges, yesterday urged presidential election candidates to propose measures to guarantee the personal safety of Taiwanese visiting China, to avoid further cases of "hostage diplomacy."
Authors Li Ang (李昂) and Chu Yu-hsun (朱宥勳) joined Lee and other figures in the arts and humanities at a news conference in Taipei protesting China's arrest of Gusa Press (八旗文化) editor-in-chief Lee Yanhe (李延賀), also known by his penname Fucha (富察).
For those in a democratic country who abide by the rule of law, China's arrest of Lee was illegal, Support Fucha Signature Drive member Joshua Wang (王家軒) said.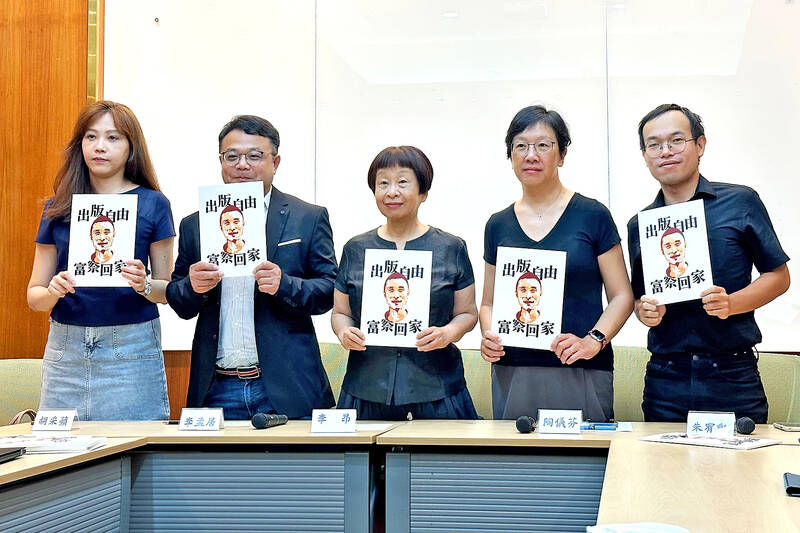 From left, political commentator Emmy Hu, Morrison Lee, author Li Ang, National Taiwan University political science associate professor Tao Yi-feng and author Chu Yu-hsun hold a news conference at the Legislative Yuan in Taipei yesterday.
Photo: Chen Cheng-yu, Taipei Times
The incident has caused people who have business dealings in China to face significant stress, as they now see that Beijing can arrest people for political reasons and not legal violations, he said.
The Support Fucha Signature Drive group has more than 300 members, Li said.
Cross-strait efforts in promoting academic and cultural interactions have been plagued with uncertainties, and Chinese customs officers have been questioning people, she said.
She urged all four presidential candidates to give due attention to such issues and to say what measures they would take to help protect Taiwanese visiting China for academic interactions.
She said she hoped to hear back from the candidates by Thursday next week, which would mark a full half-year since Fucha had been arrested.
There are many other Taiwanese detained in China, Morrison Lee said, adding that he hoped the presidential candidates would have the courage to call China out on its "illicit" actions.
Taiwan could be the base of an international support platform to help those who have been "disappeared" by the Chinese government, Morrison Lee said.
He urged China's Taiwan Affairs Office to provide a list of "sensitive topics and phrases," adding that without such action, no one would dare visit China again.
Morrison Lee also urged Taipei Mayor Chiang Wan-an (蔣萬安) to include human rights issues in next year's Twin-City Forum.
"There must be interaction across the Taiwan Strait, and the overhanging shadow must be removed. We hope that a politician with guts would be able to achieve this goal," Morrison Lee added.
Chu said that there was little that Taiwan could do to change China's policies, but the presidential candidates could express their stance on such matters.
"If one is arrested and persecuted for no reason when on an exchange, you [the candidates] must side with us, the people of culture and the humanities, instead of first asking if we crossed a red line and said something we should not have," he said.
Chen Shih-kai (陳世凱), spokesman of Democratic Progressive Party presidential candidate William Lai's (賴清德) office, said the party is dedicated to upholding Taiwanese sovereignty, democracy and liberty.
The party is dedicated to maintaining peace and stability in the Taiwan Strait, the act of which contributes to the protection of the basic human rights of Taiwanese, he said.
In light of the Fucha case and similar incidents, he said that the Mainland Affairs Council has prepared a list of actions that might cause problems with Chinese national security agencies.
The council has repeatedly urged people not to visit China unless necessary to minimize the possibility of one's personal liberties and freedom being oppressed, he added.
Additional reporting by CNA
Comments will be moderated. Keep comments relevant to the article. Remarks containing abusive and obscene language, personal attacks of any kind or promotion will be removed and the user banned. Final decision will be at the discretion of the Taipei Times.