Report reveals beatings, negligence at Taipei Jail
'LOOPHOLES': Control Yuan members also found that there was a lack of CCTV surveillance inside the facility, reporting that management had exploited the system
Guards at Taipei Prison inflicted violence on inmates through use of Tasers and pepper spray, a Control Yuan report said on Thursday, as it ordered the Ministry of Justice to conduct a thorough investigation.
Control Yuan members Kao Yung-cheng (高涌誠) and Wang Yu-ling (王幼玲) found the physical assault and violence against inmates had mainly taken place at two wings of the prison, but also cited administrator negligence, as the prison facility did not have surveillance cameras installed in all of its areas.
At a news conference on Thursday, Kao and Wang said they received complaints filed by inmates and their families, leading to the probe they carried out on the facility. They made unannounced visits to Taipei Prison to check video footage, interview inmates, guards and staff, and also ex-inmates who were released after finishing their prison sentences.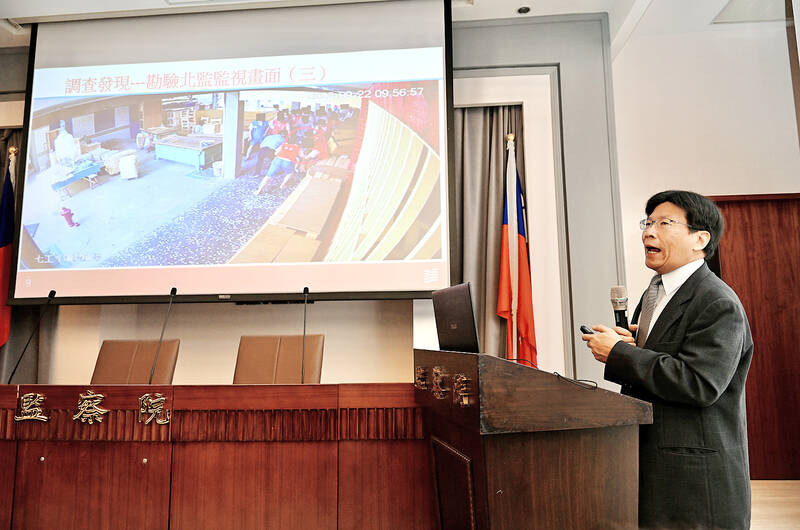 Control Yuan member Kao Yung-cheng presents the findings of an investigation into abuse at Taipei Prison at the Control Yuan in Taipei on Thursday.
Photo: Lo Pei-de, Taipei Times
"Our finding has confirmed on the filed complaints, that inmates had their rights infringed by prison guards. Some incidents had inmates being handcuffed without given reasons, and then the guards subjected the victims to physical assault, including the use of Tasers and pepper spray," Kao said.
"In some instances, the guards allowed other inmates to dish out beatings on the handcuffed victims, who had their hands bound, and immobilized. The actions also included punching on the head, grabbing the victim and bouncing them against a wall, which were seen in the seized video footage," he said.
Kao said the probe confirmed a complaint where one guard was said to have allowed other prison service staff to physically attack certain inmates. Kao added that the attack was suspected to have been carried out as a punishment, or as revenge from previous encounters, which allegedly were condoned by the warden and his subordinate administrators.
Furthermore, Kao and Wang cited evidence and interview testimony that the inmates who sustained bodily harm and injuries were forced to sign a declaration form, stating that they were not injured, and that a refusal to sign this would have subjected them to more beatings.
The report cited improper violent actions and wrongdoing by guards at the two wings, along with negligence in their official work duty, while highlighting the negligence of the Taipei Prison warden and subordinate administrators for condoning physical assault, infringing upon the inmates' human rights.
Taipei Prison is the major incarceration facility in northern Taiwan, which was originally located inside the city until its relocation to its current site at Taoyuan's Gueishan District (龜山) in 1963, Kao said, adding that the prison currently holds convicted criminals who are serving lengthy sentences, along with repeat offenders.
The report showed that the prison's management had exploited loopholes in the system, such as the lack of total coverage of a surveillance camera system at the facility, and how some staff had interacted with inmates for cleaning, meals and other essential services.
Kao and Wang also found that Taipei Prison still has inadequate medical care for foreign nationals housed within its facility. They recommended that the Ministry of Justice improve scrutiny as well as medical personnel and resources, which would help provide foreign inmates with proper healthcare and clinical services.
In response, Taipei Prison officials said they would enhance education and training of all guards and service staff, and are to strictly enforce regulations so that punishments, including use of restraining devices, would only be carried out by trained guards tasked with the work.
The officials said successful fund requests received since 2018 have improved the facility's surveillance camera coverage. They added that it is expected to replace the old surveillance equipment, implementing a "smart monitoring system" for complete coverage by the end of this year to ensure transparency throughout the facility.
The Ministry of Justice also issued a release, stating it would take the findings into consideration, and would mandate Taipei Prison and the Agency of Corrections to fully cooperate when a judicial investigation gets underway, and punish those staff found guilty of negligence and wrongdoing in the incidents cited in the report and confirmed through the investigation.
Comments will be moderated. Keep comments relevant to the article. Remarks containing abusive and obscene language, personal attacks of any kind or promotion will be removed and the user banned. Final decision will be at the discretion of the Taipei Times.