TRA losses to top NT$7.4bn on switch
JANUARY CORPORATIZATION: The soon-to-be-established company would bear added financial burdens from pay raises, welfare funds and losses it would assume
The Taiwan Railways Administration (TRA) is to incur a financial loss topping NT$7.492 billion (US$233.89 million) after it is officially corporatized in January next year, based on a budget it submitted to the legislature.
The agency's estimated business revenue for the 2024 fiscal year is NT$34.452 billion, while business expenditure would reach NT$41.944 billion, the agency said.
The loss would be a 60.33 percent increase from NT$2.819 billion budgeted for fiscal 2023, it said.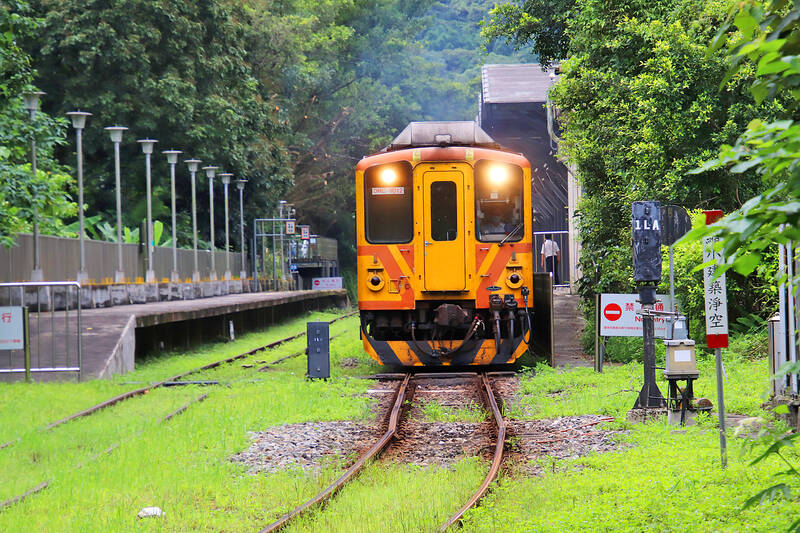 A Taiwan Railways Administration train is pictured in Hsinchu County in an undated photograph.
Photo: Huang Mei-chu, Taipei Times
The TRA said that the expected increase is because the soon-to-be-established railway company would bear additional financial burdens during its first year of operations:
First, a 4 percent pay raise for all workers would increase expenditure by NT$600 million, it said.
Second, 1.5 percent of state-owned Taiwan Railway Co's capital would be allocated to establish employee welfare funds, costing about NT$1.2 billion in total, it said.
Third, the new company would assume losses of NT$1 billion due to asset depreciation and amortization, the TRA said.
"As a public facility, the TRA is tasked with serving society and must not run a profit-oriented operation," it said. "However, the agency has had a severe funding shortage, as train ticket prices have been kept low and it can no longer cover the costs."
"The agency's ability to pay short-term debts is inadequate and it must carry a heavy interest burden as well," it said.
The TRA has had some relief, with the government paying its interest obligations for the TRA's employee pension fund and derivative debts, it said.
The state has also subsidized its less-profitable railway services, including stations with low use rates, it said.
The TRA said that losing customers who prefer high-speed services for long-distance travel was inevitable, but it is finding ways to replace that lost revenue.
The TRA is to offer "Intercity MRT services" on the west coast by increasing commuter train services and working with other public transit operators to offer train passengers seamless transfers between services, it said.
With complete electrification of railway services across Taiwan to be finished soon, the TRA plans to increase ridership to the east coast by working with tour operators, it said.
Other plans include an increase in freight services and participation in urban development plans to profit from its properties, the agency said.
Comments will be moderated. Keep comments relevant to the article. Remarks containing abusive and obscene language, personal attacks of any kind or promotion will be removed and the user banned. Final decision will be at the discretion of the Taipei Times.