Farmer faces prosecution over cannabis plants despite reporting them to police
A farmer in Miaoli County faces prosecution after finding a packet of seeds by the roadside, which he took home and planted, only to find that they produced cannabis plants, police said.
Police on Thursday quoted the farmer, surnamed Yeh (葉), who is in his 50s, as saying that, in February, he found a packet of seeds on the ground next to a garbage bin on a rural road branching off Provincial Highway No. 3 near his farm in Miaoli's Dahu Township (大湖).
He had always had an interest in cultivating plants, and as he was curious about the unidentified seeds, he took them home and planted some, Yeh said in a recorded statement to the police.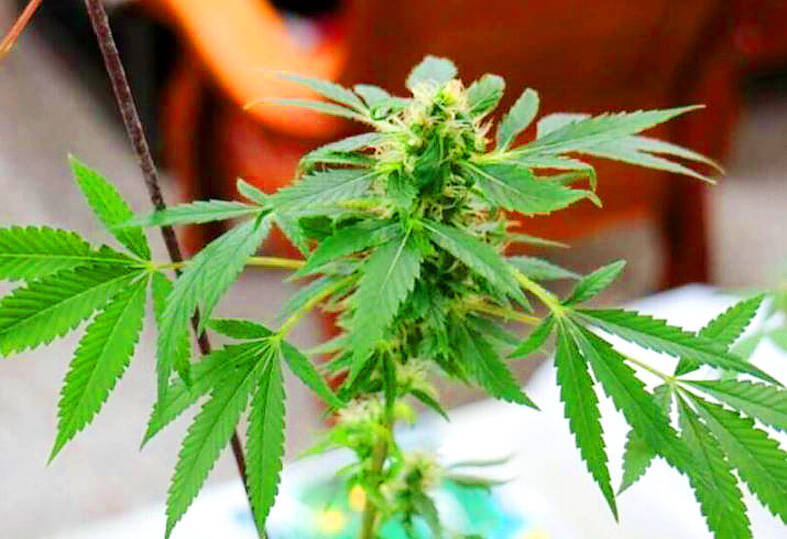 A cannabis plant is pictured in an undated photograph.
Photo: Taipei Times file
After three months, he found that three of the seeds had sprouted, but because the seedlings grew gradually he did not know what they were at first, Yeh said, adding that he later thought they looked like cannabis, but was still was unsure.
He asked the police to help him identify the plants, and when officers went to his home they found three healthy seedlings growing and a packet of about 800 seeds, which were identified as cannabis, police said.
The police said they confiscated the seedlings and the seeds, and took urine samples from Yeh, which came back clean.
A background check found that Yeh had no previous record of drug possession, but police said they had to follow procedure and took him to the Miaoli District Prosecutors' Office for prosecution.
Cannabis is classified as a Category 2 narcotic under the Narcotics Hazard Prevention Act (毒品危害防制條例), so Yeh must be prosecuted as he had planted the seeds and was in possession of cannabis plants, police said.
As Yeh reported the plants and seeds to the police he can expect a lesser sentence for unknowingly contravening the law, police said.
Earlier last week, police in Chiayi County conducted a raid in Fanlu Township (番路) and found cannabis oil products and pouches of "narcotic coffee powder" and tools for packaging.
A further search uncovered assorted narcotics inside a large polystyrene box labeled as fresh seafood and 20 packets of white powder, which turned out to be 7.3kg of heroin.
Police said it was one of the largest hauls of heroin found in Taiwan recently.
Testing found that the box contained one packet of amphetamine, 82 bottles of cannabis oil for vaping, one box of cannabis chocolates and nine pouches of mephedrone, police said.
Overall, judicial investigators estimated that the drugs seized had a street value of NT$40 million (US$1.26 million).
The house was rented by a man surnamed Tsai (蔡), who now faces prosecution.
Additional reporting by Jason Pan
Comments will be moderated. Keep comments relevant to the article. Remarks containing abusive and obscene language, personal attacks of any kind or promotion will be removed and the user banned. Final decision will be at the discretion of the Taipei Times.