Kinmen bridge plan slammed over security fears
HOU PROPOSAL: A DPP member said a bridge linking Kinmen and Xiamen would affect the nation, so a referendum for Kinmen residents alone would be improper
Plans to link Kinmen County and China's Xiamen with a bridge raise too many national security concerns to consider putting it to a referendum, Democratic Progressive Party (DPP) lawmakers said yesterday, after the Chinese Nationalist Party's presidential candidate backed the idea in a speech on the outlying county.
DPP caucus director Liu Shyh-fang (劉世芳) said that most Taiwanese believe there are too many national security risks regarding New Taipei City Mayor Hou You-yi's (侯友宜) plan to hold a referendum on building the so-called "Kinmen-Xiamen Peace Bridge."
"If someone says this project would raise no national security concerns, they are lying," Liu said. "Hou is defrauding people for votes."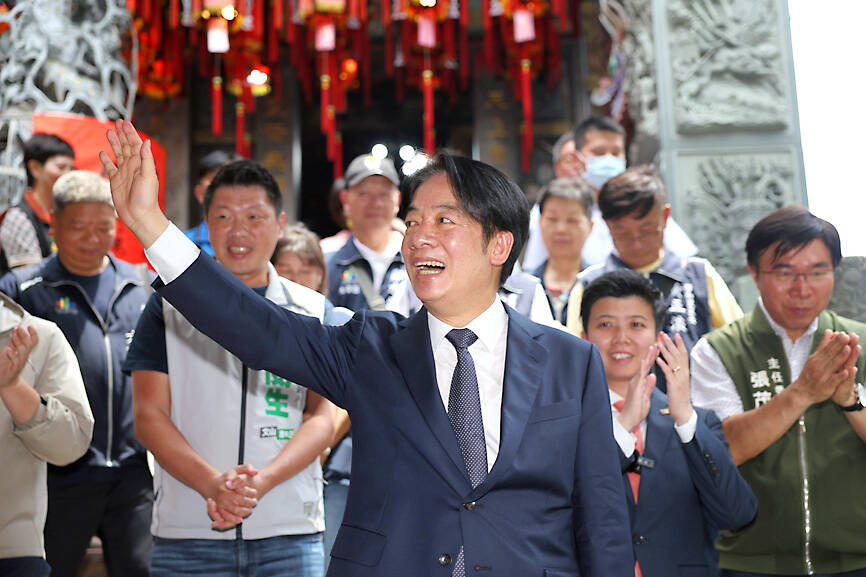 Vice President and Democratic Progressive Party candidate William Lai, front center, waves to supporters at a campaign event in Taipei on Monday.
.Photo: CNA
"If the bridge project is feasible, it would have been completed during the administration of former president Ma Ying-jeou (馬英九) of the KMT, as he always claimed he was the best person to communicate with the Chinese government," she said.
"Hou must inform the public about the national security issues that would be raised by the project," she said. "He has evaded such questions, despite the worries and misgivings of the public."
"As a presidential candidate, Hou must not gloss over these issues," Liu said.
She added that a referendum on the issue could not be left to Kinmen.
"Building a bridge linking Kinmen and Xiamen city would have implications for the entire nation's national security, so it could not be a local referendum for Kinmen County residents alone," Liu said.
Hou earlier yesterday presented his "six major programs" at an event in the county, saying that if elected president, he would support a referendum in Kinmen on the bridge plan, as well as approve plans to build electricity and natural gas connections to Xiamen.
DPP caucus secretary-general Chuang Jui-hsiung (莊瑞雄) said that Hou's proposals were clearly to abide by the policies of Chinese President Xi Jinping (習近平), which would lead to the eventual takeover of Taiwan by China.
Xi on Jan. 2, 2019, proposed the "new four links" plan to supply Kinmen with "water, electricity, natural gas for fuel and a bridge connecting to Xiamen," Chuang said.
That was part of a major policy address by Xi on his blueprint for cross-Strait development based on the "one country, two systems" model, he said.
Hou earlier said that Xiamen supplying electricity and natural gas would be good for the long-term economic development of Kinmen.
If there are no national security concerns, he would launch negotiations between the governments of Taiwan and China, he said.
If a referendum garnered the approval of a majority of Kinmen residents, he would initiate studies on the feasibility and economic benefits of a bridge link, if he added.
A proposal from a few years ago said that a bridge of 6km to 11km, depending on the route, would cost up to NT$13.2 billion (US$413.46 million at the current exchange rate).
Meanwhile, Taiwan People's Party Chairman and presidential candidate Ko Wen-je (柯文哲) backed the bridge plan.
"It is a good plan, which is why other people have also proposed it," he said, apparently referring to himself, as he has previously pushed for such a connection.
"It is certainly feasible — and it would be beneficial to have a bridge up and running, along with links for water, electricity and natural gas, as well an improvement to garbage disposal for Kinmen," Ko said.
"I am certain that a referendum, if it could be held, would be backed by local voters," he said.
"Kinmen County is a good place to operate a pilot economic zone, to test whether Taiwan and China can cooperate," he said.
Xiamen is close to Kinmen, so it would be the best place to test a "cross-Strait peace zone," where the governments of Taiwan and China could deal with each other," Ko added.
Kinmen County is a few kilometers from Xiamen.
Comments will be moderated. Keep comments relevant to the article. Remarks containing abusive and obscene language, personal attacks of any kind or promotion will be removed and the user banned. Final decision will be at the discretion of the Taipei Times.