Ministry of Environment officially starts operations
The new Ministry of Environment officially started operations on Tuesday after a plaque-unveiling ceremony and inauguration of its first minister, Shieu Fuh-sheng (薛富盛).
The ministry was upgraded from the Environmental Protection Administration (EPA) established in 1987 after a law to redesignate the EPA a ministry cleared the legislature on May 9 and was promulgated by President Tsai Ing-wen (蔡英文) on May 24.
Addressing the plaque-unveiling ceremony, Tsai said the ministry is determined to respond to global trends and expressed confidence it would work with various sectors of society to help accelerate the nation's transition to netzero emissions.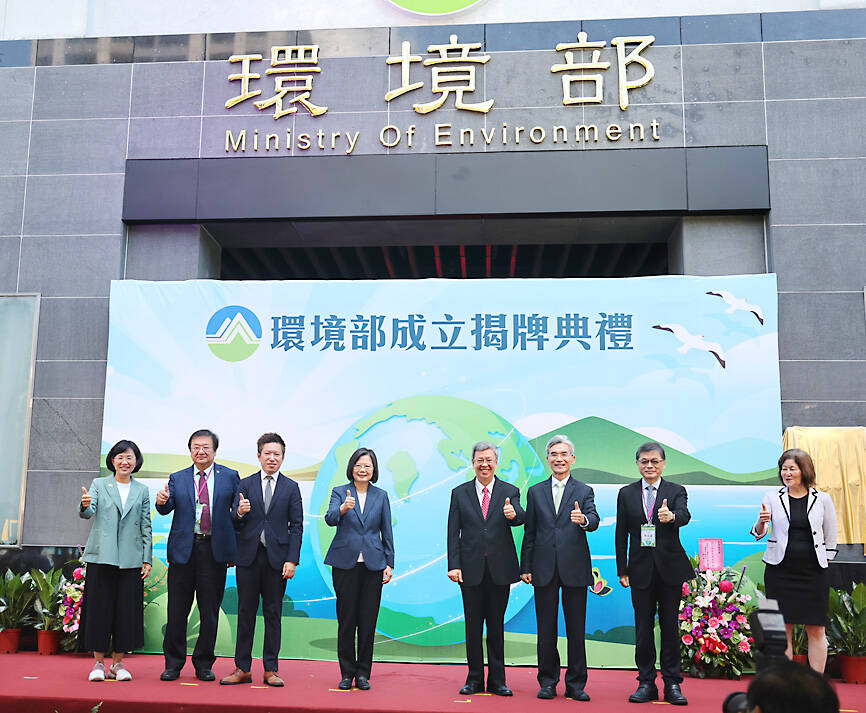 President Tsai Ing-wen, fourth left, Premier Chen Chien-jen, fourth right, and others pose for a photograph at an inauguration ceremony for the Ministry of Environment on Tuesday.
Photo: CNA
Tsai also praised Shieu for his promotion of research into the circular economy as president of National Chung Hsing University in Taichung from August 2015 to last month.
During his time there, Shieu led the establishment of the country's first academy dedicated to the circular economy at the university's Nantou campus, Tsai added.
Shieu said that environmental sustainability is not just a mission but also a grave challenge facing the world, adding that he would strive to tackle the challenge and combat climate change in his new position.
Shieu also outlined his vision for upgrading the nation's management strategies for pollution, from control to prevention and improving environmental education, while working closely with domestic academic and research institutions and the business sector to confront environment challenges and jointly protect the homeland.
Four specialized agencies — the Climate Change Agency, the Resource Recycling Agency, the Chemical Substance Management Agency, and the Environmental Management Agency — and a National Environmental Research Institute have been established under the Ministry of Environment.
The new minister also said he would visit Keelung Mayor George Hsieh (謝國樑) to discuss Taiwan Power Co's plan to build a liquefied natural gas receiving station on Keelung's northern coast, which is opposed by environmental groups and local political figures, including Hsieh, who believe the project poses a threat to biodiversity.
Comments will be moderated. Keep comments relevant to the article. Remarks containing abusive and obscene language, personal attacks of any kind or promotion will be removed and the user banned. Final decision will be at the discretion of the Taipei Times.