New variety of weather-resistant soybean touted
Government agronomists on Tuesday unveiled a new variety of high-protein, weather-resistant soybean, which they said could help ease Taiwan's near-total reliance on imports of the food staple.
The "Taichung No. 1 — September bean" was presented at a news conference after seven years of development by the Taichung District Agricultural Research and Extension Station.
Chen Huan-pin (陳鐶斌), a researcher at the agency, said the bean was notable for its relatively high protein content and low levels of fat, as well as its small kernel size, which makes it ideal for processing.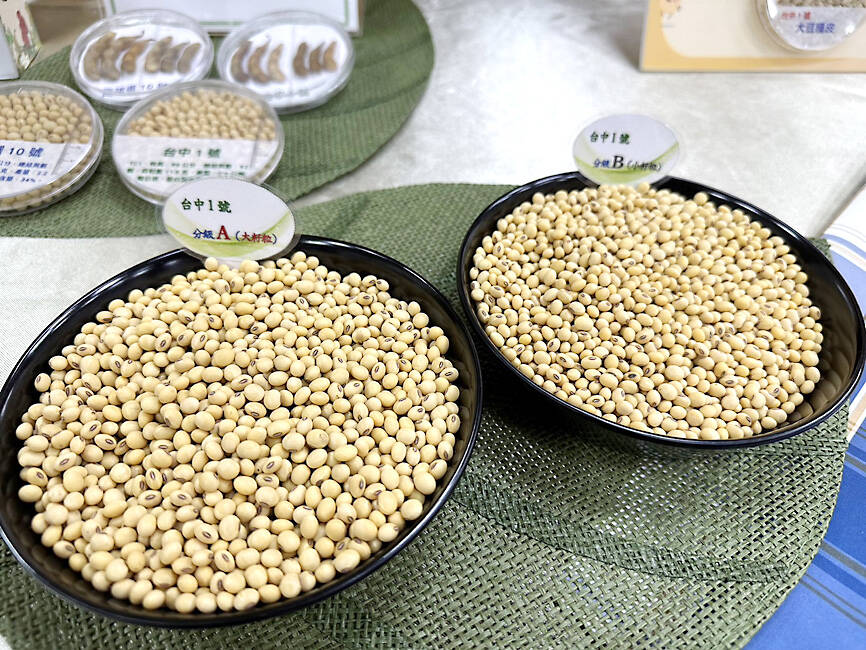 Bowls of a new variety of soybean named the "Taichung No. 1 — September bean" are pictured in Taipei on Tuesday.
Photo: Yang Yuan-ting, Taipei Times
The station said the bean is composed of about 40 percent protein by weight, compared with the typical 35 percent, and only 14.6 percent fat, compared with the usual 20 percent.
As a crop, it can be planted as late as mid-September in central Taiwan and harvested 100 days later, therefore reducing the chances of a typhoon wiping out a farmer's investment, the agency said.
The bean was also bred for improved resistance to soybean stem borers (a common pest) and drought, and has an average yield of about 2,400kg per hectare, the station said.
This year, farmers partnering with the research station planted 350 hectares of the new soybean variety on a trial basis, it said.
The station said that the new soybean variety fits with the government's plans to expand domestic grain and bean production, and could also help farmers tap into the growing market for soy-based meat substitutes.
Taiwan imported 2.75 million tonnes of soybeans last year, mainly from the US and Brazil, compared with only 5,430 tonnes produced domestically, government data showed.
The Ministry of Agriculture last year set a goal of growing 10 percent of all soybeans for human consumption domestically within five years, equivalent to a more than fivefold increase from 1.9 percent.
Comments will be moderated. Keep comments relevant to the article. Remarks containing abusive and obscene language, personal attacks of any kind or promotion will be removed and the user banned. Final decision will be at the discretion of the Taipei Times.