Worker to pay NT$9.03m for scam
The Hsinchu District Court on Thursday handed a metal factory worker surnamed Chang (張) a three-month prison sentence and ordered him to pay NT$9.03 million (US$283,980) in compensation after finding him guilty of abetting a scam.
Investigators found that Chang had collaborated with a criminal ring by "selling" them his personal bank account, bank card, mobile phone with SIM card and other information in exchange for NT$30,000, to enable them to deposit and transfer money.
Chang's actions allowed the criminal ring to conduct quick transactions, which contributed to their scam by covering their identity and making it difficult for the authorities to trace the money, the court said.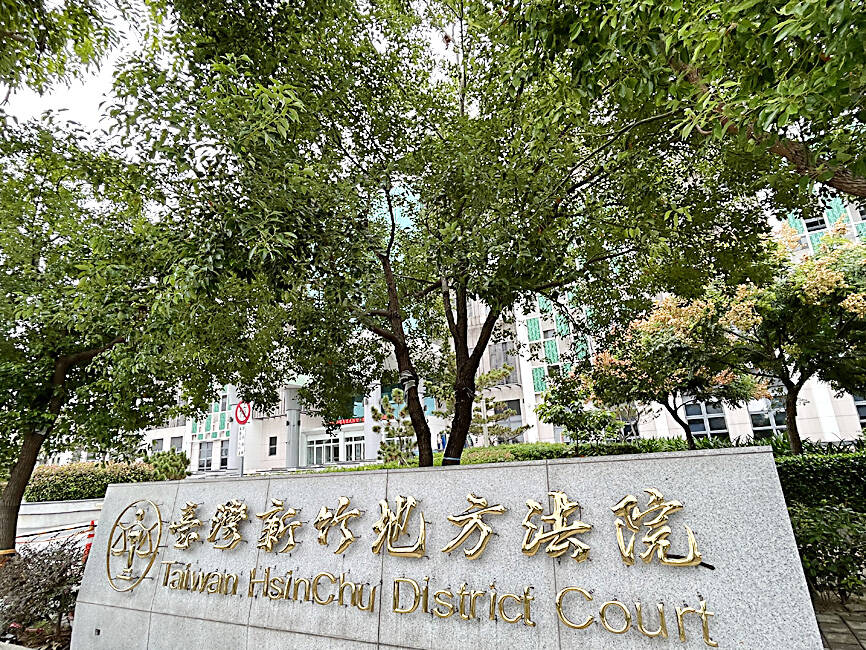 The Hsinchu District Court is pictured in an undated photograph.
Photo: Liao Hsueh-ju, Taipei Times
The judges imposed a severe financial punishment, saying that Chang had abetted serious criminal activities.
The scam had detrimental effects on society and the nation's financial wealth, they said, adding that preventing the authorities from tracking down the illicit money resulted in a great loss to the woman they targeted.
In addition to the prison sentence, Chang had NT$30,000 confiscated, the amount he was paid by the criminal ring. The NT$9.03 million was the amount that was passed through his bank account.
Investigators found that Chang started to collaborate with others in 2021 to scam a woman surnamed Liao (廖) by pretending to be telecom employees, police officers and a prosecutor, and instructing her to transfer money into a bank account.
Liao made numerous transfers worth NT$9.03 million into Chang's account, and after realizing she had been scammed, she requested a criminal prosecution and filed a civil case against the defendants.
In related news, investigators in Taichung have issued a warning for parents to watch over teenagers, as this year they have arrested 87 teenage suspects for allegedly colluding with scammers.
Taichung's Juvenile Police Branch on Thursday said in a release that they had arrested 764 suspects on suspicion of collecting money for swindlers and 87 of them were teenagers.
Most of the teen suspects had known they were working for scammers, it said, adding that most of them had agreed to join after seeing online advertiesements offering good pay for a short-term job.
It said said 35 percent of the teenage suspects said they had been introduced to criminals through word of mouth from classmates or friends.
Although minors can receive reduced penalties for such crimes, there is no reduction to compensation for financial losses, the police branch said.
In a recent case in Taichung, one teenager helped scammers collect money from ATMs and the court ordered their parents to pay NT$5.33 million in compensation, it said.
In another case at the Taipei District Court in May, parents of two teenagers were required to pay NT$1.07 million in compensation.
In another scam case before the High Court, since the scammers had fled with the money, the court ordered the teenager and his parents to pay NT$2.3 million in compensation.
Taichung's Juvenile Police Branch head Kao Chia-yang (高嘉陽) said parents and students must be careful to avoid assisting scammers while looking for summer jobs.
They post short-term job advertisements, with good pay for receiving mail, lending out bank accounts, receiving and passing on messages, or taking telephone calls, Kao said.
Victims of such scams can file civil lawsuits to demand compensation for their financial losses, and teenage money collectors and their parents face legal responsibility to compensate the amount, he said.
Additional reporting by Hsu Kuo-chen and Chang Jui-chen
Comments will be moderated. Keep comments relevant to the article. Remarks containing abusive and obscene language, personal attacks of any kind or promotion will be removed and the user banned. Final decision will be at the discretion of the Taipei Times.