Taiwan historian receives award from Spanish royalty
Taiwan National Tsinghua University history professor Fabio Yu-chung Lee (李毓中) has received an award from the Spanish royal family for his research into cultural and linguistic interactions between Spanish merchants and the Hokkien-Minnan (閩南) people of Taiwan and Southeast Asia during the Age of Discovery four centuries ago.
Lee headed an international team of historians and linguists to complete nine volumes of the The Hokkien Spanish Historical Document Series (閩南—西班牙歷史文獻叢刊), published in collaboration with three co-authors and editors, the Academia Sinica fellow Chen Tsung-jen (陳宗仁) and Spanish academics Regalado Trota Jose and Jose Luis Cano Ortigosa.
Lee's research focused on "First encounter between languages of two empires — manuscripts of Chinese-Spanish-Hokkien vocabulary that were in use at China's southeastern coast regions, as the first era of globalization."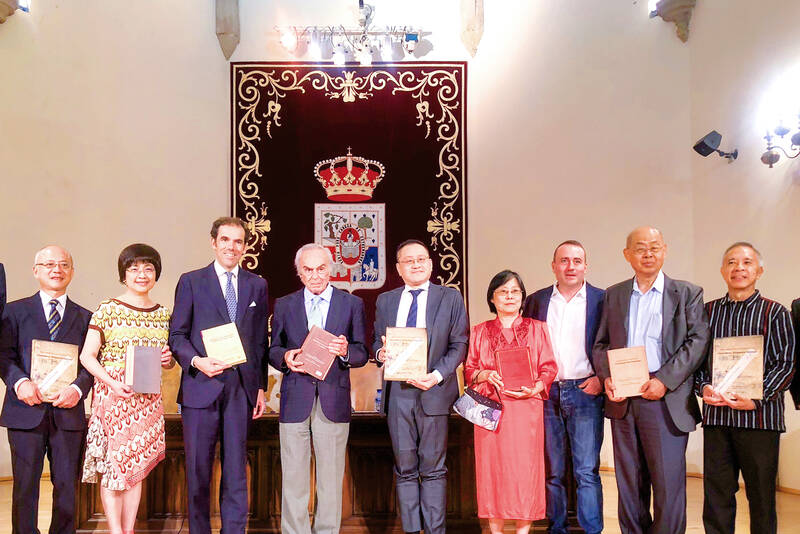 Taiwan National Tsinghua University history professor Fabio Yu-chung Lee, fifth right, poses with members of his research team at an award ceremony with the Spanish royal family in an undated photograph.
Photo courtesy of the Taiwan National Tsinghua University
The nine-volume series received recognition in Spain, where it was named the recipient of the first prize in an inaugural award earlier this month, with the second prize won by an academic research team from Algeria and the third prize given to researchers based in Cuba.
The awarding foundation and seminars were started by Spanish royalty to promote the studies of Spanish language and culture, the Taiwan National Tsinghua University said in a press release.
Lee and his research team attended the ceremony earlier this month.
Lee's research team also gifted the manuscript series to the National Library of Spain.
One key discovery for Lee and his team came in 2017, when the nearly-forgotten 400-year-old dictionary Dictionario Hispanico Sinicum (西班牙─華語辭典) was found within the archives of the Philippines' University of Santo Tomas. The dictionary contains over 1,000 pages, 27,000 Hoklo words, terms and expressions, providing an understanding of the daily living and business conduct of Hoklo people in the Philippines and Southeast Asia four centuries ago.
When going through it, Lee was surprised to find a number of Hoklo and Spanish words for place names and terms used by natives of Taiwan, including "Tamchuy" (Tamshui, 淡水), and "Cheylam" (雞籠), then the hamlet harbor of Pingpu Ketagalan people, currently named Keelung (基隆), he said.
It indicated the Dictionario recorded people's names, words, places when Spanish occupied parts of northern Taiwan in the 1600s, Lee said.
They also worked with other historic documents collected in Spain and Italy, including the Arte de la Lengua Chio Chiu (漳州話語法), and The Philippine Chinese Manuscripts in The Herzog August Library (奧古斯特公爵圖書館菲律賓唐人手稿).
More volumes of The Hokkien Spanish Historical Document Series are to be published as it has become a leading reference for historic and linguistic studies of Spain and Hokkien people in the past centuries, he said.
Lee said that it is his wish to bring together his research publications at Tsinghua University with other 16th and 17th century Spain and Hoklo documents along with collections of other countries to get recognition under UNESCO's Memory of the World program.
Comments will be moderated. Keep comments relevant to the article. Remarks containing abusive and obscene language, personal attacks of any kind or promotion will be removed and the user banned. Final decision will be at the discretion of the Taipei Times.