Three officers disciplined after arrest gone wrong
Three plainclothes Changhua County police officers have been disciplined after a 17-year-old boy sustained a head wound that required 17 stitches when they chased him down after misidentifying him as a migrant worker who had absconded from his employer.
Independent Changhua County Councilor Chang Tsun-yang (張春洋) spoke to reporters on Friday at the request of the boy's family, while the three officers went to the teen's home to apologize, and promised to pay for his medical expenses.
On the morning of July 4, the 17-year-old vocational high-school student was riding his bicycle on Fanjin Road in Puyan Township's (埔鹽) Haosiu Village (好修) when an unmarked car pulled up alongside him and three men in civilian clothes jumped out, Chang said.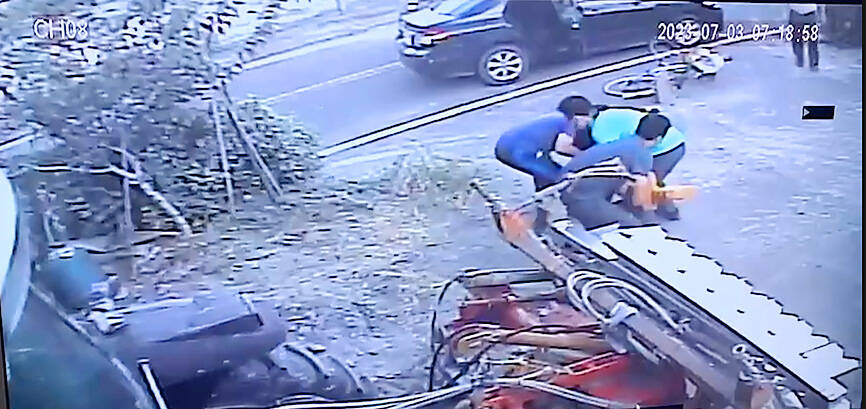 Three plainclothes police officers tackle a 17-year-old student in Changhua County's Puyan Township in a video recorded on July 4.
Photo provided by a member of the public
Fearing that he would be kidnapped, the teen ran, while the three men — plainclothes officers from Puyan Police Station — gave chase, Chang said.
While trying to flee, the boy hit his head on a tractor, causing a large gash that required 17 stitches. He also sustained bruises on his body and legs.
Soon afterward, the officers tackled and restrained him, video footage showed.
Police tried to arrest him, but realized they had the wrong person, as the teen reportedly kept shouting: "Who are you? Why are you attacking me?" in fluent Mandarin.
The teen's mother is from Vietnam, but had since divorced her Taiwanese husband, and is raising him alone, Chang said.
The teen was dressed in working clothing while riding his bicycle, as he was heading to a relative's farm where he had a summer job, the councilor said.
"The three police officers did not identify themselves, nor did they state their intention... Naturally the teenager thought they were thugs or gangsters wanting to kidnap him, so ... he resisted and tried to run away," Chang said.
In days following the incident, Sihu Precinct deputy chief Shih Kun-shan (施焜山) denied any wrongdoing. Puyan Police Station falls under his precinct.
Shih told reporters that the plainclothes police had come across a young man talking on phone while riding his bicycle erratically.
"The officers saw the man ... swerving left and right. Believing he had mental or physical problems, they stopped to check on the man's identity, and right from the start told him they were police officers, but the man did not cooperate and ran away," Shih said. "In the process, the man accidentally fell on a farm plow."
The Changhua County Police Bureau issued a written reprimand to the officer in charge during the arrest — the chief of the Puyan Police Station, surnamed Yeh (葉) — but did not punish the other two, as they were acting on his orders.
Many people were outraged following reports on the incident, after a farmer posed a video of the incident on social media.
Amid the public outcry, the bureau yesterday announced that Yeh had been demoted to a non-managerial position, while the two other officers, and Yeh's superior — Sihu Precinct chief Huang Jen-chien (黃壬鍵) — were issued written reprimands.
The matter would also be referred to the Changhua District Prosecutors' Office for investigation, the bureau said.
Comments will be moderated. Keep comments relevant to the article. Remarks containing abusive and obscene language, personal attacks of any kind or promotion will be removed and the user banned. Final decision will be at the discretion of the Taipei Times.