Taipei Music Center rebuts Ko's accusations
Taipei Music Center yesterday denied accusations of unfair treatment in barring Taiwan People's Party Chairman Ko Wen-je (柯文哲), the party's presidential candidate, from holding a fundraising concert at the venue, citing a rule against hosting political events put in place during the mayoral term of Ko himself.
Center officials in a statement confirmed that it received inquiries from Ko's office asking to rent the center's outdoor venue or indoor stage for a concert after his term as Taipei mayor.
"We explained that the center is a specialized facility for popular music performances and is not suitable for political activities or campaign rally events. It has been the center's principle all along ... therefore we cannot accept the application from Ko's office," the statement said.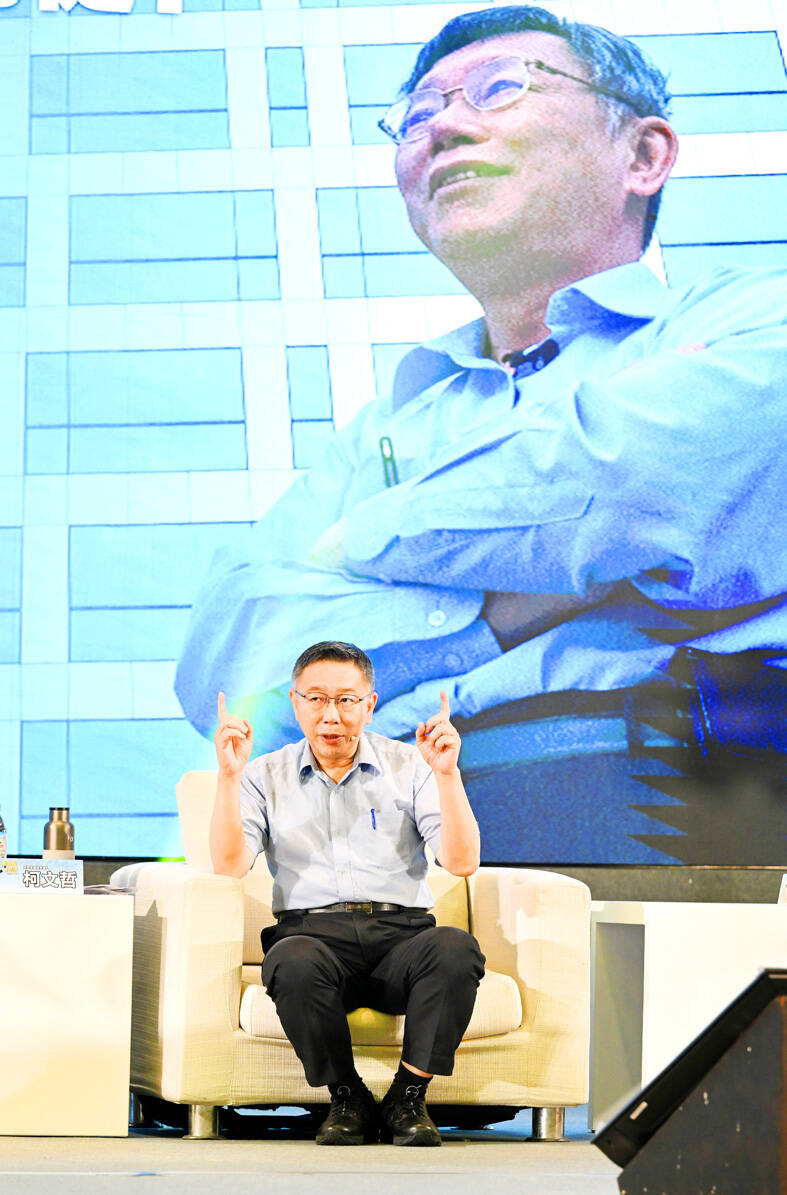 Taiwan People's Party Chairman Ko Wen-je speaks at an event hosted by My-Formosa.com president Wu Tsu-chia in Taipei on Sunday.
Photo: Lo Pei-de, Taipei Times
Ko complained about the Taipei City Government at a public meeting on Sunday.
"Our society is so fickle that less than three months after I leave office, the city government has barred me from holding an event at the Taipei Music Center," he said.
When the event's host suggested the decision was made by Taipei Mayor Chiang Wan-an (蔣萬安), Ko said: "These things are usually taken care of by the 'eunuchs.' It would not reach the emperor."
Ko's remark sparked wide condemnation and was seen as insulting to city government officials.
Already Ko's planned event, known as the "KP show," had been controversial for trying to combine politics and music, with ticket selling for as much as NT$8,800.
Ko was accused of deluding himself that he was a top pop draw and getting his supporters to pay the same amount as for K-pop band Blackpink's two concerts in Kaohsiung in March.
Prominent music show host Ma Shih-fang (馬世芳) denounced Ko on social media.
"The regulations for Taipei Music Center in applying for its use and rental fees were established during Ko's mayoral term. It explicitly states that the event must not relate to any election activities, nor is the center for use by politicians and government officials for any political events," he wrote. "It was Ko the former mayor who banned Ko the party chairman from holding this event... Then Ko even uses the phrase 'eunuchs' to insult center chairwoman Kay Huang (黃韻玲) and her aides."
After being turned down by the center, Ko is scheduled to hold his "KP show" at the Corner Max venue at Taipei's Songshan Cultural and Creative Park later this month. Tickets costing NT$500 to NT$8,800 went on sale yesterday.
Comments will be moderated. Keep comments relevant to the article. Remarks containing abusive and obscene language, personal attacks of any kind or promotion will be removed and the user banned. Final decision will be at the discretion of the Taipei Times.