TTC to bolster Internet against disaster and war
INTERNET PROGRESS: The TTC is to establish 21 satellite Internet terminals and nine backhaul links in Taiwan, along with one terminal in a foreign country
The Ministry of Digital Affairs on Friday announced that it has selected the Telecom Technology Center (TTC) to head a project to improve the resilience of the nation's digital communications network.
The ministry said it had asked research and academic institutions to submit proposals on "response or wartime applications of new technology to strengthen digital communications resilience," including through the use of non-geostationary satellite Internet.
Following deliberations by ministry-associated academics, it on Friday announced that it had signed a contract with the TTC on Thursday and granted the budget for the project to the center.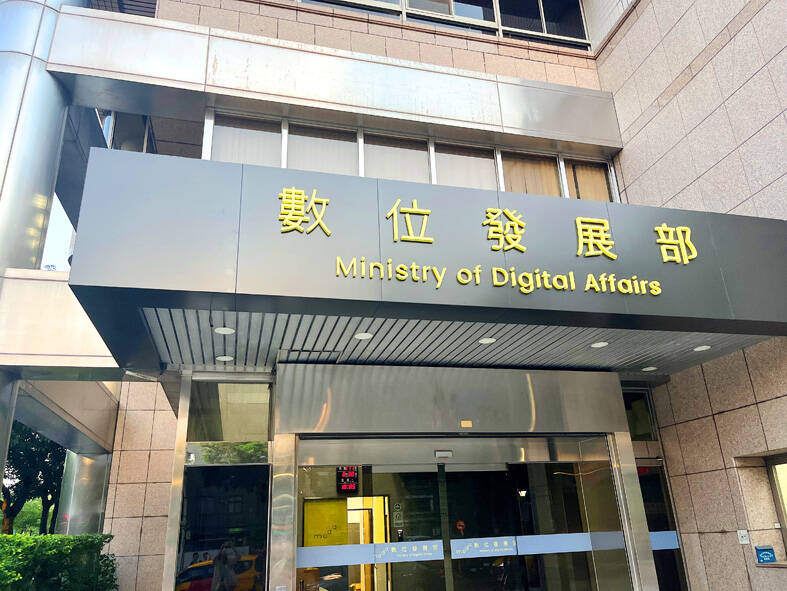 The Ministry of Digital Affairs is pictured in Taipei in an undated photograph.
Photo: Hsu Tzu-ling, Taipei Times
Under the terms of the contract, the TTC is required to set up 11 terminals for non-geostationary satellite Internet and five links for cellular satellite backhauls across Taiwan by the end of the year.
The TTC must also establish 21 satellite Internet terminals and nine backhaul links in Taiwan, along with one terminal in a foreign country for testing purposes by the end of the first quarter of next year.
In total, the center is to set up more than 700 domestic terminals, three overseas terminals and 70 links by the end of next year, the ministry said.
The infrastructure would likely first be installed in outlying counties and places lacking diverse wireless network gateways, it said.
The project would also stress test the emergency application capabilities of disaster warning systems, roaming functionality and information security infrastructure, it added.
This is designed to ensure that the government can retain considerable communication capabilities during times of disaster or war.
It said it encouraged non-geostationary satellite systems equipment providers to seek partnership opportunities with the TTC.
The ministry also addressed a Bloomberg report that said Taiwan would need low Earth orbit satellite networks to maintain Internet connectivity in the event of a Chinese invasion.
As telecommunications companies providing such networks are required to have no Chinese investment — and less than 49 percent direct foreign ownership or 60 percent indirect foreign shareholders — most current suppliers would be ineligible, the ministry said.
While foreign companies might still provide satellite communications by working with a domestic telecom to bypass the Telecommunications Management Act (電信管理法), the ministry would still have to heavily scrutinize such companies when approving rights to Taiwan's radio frequencies.
The firms would have to be strictly examined by national security and cross-strait agencies to guarantee that satellite providers working with domestic telecoms are not controlled by the Chinese government, it said.
Comments will be moderated. Keep comments relevant to the article. Remarks containing abusive and obscene language, personal attacks of any kind or promotion will be removed and the user banned. Final decision will be at the discretion of the Taipei Times.