Mayor Hou outlines nuclear power plan
New Taipei City Mayor Hou You-yi (侯友宜), the Chinese Nationalist Party's (KMT) presidential candidate, supports reactivating or extending the use of Taiwan's three completed nuclear power plants and using the unfinished fourth plant pending a safety evaluation, a spokesperson for his campaign told a news conference on Thursday.
KMT spokesperson Yang Chih-yu said that despite the government's repeated denials, Taiwanese understand that the country faces an energy crisis.
The issue is severe enough that in its white paper this year, the American Chamber of Commerce in Taiwan warned that Taiwan was "far behind schedule" in its plans to phase out nuclear power and replace it with renewable energy, Yang said.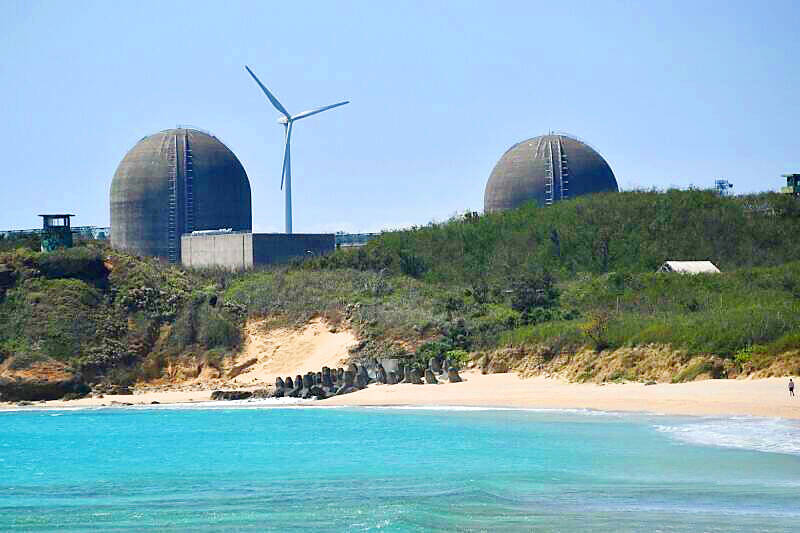 The Ma-anshan Nuclear Power Plant in Pingtung County's Hengchun Township is pictured in an undated photograph.
Photo: Taipei Times
Lee Li-chen (李利貞), a spokesperson for Hou's campaign, said that Hou has proposed easing this situation by keeping nuclear power in the energy mix while pursuing a broader energy policy based on the principles of safety, stability and carbon reduction.
Specifically, Hou would reactivate the nuclear power plants in New Taipei City's Shihmen (石門) and Guosheng (萬里) districts pending safety inspections, and grant them 20-year operating permits, she said.
Hou also supports extending the life of the Ma-anshan Nuclear Power Plant in Pingtung County, which has two reactors set to be shut down, one next year and the other in 2025, Lee said.
As for the Fourth Nuclear Power Plant, the construction of which was frozen in 2014 when it was near completion, Hou would bring it into operation, provided it passed a safety inspection by a team of international experts, Lee said.
If enacted, Hou's proposals would mark a sharp break with the policies of the Democratic Progressive Party (DPP), which, since taking office in 2016, has prioritized phasing out nuclear power by 2025.
The government initially expected to achieve an energy mix of 50 percent natural gas, 30 percent coal and 20 percent renewable energy by 2025, but fell behind schedule on renewable energy development, and has also run into setbacks in building its natural gas capacity infrastructure.
Those delays have led to concerns that Taiwan could face energy shortfalls in 2025 and 2026, and a lack of low-carbon energy in the second half of the decade.
Despite this, DPP officials, including the party's presidential candidate, Vice President William Lai (賴清德), have said that the 2025 target can still be met without risking energy shortages.
Last year, 82.42 percent of the energy generated in Taiwan came from fossil fuels (mainly coal and liquified natural gas), while 8.28 percent came from renewables, 8.24 percent from nuclear power and 1.06 percent from pumped storage hydropower, Bureau of Energy data showed.
Comments will be moderated. Keep comments relevant to the article. Remarks containing abusive and obscene language, personal attacks of any kind or promotion will be removed and the user banned. Final decision will be at the discretion of the Taipei Times.