Taipei to host regional exhibition for stamp collectors and traders next month
The 39th Asian International Stamp Exhibition is to be held in Taipei from Aug. 11 to Aug. 15 with exhibitors from 26 countries and territories, Chunghwa Post said.
In addition to representatives from members of the Federation of Inter-Asian Philately (FIAP), post-office officials and stamp traders from India, Iran, Iraq, Japan, Kuwait, Myanmar, Nepal, South Korea and Vietnam are expected to attend, said Chunghwa Post, one of the exhibition's organizers, in a news release.
Exhibitors from Hong Kong and Macau are also to bring stamp collections, it said, adding that China did not sign up for this year's exhibition, which is to be held at the Taipei World Trade Center.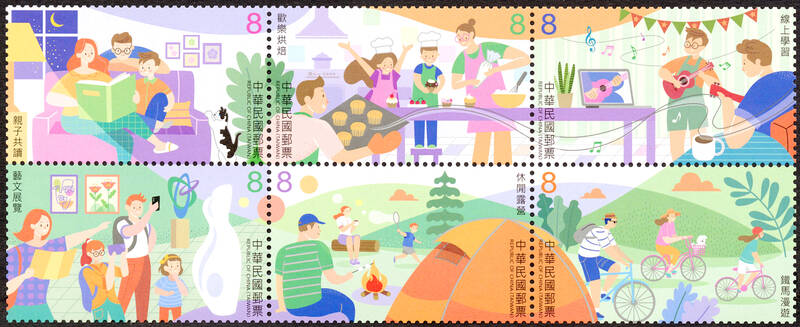 One series of new stamps to be issued by Chunghwa Post next month depicting leisure activities is pictured in an undated photograph.
Photo courtesy of Chunghwa Post
To promote the upcoming international celebration of philately — the collection and study of postage stamps — Chunghwa Post said it would issue new stamps next month and in August.
They are to depict Taiwanese landscapes, classic ceramics and literature by late Taiwanese poets Yu Kwang-chung (余光中) and Hsu Ti-shan (許地山).
Among the new stamps are a set to be issued on Aug. 11 and 12 under the theme of "scenery of Formosa" to mark the exhibition and promote travel, it said.
The collection is to feature stamps with shots of "tofu rocks" at Heping Island Park (和平島公園), gingko trees at Taichung's Wuling Farm (武陵農場), tea farms on Alishan (阿里山) in Chiayi County, as well as the sunrise at Sansiantai (三仙台) in Taitung County's Chenggong Township (成功), the company added.
Organized by Chunghwa Post, the Chinese Taipei Philatelic Federation and the Taiwan External Trade Development Council under the patronage of the FIAP, the Taipei Asian International Stamp Exhibition aims to expand and develop friendly relations and close cooperation among FIAP members, and promote philately in the region, the organizers said.
The exhibition was last held in Taipei in 2015, when the capital hosted the 30th edition of the regional show.
Comments will be moderated. Keep comments relevant to the article. Remarks containing abusive and obscene language, personal attacks of any kind or promotion will be removed and the user banned. Final decision will be at the discretion of the Taipei Times.