Kolas Yotaka resigns after report on alleged affair
Presidential Office spokeswoman Kolas Yotaka yesterday resigned from her post following a media report that she was allegedly having an affair with a married man.
The man, a police officer surnamed Lee (李), had been assigned to Kolas' security detail while she was running for Hualien County commissioner during last year's local elections, the Chinese-language Mirror Media reported.
Presidential Office spokeswoman Lin Yu-chan (林聿禪) said it was a "personal matter for Kolas."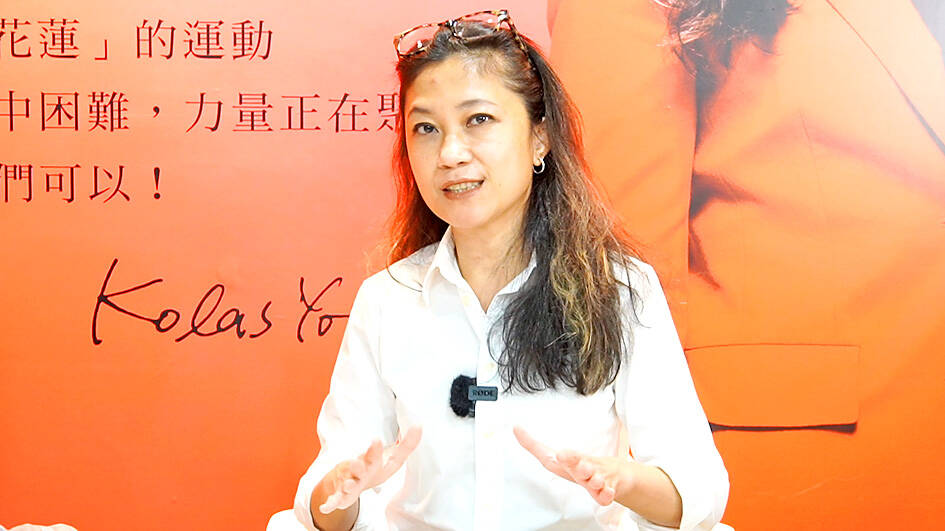 Former Presidential Office spokeswoman Kolas Yotaka is pictured in Hualien County on Nov. 18 last year.
Photo: Wang Chin-yi, Taipei Times
"While the office hopes it will be handled properly, it has no further comment on the matter," Lin said.
Kolas has submitted her resignation, which was approved by President Tsai Ing-wen (蔡英文), she added.
Mirror Media reported that after Kolas returned to Taipei to work as Presidential Office spokeswoman, she maintained a rental property in Hualien County and frequently stayed there with Lee.
The report said that Lee's wife has filed a civil lawsuit against Kolas seeking NT$1 million (US$32,183) in damages.
Kolas and Lee yesterday apologized in separate Facebook posts, saying they had "never overstepped any boundaries, nor engaged in intimate behavior together."
"The media report exaggerated many things. I didn't know Lee's marital status, and we never engaged in intimacy. I have no contact with Lee now," Kolas wrote.
"I would like to apologize to any of Lee's family members who have been affected [by these allegations]. I believe the facts will be clarified," she wrote.
Lee said that he had told his wife that he wanted a divorce, which she agreed to, but that divorce procedures dragged on without progress.
He had not told Kolas that he was married, Lee said.
"I only sought conversation with Kolas and we were never intimate," he wrote.
"I am deeply sorry. I apologize to those I have hurt," he added.
However, Lee's wife on Facebook said she had screenshots of Line text messages between Kolas and Lee showing that the two had sexual intercourse.
"Kolas knew from the very beginning that my husband was married, but she still disregarded ethics and morals and destroyed my family without any sense of guilt," she wrote.
"My husband used to be a happy, family-oriented person, but because of Kolas, he has completely changed," she added.
The Hualien County Police Department, where Lee is employed, said that it would conduct an internal investigation into the allegations.
Lee has headed Yuemei Police Station in Hualien County's Shoufeng Township (壽豐) since May 30.
Comments will be moderated. Keep comments relevant to the article. Remarks containing abusive and obscene language, personal attacks of any kind or promotion will be removed and the user banned. Final decision will be at the discretion of the Taipei Times.