Taiwan, South Korea lead Asia in rights report
CHINA WORST: Taiwan's high scores for safety from the state show that most people are protected from government abuse, a human rights group said
Taiwan and South Korea led Asia in human rights last year, while China was the worst in the region across a plethora of metrics, the Human Rights Measurement Initiative (HRMI) said in a news release on Thursday.
The HRMI, a New Zealand-based group that has been monitoring the human rights performances of nations since 2017, in its latest report gauged the level of protection for 14 internationally recognized rights in 194 countries, it said.
"South Korea and Taiwan's high scores for safety from the state show that most people are protected from government abuse," HRMI global spokeswoman Thalia Kehoe Rowden said in the report. "Their scores are the highest among all 30 countries in our sample of these civil and political rights."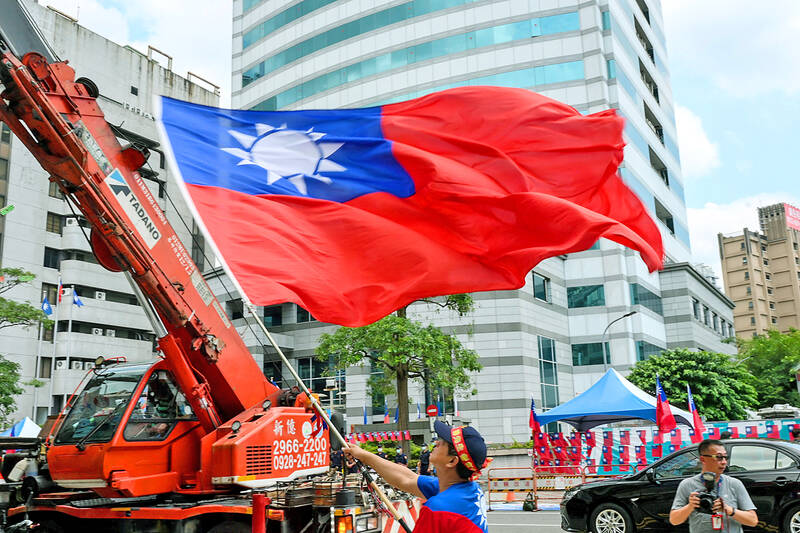 A man waves a Taiwanese flag outside the Chinese Nationalist Party (KMT) headquarters in Taipei on May 17.
Photo: Sam Yeh, AFP
Taiwan scored 9.5 out of 10 in the right to freedom of religion and belief in the first-ever measurement of this right by the HRMI, the report said.
Despite the relatively robust protection for civil rights in Taiwan, inequities remain, with a significant number of Taiwanese being unable to fully enjoy their rights, Rowden said, adding that it was also the case for South Korea.
HRMI tracks the development of countries and the movement of governments' respect for human rights, the report said.
It utilizes a survey that is distributed to human rights experts such as journalists, non-governmental organizations and lawyers, making it difficult to collect accurate data in places such as China that have tight controls on those sectors, it said.
China was the country with the worst human rights record for several measures, it said.
On freedom from arbitrary arrest, only Kazakhstan scored worse, HRMI said.
China and Hong Kong scored among the worst in empowerment rights, their scores in the "very bad" range for three consecutive years, it said.
"Human rights experts identified people who oppose or criticize the government as being particularly at risk of having their right to freedom of association violated, including their right to form or join political parties," HRMI East and Southeast Asia lead Michaelle Phoenix Yeo said in the report.
These groups were placed "at particularly high risk of arbitrary arrest, forced disappearance, torture and other violations," Yeo said.
China had some of the worst scores in safety from the state, several of which were in the "very bad" range, including the right to freedom from the death penalty, which was its lowest, HRMI said.
"China's extensive use of the death penalty is veiled in secrecy," Yeo said. "Through our research, human rights experts have identified people who are accused of crimes, terrorism or political violence as being at particular risk. They also reported that death penalty executions are often applied after unfair trials, placing anyone accused of such offenses in jeopardy."
China also scored worst on the freedom of religion and belief indicator, although the pilot study only covered nine countries, the report said.
However, on some economic indicators, such as the right to food, health and housing, China scored relatively high, ranking near the top of more than 100 surveyed countries, it said.
HRMI uses publicly available statistics published by national and international institutions for its economic indicators, it said.
Some people in China, such as critics of the government and ethnic minorities, often miss out on basic economic rights, it said.
Hong Kong has dropped in HRMI's index over the past few years.
Although it does not score as badly as China, it has had a rapid decrease in many rights since a crackdown on a democracy movement in 2019 and 2020.
Its ranking for freedom of assembly has declined by nearly 40 percent and freedom of expression has dropped 33 percent, the report said.
Hong Kong's score for freedom from arbitrary arrest had improved, increasing by 85 percent, but this was because the index was based on instances of actual rights violations, Rowden said.
"In this repressive context, the rise in scores for freedom from arbitrary arrest and detention is not good news," she said. "It just means that the repression is working."
"Hong Kong's scores for democratic rights and freedoms plummeted over 2019 to 2021 and have remained appallingly low," she added.
Comments will be moderated. Keep comments relevant to the article. Remarks containing abusive and obscene language, personal attacks of any kind or promotion will be removed and the user banned. Final decision will be at the discretion of the Taipei Times.