President reiterates pledge for homeland to be nuclear-free
President Tsai Ing-wen (蔡英文) on Monday reiterated the government's goal to make Taiwan a nuclear-free country by 2025, Presidential Office spokeswoman Lin Yu-chan (林聿禪) said.
Tsai also expressed hope that a transition project for the Fourth Nuclear Power Plant in New Taipei City's Gongliao District (貢寮) would be finalized before the end of her time in office, Lin said.
"There is no need for the public to worry," Tsai told a meeting with 12 environmental advocates at the Presidential Office, Lin said.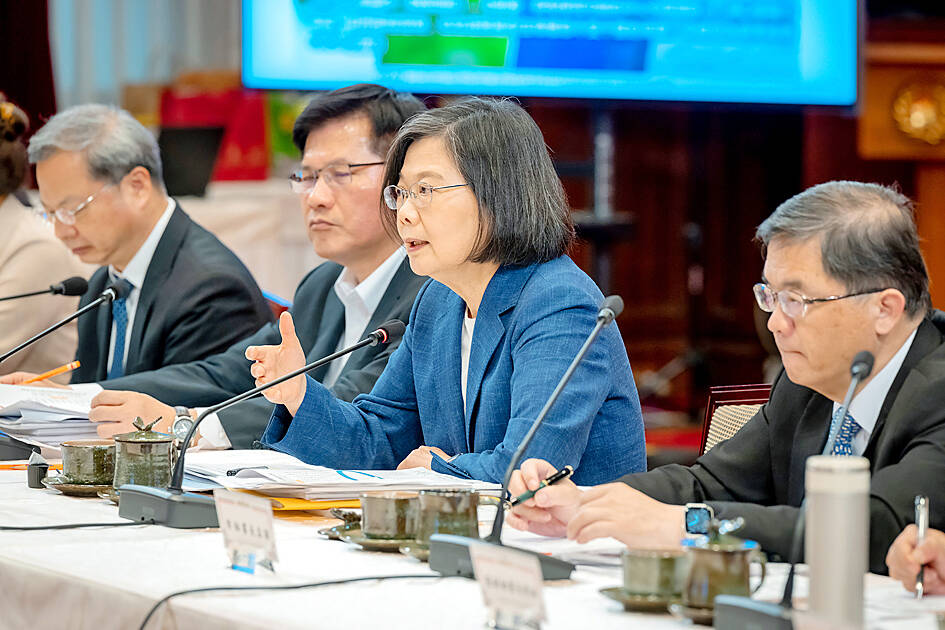 President Tsai Ing-wen speaks at a meeting of non-governmental organizations in Taipei on Monday.
Photo courtesy of the Presidential Office via CNA
"Restarting the Fourth Nuclear Power Plant is not an option, because a referendum in 2021 vetoed the proposal," she said.
Tsai also expressed hope that a plan to transform the mothballed power plant could be worked out with a consensus from local residents before she steps down as president in May next year, Lin said.
Tsai's remarks were meant to alleviate concern after Vice President William Lai (賴清德), the Democratic Progressive Party's candidate in next year's presidential election, last month said that Taiwan's nuclear reactors might be reactivated in an emergency, such as a war or a blockade — which suggested a departure from the party's 2025 nuclear-free homeland goal.
Tsai on Monday said Lai was outlining an "extreme" situation.
While ruling out the likelihood of an imminent conflict with China, Tsai said the government needs to consider all sorts of "extreme" scenarios and consequences, because national security cannot be compromised.
Comments will be moderated. Keep comments relevant to the article. Remarks containing abusive and obscene language, personal attacks of any kind or promotion will be removed and the user banned. Final decision will be at the discretion of the Taipei Times.