Taiwan reports 1st mpox case in a child
A four-year boy tested positive for Monkeypox (mpox) Wednesday and is believed to have been infected by a family member, Taiwan's first case of the disease in a child, Center Disease Center (CDC) Deputy Director General Lo Yi-chun (羅一鈞) said.
The boy began experiencing symptoms such as fever, eye discomfort and a rash, with vesicles on his limbs and trunk first presenting on the evening of June 1, Lo said Wednesday evening.
Because the symptoms did not improve, the boy was admitted to hospital on Monday and tested positive for mpox Wednesday, Lo said.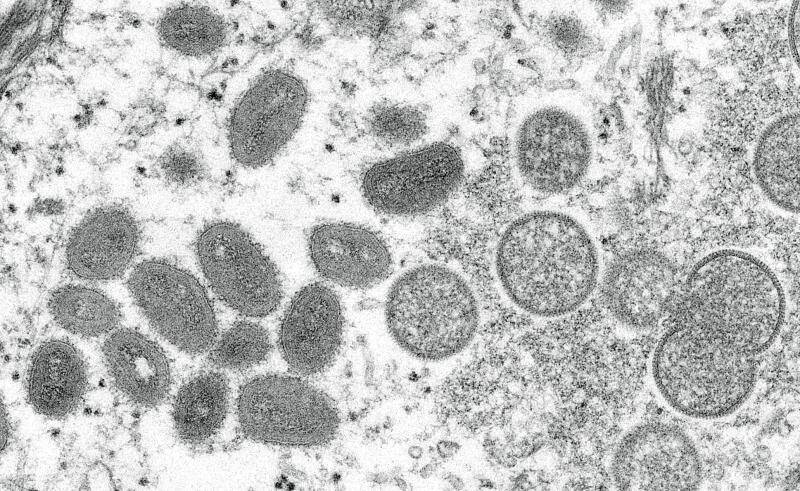 An electron microscopic (EM) image shows mature, oval-shaped monkeypox virus particles as well as crescents and spherical particles of immature virions, obtained from a clinical human skin sample associated with the 2003 prairie dog outbreak in this undated image obtained by Reuters on May 18, 2022.
Photo: Reuters
The boy, who has mild symptoms, is still being treated at a local hospital, he added.
The CDC believes the case involves a household infection as the boy had contact with an individual previously confirmed as having contracted mpox in the family, Lo said.
Since the boy has been absent from the preschool where he is enrolled after coming down with the illness, the risk of transmission is low, but people he had close contact with at home and the preschool are required to closely monitor their condition for 21 days, Lo said.
Since the disease was designated a Category 2 communicable disease last June, Taiwan has reported 147 mpox cases, 135 transmitted locally and 12 abroad, according to the CDC.
Among the 147 cases, 10 remain in hospital, 54 are practicing self-health management at home, while 83 have recovered, the CDC said.
Comments will be moderated. Keep comments relevant to the article. Remarks containing abusive and obscene language, personal attacks of any kind or promotion will be removed and the user banned. Final decision will be at the discretion of the Taipei Times.