Exiled Chinese democracy advocate calls on accuser to file suit for sex harassment
Exiled Chinese democracy advocate Wang Dan (王丹) yesterday urged a man who has accused him of sexual harassment to file a lawsuit to reveal the truth.
Wang, who now resides in the US, made the remark on Facebook after a Taiwanese man surnamed Lee (李) told a news conference in Taipei that Wang sexually harassed him.
Accompanied by independent Taipei City Councilor Lin Liang-chun (林亮君), Lee demanded that Wang issue an apology by tomorrow or he would file a lawsuit against him.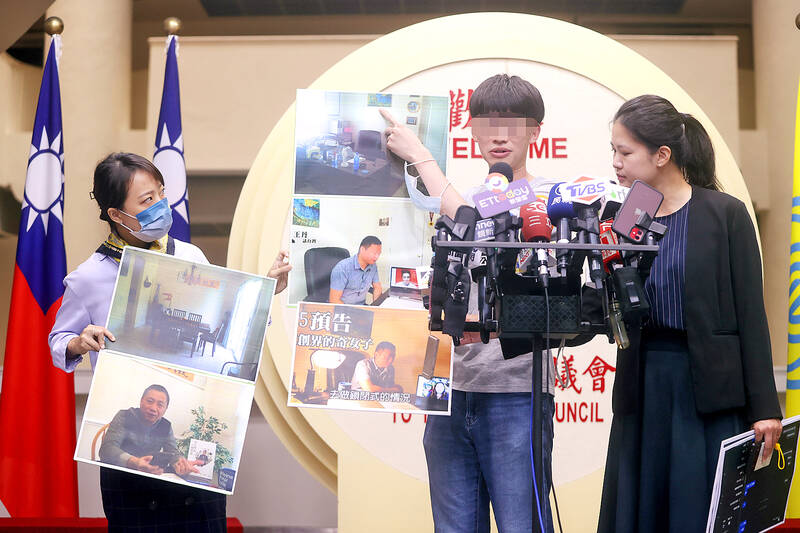 A man surnamed Lee, center, levels sexual harassment claims against exiled Chinese dissident Wang Dan as independent Taipei City Councilor Lin Liang-chun, right, looks on at a news conference in Taipei yesterday.
Photo: CNA
Lee, who made the accusation on Facebook on Friday, said he had kept the incident a secret for many years, but decided to come forward with it after seeing many political workers in Taiwan were also sexually harassed at work.
Lee said he met Wang in early 2014 and that Wang invited him to visit him in New York in June that year.
Lee said he was 19 at the time and gladly accepted the invitation, as Wang was a famous public figure.
However, during his stay at a New York hotel, Wang forcefully kissed him and tried to rape him, Lee said.
Lee said Wang started to take off his pants and tried to have sex with him, but he pushed him away and asked him to stop.
Wang stopped after that, Lee said.
However, he felt scared over the following week as Wang harassed him with sexually charged comments, he said.
"Today is the fourth of June, and every year Wang speaks out for people pursuing human rights, with a halo of freedom and democracy," Lee said.
Wang was one of the leaders of the student demonstrations at Beijing's Tiananmen Square in 1989.
"However, facing Wang, I feel like the 'Tank Man' who could be run over [by Wang] any time, because he is so full of authority," Lee said, alluding to the famous "Tank Man" photograph showing a lone man standing in front of a line of tanks sent to quash protests in Tiananmen Square.
Comments will be moderated. Keep comments relevant to the article. Remarks containing abusive and obscene language, personal attacks of any kind or promotion will be removed and the user banned. Final decision will be at the discretion of the Taipei Times.