US, Canadian warships travel through Strait
US and Canadian warships yesterday sailed through the Taiwan Strait, the navies of both countries said, in a joint mission through the sensitive waterway.
Last week, Chinese aircraft carrier the Shandong led two other ships through the Taiwan Strait, in a show of force after Beijing conducted aerial and naval exercises around Taiwan in April.
The US Seventh Fleet yesterday announced that its destroyer the USS Chung-Hoon and the Royal Canadian Navy's HMCS Montreal were "conducting a routine Taiwan Strait transit June 3 through waters where high-seas freedoms of navigation and overflight apply in accordance with international law."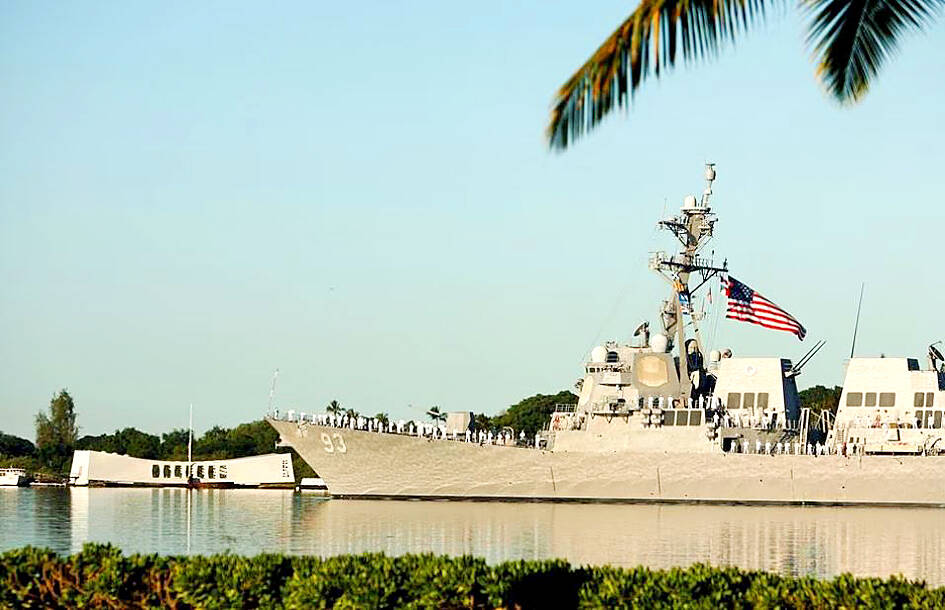 The USS Chung-Hoon passes the USS Arizona Memorial during ceremonies honoring the 73rd anniversary of the attack on Pearl Harbor in Honolulu, Hawaii, on Dec. 7, 2014.
Photo: Reuters
"Chung-Hoon and Montreal's bilateral transit through the Taiwan Strait demonstrates the commitment of the United States and our allies and partners to a free and open Indo-Pacific," the US Navy said.
US naval ships frequently sail through the Taiwan Strait, but it is rare for such a mission to be conducted alongside another country's ships.
The last time a joint US-Canada passage through the strait occurred was in September last year.
The mission took place as the US and Chinese defense leaders were attending a major regional security summit in Singapore.
The Canadian military confirmed the passage on Twitter yesterday, saying that the US and Canada are "partners [that] operate for peace and security in the region."
There was no immediate response to the passage from China's military, which routinely denounces such actions as a US effort to stir up tensions.
Beijing has been aggressively ramping up pressure on Taiwan with military exercises since then-US House of Representatives speaker Nancy Pelosi visited Taipei in August last year, leading to growing concern among stakeholders in the region, including Washington.
Additional reporting by Reuters
Comments will be moderated. Keep comments relevant to the article. Remarks containing abusive and obscene language, personal attacks of any kind or promotion will be removed and the user banned. Final decision will be at the discretion of the Taipei Times.