Lai apologizes to sex abuse victims
#METOO MOVEMENT: A woman who formerly worked at the TPP said that she was repeatedly harassed by a party deputy secretary last year and it was covered up
Vice President and Democratic Progressive Party (DPP) Chairman William Lai (賴清德) yesterday announced new party procedures for filing complaints and investigating reports of sexual misconduct in response to more accusations of negligence against the party in handling reports of sexual abuse.
In what local media dubbed Taiwan's #MeToo movement, more people went public yesterday with allegations about the DPP, other parties and local governments.
Lai said he deeply regrets the situation and apologized to the victims, while also praising them for having the courage to come forward.
From left, Democratic Progressive Party Deputy Secretary-General Yang Yi-shan, Secretary-General Hsu Li-ming and Gender Equality Department director Lee Yen-jong bow in apology yesterday after accusations that the party has mishandled reports of sexual abuse.
Photo: Liao Chen-huei, Taipei Times
"When facing bullying and violations in the workplace, it is most important to stand up to protect your rights and your personal safety," Lai told a news conference in Taipei. "The DPP cannot expect people to grant forgiveness at this time, but our party must learn from these painful experiences and take remedial action to restore people's trust."
"The DPP will not abandon our core values and ideals. We must review and reflect on ourselves to continue making progress, so that the voters can put their faith in our party," said Lai, who is the DPP's presidential candidate.
The party is to implement three reforms, Lai said.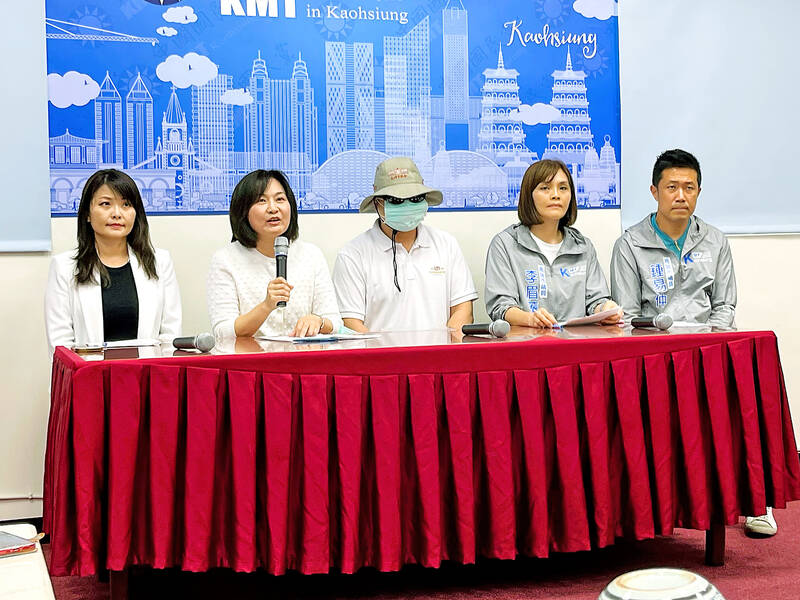 The husband of a Kaohsiung City Government employee who said she was sexually harassed by a superior, center, is accompanied by Kaohsiung City Councilor Chen Li-na, second left, and others at a news conference in the city yesterday.
Photo: Hsu Li-chuan, Taipei Times
The DPP would set up an office to deal with sexual harassment reports at the Gender Equality Department, he said.
Alternatively, victims can report directly to the secretary-general or send complaints to a dedicated e-mail address at dpphelpme@gmail.com, he added.
People would remain anonymous as an investigation is conducted, and the party would provide legal assistance and counseling for victims who press charges, Lai said.
The DPP has zero tolerance for sexual harassment, he said.
When wrongdoing is proven, the perpetrator would be immediately dismissed and would not be allowed to hold any job in the party, he added.
The DPP would also redraft the party charter to implement an internal mechanism for gender equality, with education programs to prevent sexual harassment and to establish an equal workplace, Lai said.
A firestorm of reports over the past two days led to two resignations: former DPP deputy secretary-general Hsu Chia-tien (許嘉恬) on Thursday and another yesterday by a Ministry of Labor chief secretary surnamed Tsai (蔡).
Tsai, who at the time led the DPP Department of Youth Development, had been accused of inaction after a woman reported being sexually harassed by a colleague a few years ago.
In another case, a female DPP employee yesterday said that she was harassed in 2018 by a man surnamed Lin (林), who worked in the party's youth affairs section.
Party officials made a public apology yesterday, including DPP
Secretary-General Hsu Li-ming (許立明), deputy secretary-general Yang Yi-shan (楊懿珊), Gender Equality Department Director Lee Yen-jong (李晏榕) and spokesman Chang Chih-hao (張志豪).
Top officials of the Chinese Nationalist Party (KMT) and the Taiwan People's Party (TPP) have also been accused of negligence when responding to sexual harassment allegations.
A woman who formerly worked at the TPP said that she was repeatedly harassed by a party deputy secretary last year and accused the party of trying to cover it up.
"[TPP Chairman] Ko Wen-je (柯文哲) was quick to condemn the DPP after these recent allegations, but the TPP has no right to do so because these incidents took place when I worked at the TPP," she wrote. "It pains me to see TPP officials taking turns lashing out at the DPP when it should clean up its own act first."
Ko said that reports of sexual harassment within the party have been handled immediately.
The system is trustworthy, not people, he said, adding that he would not criticize the DPP, but questioned how a case could drag on for nine months.
Separately, DPP New Taipei City Councilor Chang Chin-hao (張錦豪) said that a female employee at the New Taipei City Government committed suicide in 2020 after allegedly being sexually abused by a superior in a case investigated by the Control Yuan.
Chang accused New Taipei City Mayor Hou You-yi (侯友宜) of concealing information about the case.
The New Taipei City Department of Health has already stated that it is as proactive as possible when it comes to preventing sexual violence, Hou's office said, adding that creating a gender-equitable environment is everyone's responsibility.
Comments will be moderated. Keep comments relevant to the article. Remarks containing abusive and obscene language, personal attacks of any kind or promotion will be removed and the user banned. Final decision will be at the discretion of the Taipei Times.