China pressuring Fiji over Taiwan office name
The Fijian government appears to be having second thoughts about its decision to allow the Taiwan representative office there to revert to its former name, which includes the words "Republic of China (ROC)," the Ministry of Foreign Affairs (MOFA) said yesterday.
"MOFA and its office in Fiji are in negotiations with the Fiji government over the matter, and will make more details public at an appropriate time," MOFA spokesperson Jeff Liu (劉永健) told reporters, without elaborating.
The talks were initiated after Fiji said that it was facing "extreme pressure" from China on the issue, Liu said, hinting that the Fijian government might be forced to overturn its renaming of the office due to coercion from China.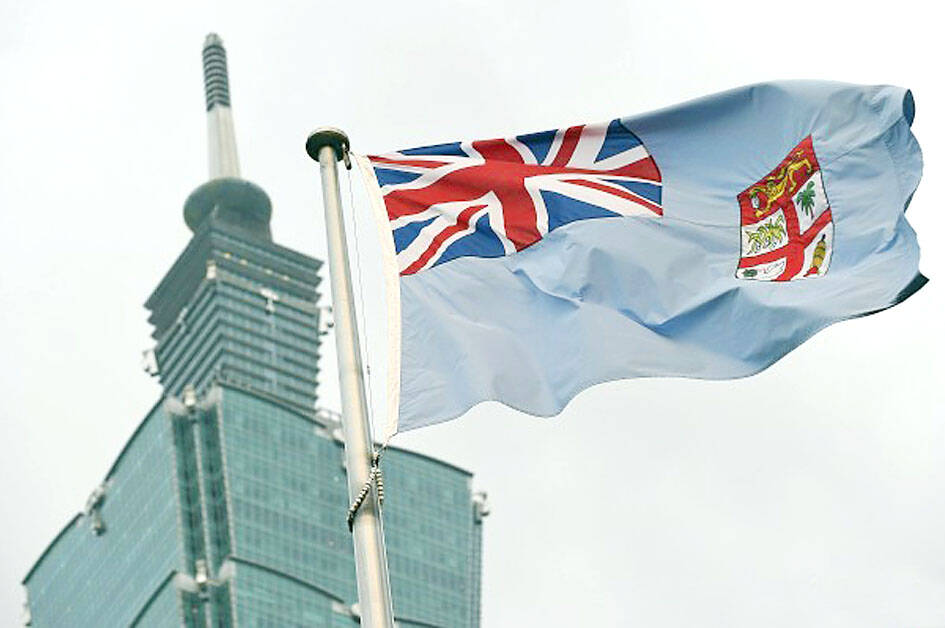 A Fijian flag flies outside the Fiji Trade and Tourism Representative Office in Taipei in an undated photograph.
Photo: Chen Chih-chu, Taipei Times
Amid such pressure, the Fijian government could ask Taiwan to change the name of the Trade Mission of the Republic of China (Taiwan) back to the Taipei Trade Office in Fiji, Liu said, declining to give any concrete information on the matter.
In March, the Fijian government, which was elected at the end of last year, told Taiwan that its representative office there could revert to its former name, which included "ROC," Liu said.
At the time, the Fijian government said that diplomatic privileges for Taiwanese diplomats at the representative office, which had been revoked in 2018 by the then-Fijian government, would be restored according to Fiji's Diplomatic Privileges and Immunities Act 1971.
At the time, Taipei thanked Fiji's administration and expressed hopes that the two sides would continue to deepen friendly relations, MOFA said.
The decisions announced in March were made despite the lack of official diplomatic relations between the two countries, under the new administration's Taiwan-friendly three-party coalition.
The name of the representative office has since been changed on its Web site to the Trade Mission of the Republic of China (Taiwan) to the Republic of Fiji, but MOFA has not released an official photograph of the office bearing the new name.
The previous Fijian administration had in 2018 forced the representative office to change its name to the Taipei Trade Office in Fiji, MOFA said.
Comments will be moderated. Keep comments relevant to the article. Remarks containing abusive and obscene language, personal attacks of any kind or promotion will be removed and the user banned. Final decision will be at the discretion of the Taipei Times.