Legislator urges amendments to genetic data law
LEAKING TO CHINA: An academic said the source of genetic data leaks is the Chinese machines used for gene sequencing, raising national security concerns
Taiwan's laws should be amended to help prevent genetic data from leaking to China and to establish a domestic genetic testing industrial chain, Democratic Progressive Party (DPP) Legislator Lin Tai-hua (林岱樺) said yesterday.
Precision medicine has become a global trend in the past few years, while Taiwan's medical sector has been promoting genetic testing in advanced precision and personalized medicine to improve treatment efficacy and medical resource utilization, Lin told a news conference in Taipei.
However, media have reported that Chinese gene company BGI Genomics Co Ltd, which sells one of the most popular prenatal tests in the world, has harvested genetic data from millions of women, and is facing scrutiny from regulators in Australia, Canada, Germany and other countries, she said.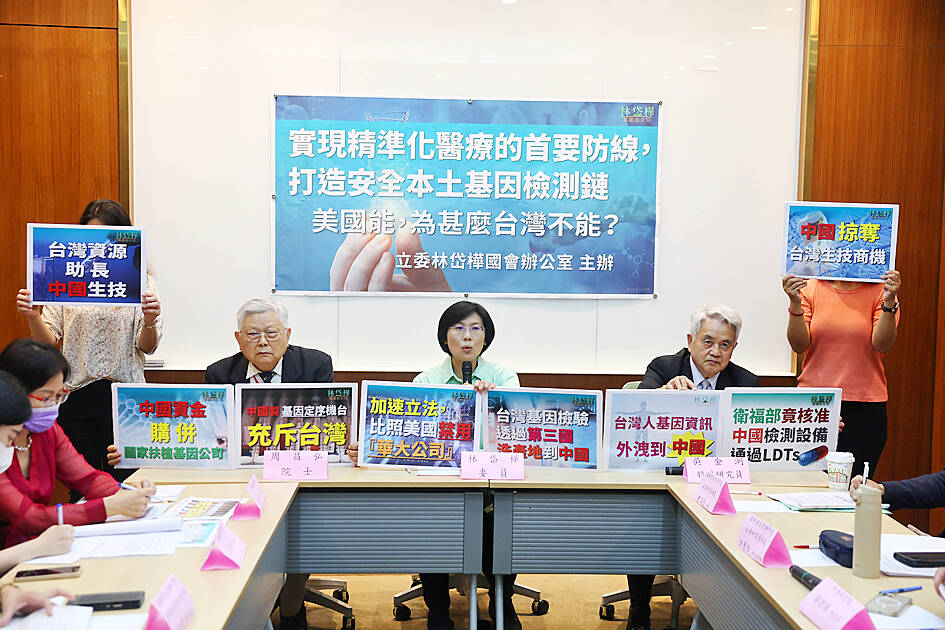 Democratic Progressive Party Legislator Lin Tai-hua, center, speaks at a news conference at the Legislative Yuan in Taipei yesterday.
Photo: CNA
Human genetic data are a fundamental resource for scientific research and valuable for the biomedical industry, but there are concerns that genetic data collected in Taiwan might be leaked to China, she said.
DNA sequencing machines in Taiwan being made in China, specimens from genetic testing being sent to China from third countries for sequencing, the government granting Laboratory Developed Test certification to Chinese testing devices, state-supported gene companies merging with firms that the Chinese government has stakes in and genetic data of Taiwanese being leaked to China are among the concerns, Lin said.
Wu Jen-leih (吳金洌), a visiting fellow at Academia Sinica's Institute of Cellular and Organismic Biology, said that the source of genetic data leaks is the Chinese machines used for gene sequencing.
Sometimes specimens are sent directly to China or other countries to be sequenced, Wu said.
National security might be affected if the data are used for destructive purposes, he said.
Whoever controls the information has an advantage in biomedical technology development, but while many countries are adopting stricter measures regarding Chinese-made genetic testing products and sequencing machines, Taiwan lacks vigilance and even allowed several medical centers to install BGI Genomics sequencing machines, he said.
Chou Chang-hung (周昌弘), a professor in Academia Sinica's Institute of Plant and Microbial Biology, said that Chinese firms have merged with gene companies in Taiwan, obtaining their databases and sending specimens to China.
The problem is similar to how seedlings and genomic data of special pineapple varieties being obtained by China harms Taiwanese agriculture, Chou said.
Regardless of how genetic data are acquired from Taiwanese, it seriously harms the genetic testing industry in Taiwan and supports the industry in China, when they are sent across the Taiwan Strait, he said.
The government should thoroughly investigate the use of Chinese genetic tests and sequencing machines in Taiwan, amend the law to control the export of genetic data, and support research projects to help Taiwan establish a domestic genetic testing industrial chain, Lin said.
Comments will be moderated. Keep comments relevant to the article. Remarks containing abusive and obscene language, personal attacks of any kind or promotion will be removed and the user banned. Final decision will be at the discretion of the Taipei Times.