FEATURE: Think Tank to celebrate anniversary with conference
The Center for Asia-Pacific Resilience and Innovation (CAPRI) is celebrating its first anniversary tomorrow with a forum that would include a keynote speech by former Australian prime minister Malcolm Turnbull and a conversation with Premier Chen Chien-jen (陳建仁), the international think tank born from the COVID-19 pandemic said.
Resilience and innovation, a name the founding members deliberated on for more than a year, symbolize the core values of the group, board chair Syaru Shirley Lin (林夏如) told the Taipei Times, adding that resilience, the ability to withstand or recover from difficulties, is passive and means nothing if there is no innovation to drive people forward.
According to the 2020 Global Go To Think Tank Index Report released by the University of Pennsylvania, Taiwan has 44 think tanks, among which only the Chung-Hua Institution for Economic Research is ranked as a top think tank outside the US, at number 147.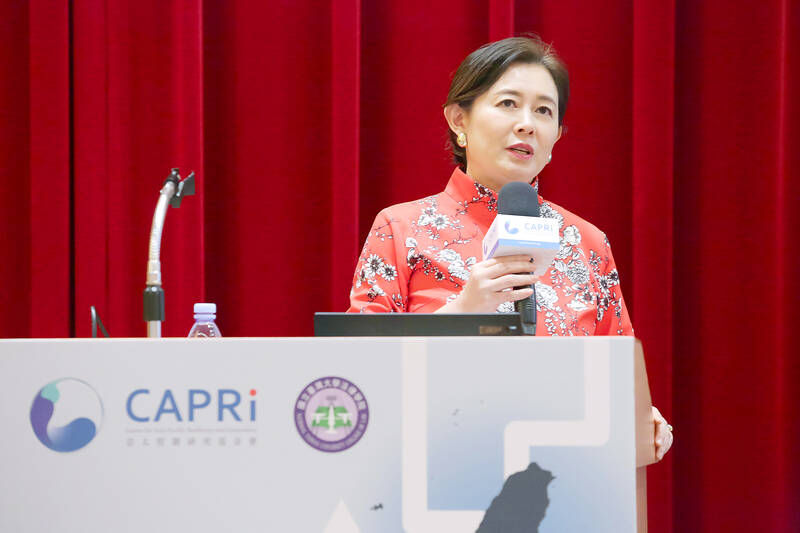 Center for Asia-Pacific Resilience and Innovation board chairwoman Syaru Shirley Lin is pictured in an undated photograph.
Photo courtesy of the CAPRI
Almost all think tanks in Taiwan are affiliated with the government or a political party, or have one major donor, which Lin saw as an opportunity.
CAPRI received funding from organizations including the Fubon Cultural and Educational Foundation, Acer Foundation, Taiwan Semiconductor Manufacturing Co, as well as individual donors to have a politically neutral stance.
"More think tanks will emerge in a mature democratic country," Lin said, adding that CAPRI can be the pioneer that paves the way for more Taiwanese think tanks to contribute.
Being a pioneer also means that talent is scarce in the field, which was one of the difficulties it had when starting, she said.
Lin works with about a dozen young people from diverse places, who are moved by her passion to contribute to Taiwan, a team member said.
With expertise in cross-strait relations and a background in economics, Lin and her team focused on public health research during the first year of CAPRI's work.
"Opportunities presented themselves," she said.
As CAPRI was founded when the world was experiencing the pandemic, it partnered with the Reform for Resilience Commission and the World Economic Forum to conduct research related to COVID-19 in the Asia-Pacific region.
Countries in the region needed good public health policies, she said, adding that public health was just a starting point for CAPRI.
Policymaking is never about a single field, and there should be priorities in the field of study to provide timely insight for the government, she said.
As the COVID-19 pandemic wanes, CAPRI is ready to broaden its focus to mental health and vaccine hesitancy — fields that are closely linked to the pandemic, but more relevant to the post-pandemic era, she said.
CAPRI is conducting research to promote efficient and innovative policies in Taiwan, while giving the Asia-Pacific region a much-needed voice on the global stage, she said.
For example, in cooperation with the Brookings Institution as part of the Brookings Democracy in Asia project, CAPRI and local academics studied the pandemic responses in Taiwan, Australia, India, Japan and South Korea.
Although Taiwan's relations with the US and Europe tend to gain more attention, Taiwan is a part of the Asia-Pacific region, and it should deepen ties with neighboring countries, she said.
There might still be a long way to go before Taiwan can join the WHO or be included in UN organizations, Lin said.
However, Taiwan cannot overcome shortcomings simply by joining international organizations, she said.
The nation should be prepared and wait for the right time, as without good governance, Taiwan would not survive even without the threat of war, she said.
In addition to providing evidence-based suggestions to policymakers, Lin said she hopes the information can reach the public too.
All CAPRI studies can be accessed online for free, and its forums are free and broadcast live online. It also has an internship program to nurture talent, she said.
When former American Institute in Taiwan chairman Richard Bush was invited to give a speech in Taiwan in March, the think tank chose National Taiwan University as the venue to encourage students to participate, she said.
CAPRI research partners, board members and advisers would attend tomorrow's forum to share topics at the core of its research, including public health, talent and environmental supply chains, Lin said.
The forum would embody the two goals of CAPRI's work: providing advice on democratic governance through research, as well as creating an innovative and resilient country, she added.
The forum, titled "Asia-Pacific: A Resilient Phoenix Rising From the Pandemic," is to take place at Shangri-La Far Eastern Plaza Hotel from 8:30am to 1:30pm, with free admission.
Registration is required: https://event.cw.com.tw/2023capri-eng/#survey.
Comments will be moderated. Keep comments relevant to the article. Remarks containing abusive and obscene language, personal attacks of any kind or promotion will be removed and the user banned. Final decision will be at the discretion of the Taipei Times.