Access to Chinese Web site curbed for offshore users
Some offshore users of an official Chinese Web site providing economic and demographic data on China's Fujian Province said their access has been restricted, while Beijing said "emergency measures" had been taken to deal with a cyberattack.
More than six users with knowledge of the matter said some users outside China have been unable to access the Web site within the purview of Fujian's statistics bureau.
One researcher based in Singapore said he started encountering the curbs in March, while others said they had become aware of them more recently.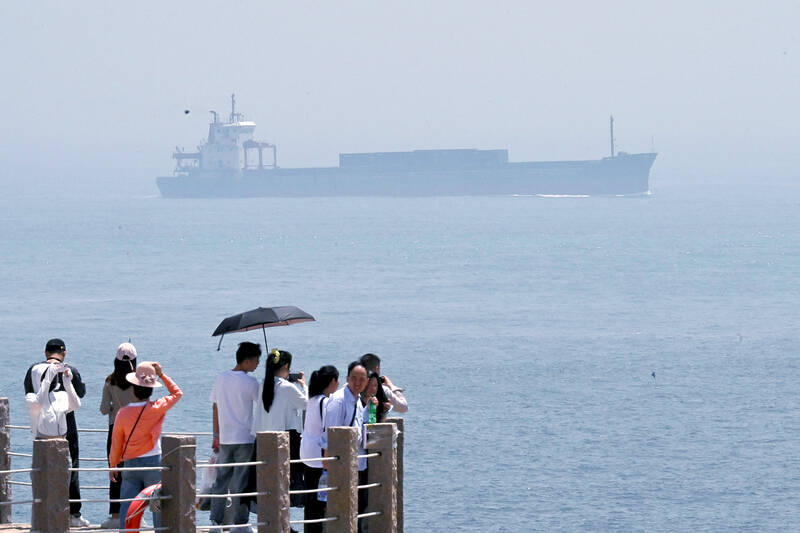 People watch a cargo ship sail in the Taiwan Strait from a lighthouse on Pingtan Island in China's Fujian Province, the closest point in China to Taiwan, on April 16.
Photo: AFP
After Reuters published a report on the issue, the Chinese Ministry of Foreign Affairs said in a statement: "As far as we understand from Fujian competent authorities, the official Fujian provincial data Web site recently suffered a serious cyberattack."
The official departments of the southeastern province of Fujian took emergency measures to deal with it, and if "normal users" were not able to access the Web site they could "make an appeal" to lift restrictions, it said.
The restrictions come after similar blocking of access for offshore users of some Chinese financial and academic databases, and after Beijing targeted some consultancy firms over national security concerns.
The official Web site of Fujian, with a US$790 billion economy comparable to that of Switzerland, had regularly posted data on topics such as economic growth, energy consumption and real-estate sales, users and a review of the site said.
That data was a key source of detailed information for some foreign research firms, economists and financial institutions tracking the world's second-largest economy, the users said, asking for anonymity as the matter is sensitive.
Such curbs, when China seeks to bolster an economy only slowly recovering from stringent COVID-19 pandemic measures, could weigh on foreign investors already grappling with tighter regulatory controls and geopolitical tension.
"If the Fujian case was a deliberative decision, it will set a precedent that will likely be followed by other local or central government agencies," said Sun Xin (孫新), who teaches Chinese and East Asian business at King's College London.
While China has made fewer government-affiliated Web sites accessible to offshore users in the past few years, amid heightened tension with the US, the restricted access to the Fujian government Web site is a rare step, the users said.
The Fujian provincial bureau of statistics is "studying the condition," one of its officials said, without elaborating.
The Chinese State Council Information Office, which handles media queries on behalf of the Chinese government, and the Chinese National Bureau of Statistics did not respond to requests for comment.
Some firms are scrambling to reduce risk following a crackdown by Beijing over information security, which ensnared Shanghai-based consultancy Capvision this month, particularly as a sweeping update to anti-espionage laws is to take effect from July 1.
The sharper focus on information security also comes as the latest data points to a weakening in the momentum of economic growth, while the youth jobless rate has hit a record high.
One of China's top financial data providers, Wind Information Co, has blocked some offshore users from accessing some business and economic data since late last year.
Academic database China National Knowledge Infrastructure also limited access to overseas subscribers from April 1, those notified of the suspension said.
However, other official Web sites of provincial statistics bureaus can be accessed by offshore users, the users said.
The Fujian Web site is accessible in China, a Reuters review showed.
Data from Chinese provinces help analysts and economists track regional trends, such as patterns of migration within the labor force, land and property sales, and industrial development.
The Fujian Web site's importance outstripped that of other provinces, as some foreign investors tracked it closely for any signs of military movement amid cross-strait tensions, two Hong Kong-based hedge fund investors said.
In Taipei, the Mainland Affairs Council declined to comment.
There has been a clear trend of foreign access to domestic data being limited by the Chinese Communist Party on national security grounds, Sun added.
"In the context of geopolitical tension with the West and the Party's rising concern about national security, any engagement with the West can become a politicized matter," he said.
Comments will be moderated. Keep comments relevant to the article. Remarks containing abusive and obscene language, personal attacks of any kind or promotion will be removed and the user banned. Final decision will be at the discretion of the Taipei Times.