China would weigh costs of an attack: ex-US official
China would carefully weigh its military capabilities and costs of an attack before launching an amphibious assault against Taiwan, former acting US secretary of the army John Whitley said yesterday.
He made the remarks during a speech in Taipei, entitled "An Economist goes to the Army." The economist-turned-military official is visiting Taiwan for the first time at the invitation of National Taiwan University's Department of Economics.
During a question-and-answer session, he was asked about the factors the Chinese Communist Party might take into account before launching an invasion of Taiwan.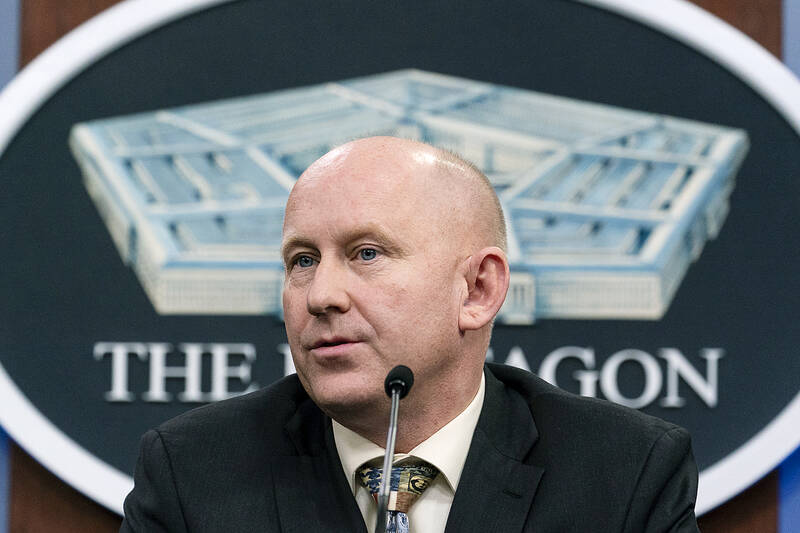 Then-US acting secretary of the army John Whitley speaks at a media briefing at the Pentagon in Washington on Jan. 25, 2021.
Photo: AP
"The first and foremost question is whether you have the military equipment and specialized training force to succeed. A cross-strait invasion would be one of the hardest military maneuvers ever — you have a lot of water, and a lot of things could go wrong. You also have beaches and land that is not ideal for landing," Whitley said.
"My understanding is that China relatively understood that they did not have sufficient training and stockpile of ammunition to do that for many years. That has been the focus of their defense buildup, which has led to a dramatic increase in defense spending," he added.
Beijing also needs to calculate the costs of launching a war against Taiwan and ask itself if an amphibious operation is worth it, Whitley said.
"And if the operation does not succeed, you are looking at existential threat to the Chinese Communist Party. China is very cognizant that this is going to be a high-risk, high-cost operation, and that they would not like to do it unless they have to. They would try politically and economically coercive means first before taking military actions," he said.
Despite the costs, China might still attack Taiwan as the US government shifts its focus from the Middle East to conflicts in the Asia-Pacific region, which presents Beijing with an opportunity, he said.
Last year, the Taiwanese government announced that defense spending for this year would jump 13.9 percent to NT$58.63 billion (US$1.9 billion), or about 2.4 percent of GDP.
Although it was the largest defense budget increase in recent years, it pales in comparison with China's military spending, which reached 1.56 trillion yuan (US$220.7 billion) this year.
Defense spending is a "measure of affordability, not a measure of demand," Whitley said, adding that the demand side of the equation depends on strategic plans.
"The US can grow significantly while maintaining 3 to 4 percent for defense spending. During the Cold War, US defense spending was about 8 percent. That is the calibration range of what tends to be affordable in a vibrant democracy. If you need to spend it, spend it in the way you can afford," Whitley said.
Whitely also identified three levels of problems in modernizing Taiwanese troops.
"It would be nice if we have the luxury of time that we can get a year or two to get our concept of defense right, and take a couple more years to get strategic plans right before figuring out what our training is," he said.
"The challenge is we are doing all of this at the same time because you cannot stop military training, and have to make decisions for acquisitions now without the benefit of perfectly developing an analytic framework," he added.
Whitley said that it should not be difficult to convince the public to increase defense spending.
"After the crackdown on dissidents in Hong Kong and the Russian invasion of Ukraine, my sense is that there are very few people who do not think [the Chinese military threat] is a serious problem," he said.
Comments will be moderated. Keep comments relevant to the article. Remarks containing abusive and obscene language, personal attacks of any kind or promotion will be removed and the user banned. Final decision will be at the discretion of the Taipei Times.