Soccer bosses unveil national team plans
GAME IN KAOHSIUNG: Taiwan are to play Thailand at the National Stadium on June 16, with tickets to cost NT$300 for an adult, and NT$100 for a child or elderly person
The Taiwan Sports Lottery on Wednesday announced a sponsorship package for the Taiwan men's soccer team as well as plans for international matches in the nation this year, including a friendly against Thailand in Kaohsiung next month as officials look forward to the Asian regional qualifiers for the 2026 FIFA World Cup.
Executives from the Taiwan Sports Lottery and the national soccer association (CTFA) announced a financial package to support the national squad and two matches.
Taiwan are to play Thailand at the Kaohsiung National Stadium on June 16 and either Malaysia or Kazakhstan in September, CTFA chairman Wang Lin-hsiang (王麟祥) told a news conference in Taipei.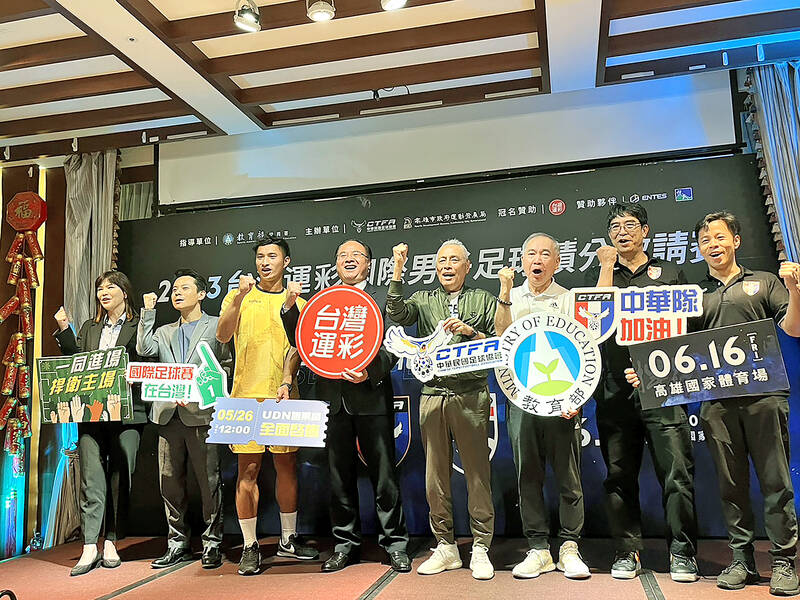 Taiwan goalkeeper Shih Shin-an, third left, and soccer officials in Taipei on Wednesday attend an event announcing upcoming matches.
Photo: CNA
Tickets for the game against Thailand would cost NT$300 for an adult, and NT$100 for a child or elderly person, CTFA officials said.
"We urge fans to show up to cheer on our national soccer team to victory," Wang said. "These games can boost participation at the grassroots level and promote Taiwan's soccer stars."
Wang said that his long-term aims are to boost attendance at stadiums for club and international games, and create fully professional men's and women's leagues.
Derek Shih (施信安), a goalkeeper for Taipei-based club Leopard Cat also called on people to attend the game in Kaohsiung.
More people supporting Taiwan helps the players, as they like to have a boisterous crowd cheering for them, Shih said.
It has been quite a long time since international soccer was played in Taiwan, with the previous match a World Cup qualifier against Australia in Kaohsiung in October 2019, he said.
"It's been a long time since our national team played at home, so the players are preparing for it," he said. "We want to prove that we are a strong side and let the fans see an exciting game."
There are many people from Thailand working in Taiwan, so Team Taiwan supporters need to pack the stadium, he said.
"We do not want Taiwanese fans to be outnumbered by Thais supporting their team," he said.
Englishman Gary White, who has been reappointed as head coach, is expected to arrive in Taiwan next month, Wang said.
He is bringing an assistant coach with him, Wang said, adding that they would start training as soon as possible for the two friendlies, which are to help the team prepare for the first round of Asian qualifying in October for the 2026 World Cup in Canada, the US and Mexico.
Comments will be moderated. Keep comments relevant to the article. Remarks containing abusive and obscene language, personal attacks of any kind or promotion will be removed and the user banned. Final decision will be at the discretion of the Taipei Times.