Extradition is sought for Pharmally suspect Huang
TALKS WITH THAILAND: Tony Huang reportedly went to the UK from Singapore, and was detained in Thailand during a transit due to an international arrest warrant
Authorities are seeking to extradite a man wanted in a fraud case after he was detained in Thailand when transiting on a flight, Ministry of Justice officials said on Wednesday.
Pharmally International Holding Co chairman Tony Huang (黃文烈) — who is also known as Huang Wen-lieh — and other businesspeople, were indicted on charges of security fraud, stock manipulation and fraudulent financial reporting in 2020, the ministry said.
Authorities are in contact with their counterparts in Thailand to facilitate Huang's return to Taiwan, it said.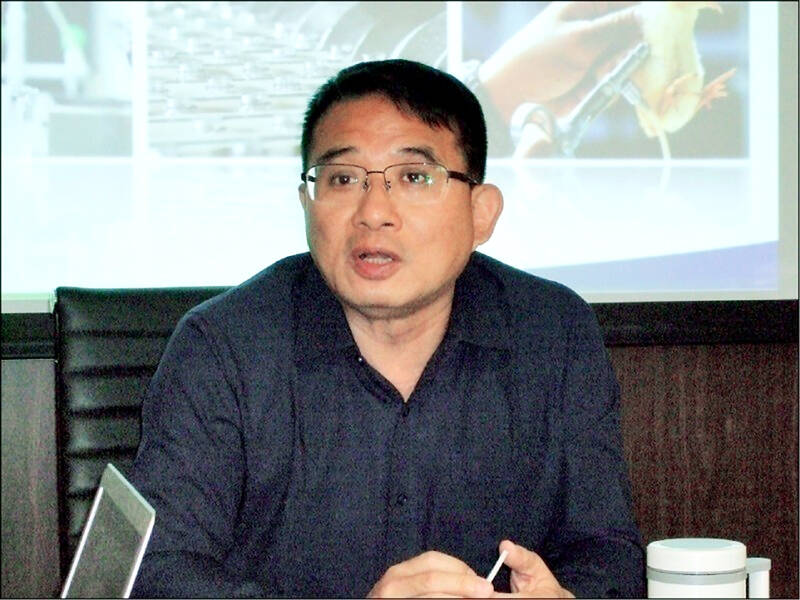 Pharmally International Holding Co chairman Tony Huang, also known as Huang Wen-lieh, is pictured in an undated photograph.
Photo: Taipei Times
Huang and his wife, Chen Shu-hui (陳淑慧), fled to Singapore before a probe was initiated in August 2020, investigators said.
The couple's adult son, Huang Tzu-yen (黃子晏), and daughter reside there and have Singaporean citizenship, investigators said.
Authorities in 2020 issued an international arrest warrant for Huang, then aged 59, accusing him of illegally transferring NT$700 million (US$22.73 million) of company assets and bank loans to personal accounts.
Reports said that Tony Huang traveled from Singapore to the UK, and was detained in Thailand during a transit on his return flight.
Huang Tzu-yen and Chen apparently manage subsidiary companies in Singapore, and are also wanted in the Pharmally case, the ministry said.
Tony Huang, Chinese real-estate tycoon Wang Mingliang (王命亮) and other Chinese businesspeople allegedly falsified accounts and financial statements to get Pharmally listed on the Taiwan Stock Exchange in March 2015 in one of the largest securities fraud cases in the past decade, investigators said.
Wang previously owned Luan Huayuan Pharmacy Co in China's Anhui Province, investigators said.
Wang encountered financial difficulties and sought assistance from Tony Huang, who had been investing in real estate in China's Xiamen since 2003, investigators said.
Investigators found that Wang transfered ownership of Luan Huayuan Pharmacy and other companies to Tony Huang, who in 2013 changed the name of Luan Huayuan Pharmacy to Pharmally in China.
Using Pharmally's listing in Taiwan, Tony Huang set up three overseas subsidiaries in 2016, Pharmbac Biological Pte and Pharmetech Biological Pte in Singapore, and Biotis Prima Agrisido in Indonesia, investigators said.
Huang colluded with company executives to falsify documents about purchases of large amounts of Pharmally shares from Sept. 1, 2018, to Oct. 20, 2018, driving the share price to NT$500 from NT$300, creating a deceptive impression of a hot stock, investigators said.
They sold before the price collapsed, with the estimated loss among other investors totaling NT$20 billion, they said.
Tony Huang and the other executives are also accused of forging accounts and financial reports to obtain NT$6.27 billion in loans from four Taiwanese banks — EnTie Commercial Bank, Far Eastern International Bank, Hua Nan Bank and Bank SinoPac.
Comments will be moderated. Keep comments relevant to the article. Remarks containing abusive and obscene language, personal attacks of any kind or promotion will be removed and the user banned. Final decision will be at the discretion of the Taipei Times.