China likely to disregard flight routes: researcher
China intends to flout established flight routes and treat airspace over the Taiwan Strait as its own, a researcher said on Monday, after a Chinese civilian aircraft flew over Kinmen County last month.
China Eastern Airlines Flight MU-505 from Shanghai to Hong Kong on April 29 deviated from flight route M503 — which follows China's coastline and then travels through international waters in the Taiwan Strait — and crossed directly over Kinmen County toward China.
The Chinese Civil Aviation Administration said the flight deviated to avoid inclement weather.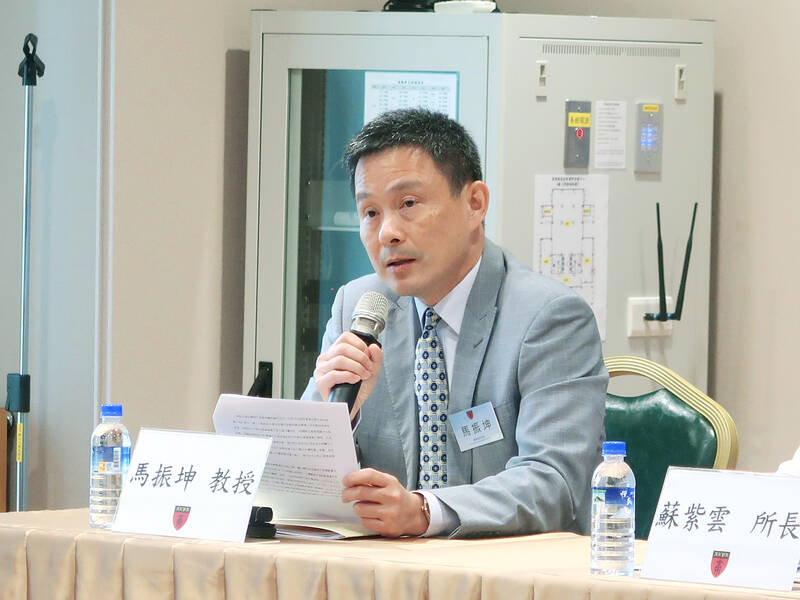 National Defense University researcher Ma Chen-kun speaks at a seminar in Taipei on Monday.
Photo: Chen Yu-fu, Taipei Times
However, the flight had already passed the periphery of the thunderstorm when it deviated toward Kinmen, National Defense University researcher Ma Chen-kun (馬振坤) said, adding that Chinese air traffic control instructed the flight to make the deviation.
Ma made the remarks on Monday at a seminar discussing the outcome of this year's G7 summit held from Friday to Sunday in Hiroshima.
Under a cross-strait agreement, in the event of inclement weather flights on route M503 normally redirect toward airspace over China before reaching Kinmen, and do not return to the normal flight path until they reach the boundary between China's Fujian and Guangdong provinces, roughly 200km south of Kinmen, he said.
Beijing has been normalizing military exercises in the Taiwan Strait, and is likely to find excuses to increase inspections of Taiwanese vessels in a bid to expand its maritime jurisdiction, he said.
"This is all part of the gray zone tactics that China has been employing in recent years, which are aimed at reducing the vigilance of Taiwan's military, and of US forces stationed in Okinawa," said Kuo Yu-jen (郭育仁), a professor at National Sun Yat-sen University's Institute of China and Asia-Pacific Studies.
"You can see this in the way China has been blurring the lines between military exercises and mobilization," Kuo said.
The approach would erode the early warning window ahead of a full-scale Chinese assault on Taiwan, and local forces could find themselves overwhelmed in the event of a surprise attack, he said.
Comments will be moderated. Keep comments relevant to the article. Remarks containing abusive and obscene language, personal attacks of any kind or promotion will be removed and the user banned. Final decision will be at the discretion of the Taipei Times.