KMT draws flak over 'four small links' China plan
A plan by Chinese Nationalist Party (KMT) officials to promote closer economic and political integration between Lienchiang County and China was panned by local residents and Democratic Progressive Party (DPP) politicians.
Joint infrastructure projects and new transportation links were discussed yesterday at a cross-strait meeting between KMT and Chinese officials in Fuzhou in China's Fujian Province, including building a 27.2km bridge linking Lienchiang — also known as the Matsu Islands — to Fuzhou via Langqi Island (琅岐島) at a cost of NT$600 billion (US$19.5 billion), the Matsu Daily News reported.
The officials also discussed opening for trade and Chinese tourists, the local news outlet said.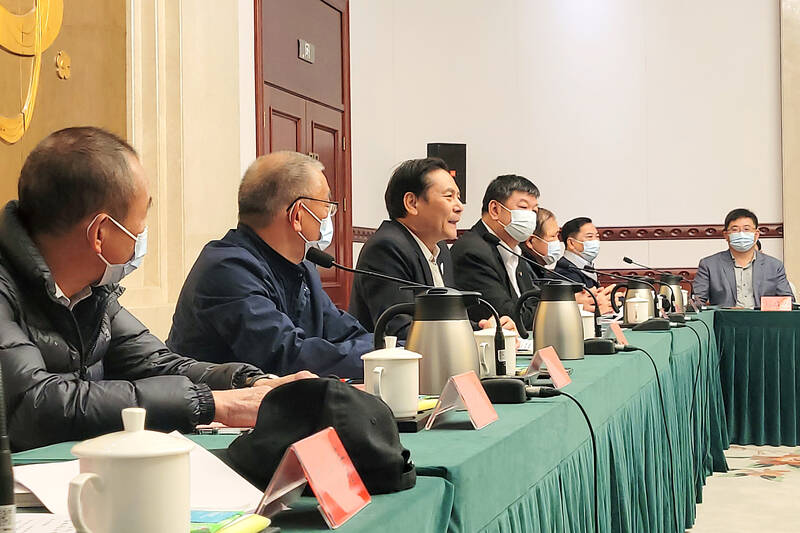 Lienchiang County Commissioner Wang Chung-ming, third left, meets with Chinese officials yesterday in Fuzhou, China.
Photo courtesy of the Lienchiang County Government via CNA
Led by Lienchiang County Commissioner Wang Chung-ming (王忠銘) and two local KMT leaders, the delegation is composed of 76 businesspeople and local officials representing the county, which comprises 36 islands and islets. Lienchiang County Council Speaker Chang Jung-chiang (張永江) and KMT Legislator Chen Hsueh-sheng (陳雪生) are also attending the annual Cross-Straits Fair For Economy and Trade that is being held from yesterday to Monday.
The three KMT officials agreed to a Chinese proposal to establish "four new links," which in addition to the bridge, calls for constructing direct pipelines and conduits to supply water, electricity and gas to Matsu, the Matsu Daily said.
The meeting also talked about illegal poaching by Chinese fishing boats, cleaning up marine floating trash, illegal sand dredging and opening up to trade and tourism, it said.
Some Matsu residents said that Wang had posted messages about the meeting, writing in simplified Chinese and seemingly downgrading Lienchiang from a county of Taiwan to a township administered by China's Fujian Province.
That would be tantamount to surrendering sovereignty to China, they said.
Lii Wen (李問), director of the DPP chapter in Matsu, said that the price tag for the bridge was "outrageously exorbitant" and said it could be a conduit for local government officials to engage in corruption and line their pockets.
"Wang quoted the bridge as costing NT$600 billion, which left most residents dumbfounded at the huge money involved. No matter which government puts up the main funding, it would certainly get siphoned off by corrupt politicians, who would 'share the loot' with contractors and businesses affiliated with officials," Lii said in a post on social media.
He said it was another Chinese "united front" tactic, as Chinese President Xi Jinping (習近平) has espoused the "four new links" for Taiwan's front-line islands under his "Five Points" policy outline in 2019.
"At that time, Xi already planned to push collaboration and economic benefits for Taiwan's local governments to achieve his goal of unification with the motherland," Lii said.
Xi's plan calls for pushing "four new links" by constructing a bridge and directly supply water, electricity and gas to Matsu and Kinmen islands to promote integration, Lii said.
"In reality, there is not shortage of water, electricity or gas in Matsu and all its islands have set up desalination plants to produce fresh water. There is no urgent need to establish 'four new links,' which is a Chinese 'united front' tactic to lure people seeking to profit from it," he wrote.
Comments will be moderated. Keep comments relevant to the article. Remarks containing abusive and obscene language, personal attacks of any kind or promotion will be removed and the user banned. Final decision will be at the discretion of the Taipei Times.