Fraud, human trafficking penalties to be increased
The legislature yesterday passed amendments to the Criminal Code increasing the penalties for crimes associated with organized fraud and human trafficking.
Under the changes proposed jointly by the Executive Yuan and the Judicial Yuan, depriving someone of their freedom of movement and abusive behavior would incur increased sentences.
The changes are a response to an increase in organized crime groups luring people abroad, where they are held captive and forced into illegal work.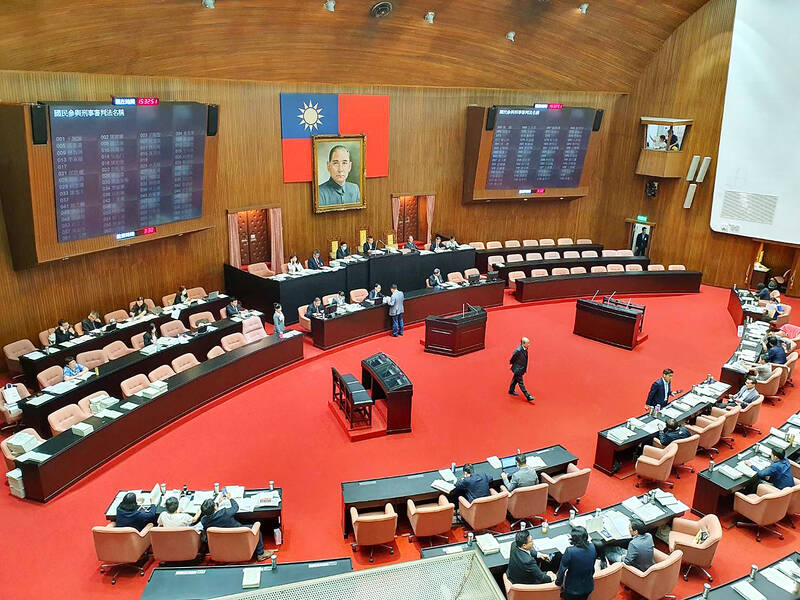 The Legislative Yuan in Taipei is pictured in an undated photograph.
Photo: Taipei Times
Article 302 of the Criminal Code had stipulated no more than five years in prison and a fine of up to NT$9,000 (US$292) for taking another into custody or depriving their freedom of movement.
If aggravated injury results, the penalty is three to 10 years in prison, and seven years to life if the actions result in death.
The amendment adds an additional provision to the article specifying circumstances under which harsher penalties could be issued.
The circumstances include three or more people working together to commit the crime, possession of a lethal weapon, targeting a person with disabilities, abusing the victim and restricting a victim's movement for a week or longer.
When meeting any of these criteria, the perpetrator can be sentenced to one to seven years in prison in addition to a fine of up to NT$1 million.
If aggravated injury results, the culprit can be sentenced to five to 12 years in prison, while in the event of death, the term is raised to 10 years to life.
If the offense is committed against a direct blood relative, the penalties can be increased by 50 percent.
Under the added category of "aggravated fraud" in Article 339-4, the amendment stipulates one to seven years imprisonment and a fine of up to NT$1 million for digitally producing false images, recordings or other records with the purpose of committing fraud.
The expanded penalties have completed the legal principles governing fraud and its derivative crimes, giving police and prosecutors new tools of enforcement, the Ministry of Justice said.
Comments will be moderated. Keep comments relevant to the article. Remarks containing abusive and obscene language, personal attacks of any kind or promotion will be removed and the user banned. Final decision will be at the discretion of the Taipei Times.