PLA drone flights aimed at mapping routes: experts
The Chinese People's Liberation Army (PLA) was likely trying to familiarize itself with flight paths in the Western Pacific when its uncrewed aerial vehicles (UAVs) circled Taiwan recently, military experts said.
The missions likely had a secondary objective of conducting psychological warfare against Taiwanese, they added.
On April 28, a Chinese TB-001 "Twin-Tailed Scorpion" flew in a counter-clockwise direction starting from the south of Taiwan proper and traveled inside the nation's air defense identification zone (ADIZ) before heading back to China in airspace north of Taiwan.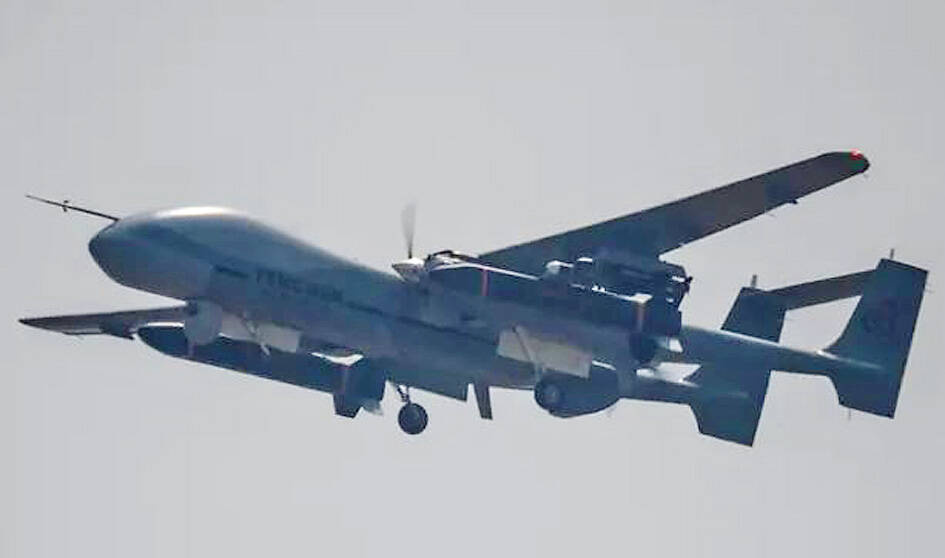 A TB-001 "Twin-Tailed Scorpion" drone flies during an air exhibition in China.
Photo: EPA-EFE
On May 3, a BZK-005 followed a similar path, but in a clockwise direction, according to flight paths released by the Ministry of National Defense.
On May 11, a CH-4 drone flew from north to south off Taiwan's east coast. It did not travel up the west coast.
National Policy Foundation associate research fellow Chieh Chung (揭仲) said that because the drones were flying off Taiwan's shores, they were probably not aimed at spying on military facilities as some local media have speculated.
Rather, the flights were likely aimed at familiarizing the PLA with airspace east of Taiwan, because monitoring the nation's east coast and nearby waters would be critical to the PLA before or during a war, he said.
If the Taiwanese military finds out that an attack is imminent, it would likely move fighter jets from air bases in western Taiwan to Jiashan Air Base in Hualien County, and send naval vessels to waters off the east coast to prevent their destruction by ballistic missiles, he added.
PLA aircraft carriers and bomber squadrons would need drones to locate those jets and vessels, as well as other military targets, Chieh said.
It is no surprise that the drones flew over maritime zones critical to Taiwan's deployment of its naval vessels to protect them from a Chinese attack, he said, citing retired navy officers.
The flights, as well as the presence of China's newest aircraft carrier, the Shandong, in waters just 120 nautical miles (222km) southeast of Taiwan on April 24, likely aim to send a message to Taiwan and other countries that the nation's force preservation zones are no longer safe, he said.
Su Tzu-yun (蘇紫雲), a research fellow at Taiwan's Institute for National Defense and Security Research, said the incursions were intended to intimidate Taiwanese and were part of the PLA's psychological warfare campaign against Taiwan.
One sign of that is that the TB-001 and BZK-005 that flew around Taiwan have low chances of surviving a conflict as neither have stealth capability, and they fly at low speeds of between 180kph to 300kph, making them easy targets, Su said.
The flights also had a more practical purpose — to lower the cost of the PLA's routine incursions into Taiwan's ADIZ, he said.
The Russian-made Saturn AL-31 engines widely used in China's "J" family of fighter jets and Sukhoi fighters, and Chinese-built Shengyang WS-10 engines used in many "J" fighters, have a lifespan of only about 1,500 hours, so deploying drones in place of fighter jets can ease the PLA's maintenance burden, he added.
To counter China's drone incursions, Chieh recommended equipping domestically produced drones with signal jamming devices to prevent Chinese drones from transmitting military intelligence to PLA command centers.
Some countries have knocked down intruding drones with their own UAVs, he said, but that would only be an option if the drones entered Taiwan's territorial airspace or in the event of a war.
Su agreed that Taiwanese UAVs should shadow PLA drones and complement the nation's radar systems.
Doing so would boost the reconnaissance capabilities of Taiwan's military and lower the cost of patrolling the airspace around Taiwan, he said.
Comments will be moderated. Keep comments relevant to the article. Remarks containing abusive and obscene language, personal attacks of any kind or promotion will be removed and the user banned. Final decision will be at the discretion of the Taipei Times.