No link found between Costco, hepatitis cases
MONITORING THROUGH JUNE Five people who had symptoms after eating berries that might have been contaminated tested negative, the health ministry said
Five people who had acute hepatitis A-like symptoms after consuming frozen berries sold at Costco tested negative for the disease, while 32 confirmed acute hepatitis A cases did not eat the potentially contaminated berries, the Ministry of Health and Welfare said yesterday, after it last week announced that it would monitor the hepatitis A situation until the end of next month.
Food and Drug Administration (FDA) Director Wu Shou-mei (吳秀梅) said the hepatitis A virus was detected in a batch of Kirkland Signature Three Berry Blend during a border inspection on April 10, after which the Kaohsiung Department of Health the next day took samples from five other batches of berries sold at Costco, finding that one of them was contaminated.
Starting on April 29, batch-by-batch border inspections were conducted on all frozen berries imported by Costco, she said.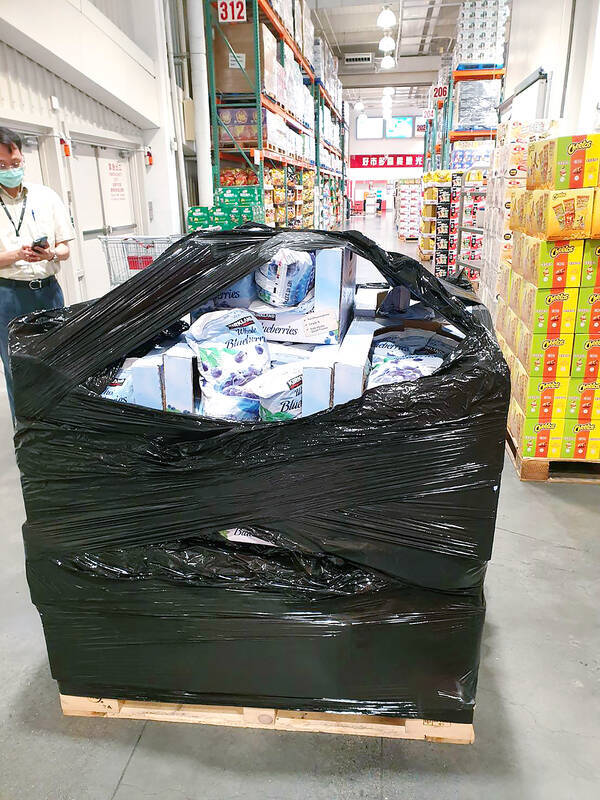 A load of recalled Kirkland Signature Three Berry Blend is pictured at a Costco store in Chiayi City in an undated photograph.
Photo courtesy of Chiayi Department of Health via CNA
A batch of frozen blueberries was found to be contaminated on Monday last week, leading to the suspension of all frozen berry imports by the company on Wednesday last week and all frozen berries sold at its stores being pulled from the shelves on Friday for testing, she said.
The FDA ordered Costco to submit an improvement plan by yesterday, Wu said, adding that the Kaohsiung health department fined the company NT$7.5 million (US$244,069).
Deputy Minister of Health and Welfare Victor Wang (王必勝) said that as the virus was detected in frozen berries imported from different countries, the suspension would remain in place until the company finds the source of the contamination and addresses the issue.
Centers for Disease Control (CDC) Deputy Director-General Philip Lo (羅一鈞) said that since the FDA on April 28 announced that contaminated berries had been found, the CDC was notified about 20 cases of suspected acute hepatitis A, with five people among them having eaten frozen berries bought from Costco in the prior 60 days.
However, the five tested negative, Lo said.
As of Tuesday, 32 local cases of hepatitis A were confirmed, but contact tracing showed that none of them had eaten frozen berries bought from Costco within 60 days, he said, adding that the CDC would continue to monitor the situation.
Lo said that as berries are usually hand-picked, the contamination could originate from an infected berry picker or contaminated water, but the risk of infection from eating the berries is low.
However, the infection risk depends on the viral load on the berries, and the immunity and vaccination status of the person who consumes them, he said.
Most Taiwanese aged 50 or older have contracted hepatitis A during childhood, so they will have immunity, but people aged 40 or younger are less likely to have immunity from infection, he said.
Lo said that people who purchased the berry products should not consume them, but those who already have should not panic.
They should see a doctor if they develop suspected symptoms, such as a fever, general fatigue, loss of appetite, vomiting, abdominal pain or jaundice, within 60 days of eating the berries, he said.
Consumer Protection Office senior consumer ombudsman Wang Te-ming (王德明) said the office asked Costco to draft a compensation plan by today.
Comments will be moderated. Keep comments relevant to the article. Remarks containing abusive and obscene language, personal attacks of any kind or promotion will be removed and the user banned. Final decision will be at the discretion of the Taipei Times.