Groups urge China to allow family to contact Li Yanhe
Members of the Taiwan Association for Human Rights and other human rights groups yesterday called on Beijing to allow detained publisher Li Yanhe's (李延賀) family to have access to him.
Li, who is the editor-in-chief of Gusa Press (八旗文化), was detained while visiting relatives in China in March.
China's Taiwan Affairs Office spokeswoman Zhu Fenglian (朱鳳蓮) confirmed at a news conference on April 26 that Li was "under investigation by national security organs on suspicion of engaging in activities endangering national security."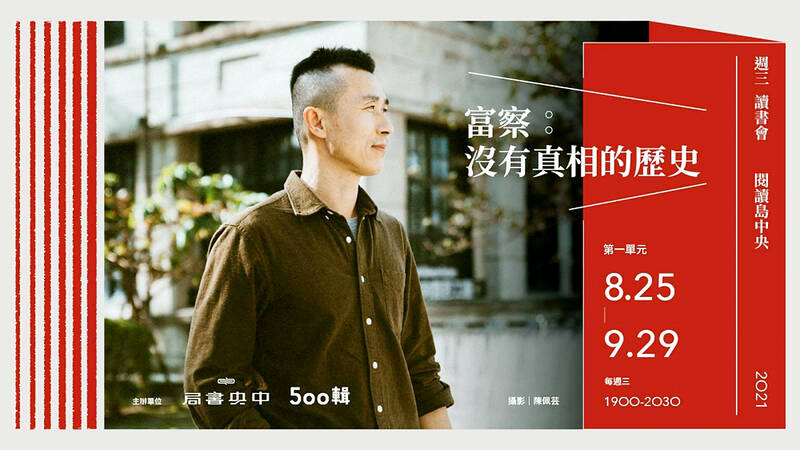 Gusa Press editor-in-chief Li Yanhe is pictured in an undated screen grab from his Facebook page under his pen name, Fucha.
Photo: Screen grab from Facebook
Rights groups yesterday said that Li is being held by Chinese authorities at an undisclosed location as he awaits trial, and that his family has been unable to contact him.
Beijing is violating universal human rights through its institutionalized and systematic arrests of Taiwanese in China, the groups said in a statement.
Chinese authorities arrested democracy advocates Lee Ming-che (李明哲) in 2017, Lee Meng-chu (李孟居) in 2019 and Yang Chih-yuan (楊智淵) last year, all of whom had been denied contact with their families in violation of their rights, the statement said.
According to joint investigations by Spain-based Safeguard Defenders, the Network of Chinese Human Rights Defenders, the International Service for Human Rights and the Rights Practice, China maintains a network of secret jails for pre-trial detention under what it calls Residential Surveillance at a Designated Location (RSDL).
A 2021 report by the Safeguard Defenders said use of RSDL was "tantamount to an enforced or involuntary disappearance, and that torture and maltreatment were common in the system."
It also cited an increased use of RSDL against human rights advocates, and said that the lack of judicial oversight and prolonged detention without charges constitutes arbitrary detention.
"Detainees are often arbitrarily detained for six months or more, and sometimes as long as four years. They are also often coerced into signing a document waiving their right to a lawyer," the association said.
While in detention, Li would likely be monitored by at least two guards, 24 hours a day, and would even be watched when using the toilet, it said, adding that he would also be completely isolated from the outside world.
Describing torture methods that Chinese authorities use, the association said that lights in detention cells are kept turned on 24 hours a day, detainees are deprived of sleep and prohibited from reading.
"Detainees are also given unknown drugs, are prohibited from seeking medical treatment, are often not allowed to take a bath and are not given an hour of outdoor activities, which required by law," it said.
The groups urged Beijing to adhere to international human rights laws on the treatment of detainees, which stipulate that torture and inhumane treatment cannot be used.
Detainees should be given access to lawyers in accordance with articles 34 and 39 of the Criminal Procedure Law of the People's Republic of China, and should be allowed visits by family members, they said.
Comments will be moderated. Keep comments relevant to the article. Remarks containing abusive and obscene language, personal attacks of any kind or promotion will be removed and the user banned. Final decision will be at the discretion of the Taipei Times.